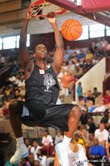 DURHAM - Sporting his Team USA attire, Quincy Miller highlighted the opening night of the NC Pro Am for Duke fans.  Miller had just come back to Durham from San Antonio where the U-18 team had their way with world competition.  Miller, of course, is a key Duke recruiting target in the class of 2011 and the versatile prospect showed he was unafraid to go up against the older guys scoring 14 points in a single half of play due to his late arrival.
Because he was late to the event, the promoter allowed Miller to play for one more half with another team as a fill in and he tallied 10 points in that game.  Miller went up against future UNC player P.J. Hairston. In fact, his severely undermanned team faced what was essentially a Carolina All Star team that consisted of Harrison Barnes, Reggie Bullock, Jon Henson and others.  But with Hairston, the battle got a bit heated.  The two went head to head late in the game and despite surely being tired from jet lag, Miller outscored the offensive minded Hairston 14-13 in a single half of play, meaning, how many would Miller have scored with full two half's?
Harrison Barnes was as advertised, calm, cool and collected on the court.  Barnes opened the game with two emphatic dunks as his team rolled to an early lead over what appeared to be one of the weakest teams in this years field.  Barnes ended the game with 16 points while coasting in the second half.
Reggie Bullock added 10 points and Henson added 8.  Also playing on the Tar Heel laden Team Stackhouse was Miller's high school and AAU teammate Deuce Bello who had a game high 18 points and showed off his athletic skill set.  Team Stackhouse won easily by a 81-60 margin.
In an earlier game, the youthful prospect Rodney Purvis scored 16 points while wowing the crowd with his abilities.  Purvis is just a rising sophomore in high school.
N.C. Sate fans turned out in droves as well, but Ryan Harrow and Lorenzon Brown were no-shows.  C.J. Leslie did play though and he tallied 16 points to go with his teammate Tracy Smith 14.
The NBA's number one draft pick, John Wall, was also in attendance and his presence alone made some in the crowd a bit giddy.  Wall was seen talking to former UNC standout Jerry Stackhouse for most of the evening.
All of the Duke players were no shows due to the break at school and or Nike skills academy camps.  The Blue Devils will start to appear next week where the games are on Tuesday and Thursday evenings.
NOTES - There was a very solid opening night crowd despite what was a parking mess due to construction on the N.C. Central Campus.  Expect a nice walk to the event if you are able to attend.  Admission is a bargain in that it is free.  BDN Premium has an article on Quincy Miller due shortly where we get the latest from the prospect.  So, stay tuned to BDN whose history of covering the event is well known.