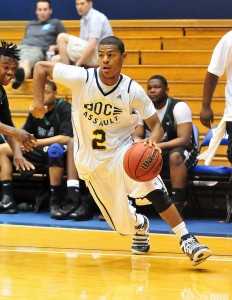 Despite tipoff coming 30 minutes after 12 noon, it was early lights out for Lithuania (1-1) as the USA Men's U17 Team (2-0) ran over, around and through Lithuania Saturday and in the process collected a very impressive 102-66 victory in preliminary round play at the inaugural FIBA U17 World Championship in Hamburg, Germany.
It was the second meeting between the two squads in four days and nothing like the USA's previous 92-79 victory over Lithuania that came in an exhibition contest held June 29 in Kaunas, Lithuania.
"We came in here with the mindset that we had played them before so we definitely knew what to expect. We came in focused as a team and all 12 guys on the team contributed," commented 6-8 USA forward James McAdoo (Norfolk Christian H.S. / Norfolk, Va.). "We definitely all played together today. Yesterday we kind of got away from what our mindset was but we got the win, so we came in here today with good focus."\
Balanced scoring by the Americans was underscored as all 12 players scored at least four points, the team collectively was credited with handing out 27 assists, seven players had at one assist. The U.S. shot a sizzling 56.1 percent from the field, and outrebounded Lithuania 46-36.
About the only flaw in the USA's dominating performance Saturday was its 25 turnover, nine of which came in the last 10 minutes when the USA lead was floating between 40-50 points.
"It's awesome," McAdoo stated about the team's high energy play. "I like to play up and down; I like to get up and down; I don't like to post up as far as in the half court set. So when we're able to get our defense cooking and were getting turnovers, we're getting deflections, we're getting blocked shots, that just really aids my game and you saw how that worked out today where I was able to get out on the fastbreak and get a lot of open shots and open dunks."
Unlike the two team's last meeting four days ago when Lithuania got out to a first quarter lead and the Americans spent the rest of the game getting back ahead and holding on to the lead, the U.S. struck quickly and with remarkable energy and precision.
Thanks to five points from Brad Beal (Chaminade College Prep H.S. / St. Louis, Mo.) and four more from McAdoo, the U.S. jumped out into the lead 11-3. With the scoreboard reading 11-6 in the USA's favor, the Americans turned up the defensive intensity and the result was 10 consecutive points and an overall 21-7 scoring rampage over the opening quarter's final 4:05 that left the USA fully in charge, 32-13.
At one point during the USA's full in-your-face dominating play, Lithuania was forced into five consecutive turnovers that the U.S. converted into fastbreak points. For the afternoon, the U.S. recorded 38 points off the break.
"There were times when it seemed like they couldn't really get into their offense, we were pressing up on them and putting a lot of ball pressure and that definitely helped," stated McAdoo.
The USA's energy never subsided and at halftime the U.S. lead stood at 56-31. The lead continued to balloon in the second half and the USA went on to lead by as many as 50 points before sailing in for the 102-66 victory.
McAdoo and Beal led the USA effort with 16 points each, and McAdoo added a U.S. best seven rebounds and three steals. André Drummond (St. Thomas More School / Middletown, Conn.) tallied 10 points and five boards, while Chasson Randle (Rock Island H.S. / Rock Island, Ill.) finished with 10 points on perfect 4-for-4 shooting. Quinn Cook (DeMatha H.S. / Bowie, Md.) accounted for nine points, six rebounds and game high eight assists, and Tony Wroten, Jr. (Garfield H.S. / Seattle, Wash.) contributed nine points in the win.
"Obviously we played pretty well today. Lithuania is a very good team. We had a practice game against them earlier and it was really a close game until a few minutes were left in the game. So we knew they were a good team. Our players were very well prepared mentally for this game. We started out the game with getting some turnovers and with our athletic ability and quickness; we started the game out like we wanted to," USA U17 World Championship Team and Mid-Prairie High School (Iowa) head coach Don Showalter said. "We started off a little different with our press and I think that started the whole run for us. We have some really quick kids and when they can get their hands on balls, get deflections, that starts a run for us and I think we took them out of their offense a little but by having a full court press."
Other Saturday results saw Argentina (1-1) handled Egypt (0-2) 98-69, while Canada (1-1) beat Australia (0-2) by a score of 76-68.
Following a day off that fittingly comes on Sunday, July 4, the USA will continue FIBA U17 World Championship preliminary play on July 5 facing China, then plays Egypt on July 6 and closes opening round play against Serbia on July 7. The top four finishing teams from each preliminary round group will advance to the July 9 medal quarterfinals, with semifinals games scheduled for July 10 and the gold and bronze medal games to be contested on July 11.
"Our focus is on China as they're our next opponent," said Showalter. "We know they are talented, they're big, they're strong, so we're going to have to play well. Our goal is to get better every game and the teams that get better every game are the ones that are going to end up in the medal rounds.
"The nice thing is that if any of our players have a game where they're not quite on we have players who can come in and spell them and really do well. One of the things I get asked a lot is 'how do you manage your team's young egos, they're all great players on their teams" and you know that's pretty easy because they just want to win. They don't care how it's done, it's not me it's we on our team and I think they showed that today."
Serving as assistant coaches for the 2009-10 USA Developmental National Team and 2010 USA U17 World Championship Team are Herman Harried, head coach at Lake Clifton High School (Md.), and Kevin Sutton, head coach at Montverde Academy (Fla.).