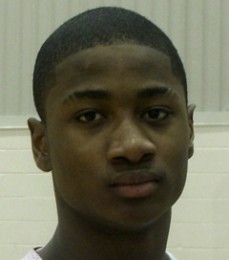 One of the kids who is already considered a star from the class of 2013 is Rodney Purvis [6-2,170 PG] who plays his high school ball for Upper Room in Raleigh, North Carolina.
How would you describe your game in your own words?
I'm real unselfish and like to get to the basket and dish out to my teammates.
Now, you're close to the youngest guy here. 
Yes sir, 2013.  I just turned 16. [private]
What are you like off the court?
Outgoing, like to have fun, hang out with friends, all the right things.
Where did you learn your basketball skills?
They just came along.  I was growing up and playing in my grandma's backyard and somebody said, hey this kid can play and people started working with me.
And what do you think of the camp to date?
I'm honored to be here, first and foremost.  I'm kind of used to it now, playing with older players, so it aint nothing ...
And where do you play in high school?
Upper Room in Raleigh, North Carolina. 
Did have a dream school growing up?
Carolina because they were always the best school and I'm a big Vince Carter fan.
What schools have shown interest to date?
Carolina, Duke, Virginia Tech, Wake Forest offered me, VCU, Xavier and Baylor have offered me ...
A lot of people coming at you early ...
Yeah
You mentioned Carolina as a dream school, does that leave Duke out?
Naw, I'm open to both of them.
What do you like about UNC?
The tradition.  The winning tradition they have and their history.  Coach Roy, he's a great coach.
And what about Duke?
Same thing.  There's nothing you can dislike about them.
Have you ever been to games or visited either school?
Yes, I went to Carolina when they played Miami and I went to the Duke Elite Camp.
How are your grades these days?
I'm always on A-B honor roll, but I'm trying to get principles list.
Good job!  There have been a lot of really good players  come out of the triangle of late.  Do you want to follow in the footsteps of say a John Wall or ...
Yes, yes.
What are your goals in life?
I'd like to play in the NBA.  Most people just want to be in the NBA but I actually want to be good in the NBA - a great player.
What are the strengths of your game?
Getting to the basket and being able to dish to my teammates.
And what do you need to work on?
My pull up or mid range jump shot.
What position will you play for your high school team this season?
Uhm, everywhere.  It helps me because I'm forced to do some things.  With my high School team I'm the leader, but when playing in AAU for CP3, I'm playing with older guys, so I take a backseat, but I'm prepared to take a leadership role.
I know it's a long ways to go at your age, but any idea when you would like to make a college choice?
It'll be a last minute thing.  I'll take all five official visits but will likely decide late.
Who will be involved with that choice?
My mom, coaches, family and whatever God has planned for me is what I'll go with.
So if your dream school UNC offered would you jump?
No.  I'll wait it out.
A lot of kids end up at schools they rooted against.  What if you were to sign with Duke?
[laughs] I'd be hated in North Carolina.
What did you take away from the camp?
I just got better in every area mentally and on the court.
Thanks for your time. [/private]