6'1" rising junior Nate Britt, who was profiled earlier in the year, had a productive AAU and camp season. From an individual standpoint, the zenith was his performance at the NBPA Top 100 Camp, where he finished second in camp scoring and was named one of five Workout Warriors. With his D.C. Assault brethren, the baby-faced leader competed in tournaments from Pittsburgh to Las Vegas, where D.C. Assault and Duke alumnus Nolan Smith of the Portland Trail Blazers helped coach DCA, with a high-point of reaching the finals of the King James Shooting Stars Classic in Akron, Ohio.
This weekend, the Gonzaga guard helped his USA 2013 Red team to a second place finish at the Adidas Nations in Compton, California. Yesterday, the reigning D.C. Gatorade Player of the Year was invited to participate in the Elite 24 in Venice Beach, California at the end of the month. Nate Britt spoke with Blue Devil Nation about various topics, including Nolan Smith, Twitter, and how far along he is in his recruitment.
Starting back a bit with the camps, specifically the NBA 100 one, what was that experience like, first of all?
Oh, it was great experience because they had, like, all the best of the best players. It was an awesome feeling just going against those guys. All of those guys are very talented and they keep you on your toes. It was just a great experience.
Then, transitioning back to D.C. Assault in July, what was that like for you?
Fun. We've played together for years and, you know, get to play in big-time tournaments in front of the college coaches. We have a really good time playing together.
[private]
In terms of your recruitment, what's been going on lately?
The hardest three on me are Villanova, Virginia, and Georgetown. Those three have offered and Arizona. Did I say Arizona?
Yeah.
Those and I've gotten interest from Duke, North Carolina, Georgia Tech, Virginia Tech, UCLA, UConn, Syracuse..those are the only ones I can think of right now. My head's kinda spinning (laughs).
Are there one or two schools that you grew up rooting for?
Georgetown. That's the hometown school. I always rooted for Georgetown.
In terms of the schools that were expressing interest like North Carolina or Duke, what have they said to you?
I feel like I've spoken to so many programs and coaches that I'm not exactly sure what the message is, but my phone's been blowing up really since whatever that date was, like, the fifteenth or whatever. I know that I've spoken with schools like North Carolina, Virginia Tech, and Duke. I've been in touch with all of them and I like speaking with them and learning what they have to say.
Are schools still able to get into your recruitment?
Oh, yes, but I'm trying to slow it down.
Will you be cutting it, your list, down soon or do you have any plans in that direction?
Oh, yes, I'm going to try to sit down and cut it down to a more manageable number or whatever after all of this ends..probably some time in late August, you know.
Do you plan, at this point, on taking official visits in your senior year or do you plan on deciding next year?
I'm going to try to decide next year.
Just for clarification, you mean before your senior year?
Yes, before my senior year.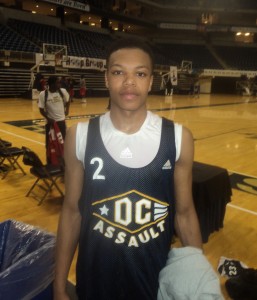 Going back for a second to that NBA 100 camp, how do you account for your success at that event? You had that thirty point outburst that, sort of, put some people on notice. Also, how would you assess the state of your game right now? In the past, you mentioned that you wanted to work on your outside shot and adding some strength.
Yeah, I've improved my three-point shot to where I feel comfortable just pulling up and shooting it when it's in rhythm. I feel like I'm mentally comfortable with making a few a game.
And what about the strength issue? You mentioned that you wanted to be able to play through contact.
Yeah, well, that's something that I still need to work on and improve, but, with all of these games, you don't really get a chance. I'm hoping that I can spend August and September just getting stronger and hitting the weights.
Back to that thirty point game and your overall performance, what are your thoughts on why and how you played?
Yeah, I think it was just getting mentally in a place where I could perform. My coach there just kept telling me to score or take it to the rack and I was just feeling it. For whatever reason, it just clicked there.
When you were younger, outside of Georgetown, were there any other programs that you rooted for?
I rooted for Villanova, for a little bit, when I was younger. When they had Allen Ray and Randy Foye and those guys, I was really interested in them and rooting for them.
Is there any sentiment about trying to stay closer to home or you really don't care?
Well, I would like to stay closer to home because I know that my parents would like to see me play, but whatever is the best situation for me.
Do you have any visits planned?
No, not as of right now, but I'm pretty sure that some will come up.
Who's the best player that you've faced or guarded this summer?
Um, I'd probably have to say Yogi…Yogi Ferrell. I faced him at both NBA Top 100 and also Adidas Nations.
In terms of a timeline in your recruitment, if this were a baseball game, what inning would you say that we're in?
Probably the seventh..the seventh inning.
I've noticed on your Twitter account that you've talked a lot in the past about your lack of sleep or difficulty with sleep.
Oh, yeah, (laughs) it's hard with all of the games I've been playing and the travel and time zones. You've got workouts and early morning workouts. It's just kind of hard on the body or, at least, mine.
6:30 workouts in the morning.
(laughs) Yeah, you know, 6:30 in the morning workouts. It's killing me. (laughs)
How about defensively? How would you assess your defense at this point? I think you've stepped up your defense from the past.
Yeah, I've been feeling better about my defense lately. I think I've given better and really gotten in there. I've tried to focus on it a bit so that, if my offense goes in a particular game, at least I've got my defense. It's something that I can rely on.
Before you were talking about playing in front of the coaches, how do you think they have an effect on your play?
Oh, at first, I had butterflies, but I've tried to just have fun with it. I try to just get used to it. You know that your playing in front of the greatest coaches and that kind of inspires you. You know that you have to perform and then it's also great to have that opportunity and also playing in front of fans is fun too.
Who are some of your Assault teammates that have also stepped up their games this year?
I think Kris (Jenkins) has. He's battled back from injury and been able to help us after sitting out earlier in the year.
And you couldn't be tighter with him (Jenkins lives with the Britts) so you know the pain that he must've been in to sit out?
Yeah, absolutely, we're very close and he felt terribly about missing so many games with that badly sprained ankle. He was worried about it too. I feel like we really jelled well together as a team.
I just want to clarify an earlier answer. You mentioned about how those three schools stood out. Were you implying that it was too late, in essence, for other schools to get involved or just that those three happened to stand out right now?
Oh, no, no. Yeah, it's not too late. It's just that those three schools happened to be recruiting a little harder than the others at this point.
Has there been any really new school to step in?
Well, Maryland offered and North Carolina stepped up their interest.
Well, that must've made you feel good.
Oh, yeah, it did.
What was it like, by the way, when Nolan Smith joined the Assault coaching staff?
(laughs) Oh, yeah, that was great because you know that's a guy that accomplished so much and he's got a really good basketball mind. He doesn't get crazy out there. He just helps you focus.
Did he help at all with the strategy?
Oh, yeah, he helped. He pointed out things and, you know, who for us to make switches on. It was great to have him out there with us, you know. I think we all appreciated it and certainly I did. It was great.
He mentioned that he was going to say something to the team.
Oh, yeah, he talked to all of us. He mentioned how it wasn't long ago that he was in our seats. He talked about hard he worked and has to work to continue to make it. He encouraged all of us to get out there and work. It was inspirational.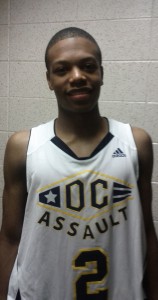 It's amazing that he was in your spot or grade just five years ago.
Yeah, it is . It just goes so fast. It helps keep him in touch. He just kept saying how hard he worked and to stay focused and stuff like that. He always, like, had his eye on the prize and encouraged us to do that to.
Before you were talking about how you guys play so many games, do you feel that momentum carries over from one tournament to the next.
Yeah, I think it does, when we play events really close to one another. When you win or lose a lot in one tournament, I do think it carries over…it can help bring confidence to a team or sometimes drag it down.
Is there any player nationally that you wanted to get a chance to play or take on this summer and you didn't get a chance to at one of the various events?
That's tough. Not really…I think I've played just about everybody at this point. (laughs).
In terms of position, is anyone recruiting you as a combo guard at this point or is everybody now looking at you as a straight one?
Really, just a one now. Just a straight one.
How are you trying to use Twitter? Growing your audience. Is it a way to get your voice out there?
Oh, yeah, I'm just trying to get people to know me a little bit and, like you said, grow my audience or voice.
Lastly, you've traveled all around through basketball. What's been your favorite tournament that you've played in so far?
I would probably have to say Vegas. It's either Vegas or Indiana. Those are my two favorites because they just feel bigger and there's more excitement in the air for whatever reason. Kids are pumped up to play in front of the coaches, I guess. The games feel more important.
Thanks again, Nate. Good luck to you.
Yeah, yeah, sure. You're welcome. [/private]