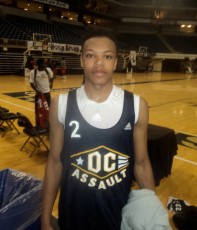 One of the players who garnered a lot of attention this past weekend was 2013's Nate Britt.  By the end of the NBAPA Top 100 Camp, it was clear that he was one of the best performers there despite being a rising junior in high school.   Britt, who plays for Gonzaga High in Washington D.C., had a camp high 30 points in one game.  We spoke to Britt about the recruiting process and Duke fans will delight in the fact that he is already close to others that have been in the program.  Be sure to check back later as well, for an additional video interview clip with Britt and join BDN Premium today for full site access.
Can you give me the list of schools that are recruiting you?
There is no real list but those who are recruiting me?  Man, there are so many.  Virginia, Virginia Tech, Duke, Georgetown, Villanova, Arizona, West Virginia, UCLA, Pitt, Seton Hall.  Most recently, Florida, Georgia Tech said they'll look at in the July period.
So, a lot of teams are coming in.   You knocked down some 3's in that last game, had a nice stroke ... how do you feel like you've played here thus far?[private] (questions asked after second game)
I feel like I'm improving but I'm trying to feel my teammates out and hopefully in this next game, we can come together and get a win.
It's kind of tough in this atmosphere to get into the groove with chemistry and such ...
Right, right, it is.  Some the people you might have played with but with most, you haven't for guys here are from all over the country.
So, you have to get over those blow assist here and there?
(Smiles) Right, right.
I'm from ACC Country and Duke is on your list.  Coaches were able to start making calls the other night.  Did they contact you?
Yes, yes, they did.  I talked to Coach Wojo the other night and he messaged me.  I have a pretty good relationship with him, so yes, he did talk to me.
Now, you came through a system very familiar with Duke, D.C. Assault and you know Nolan and others.  Can you speak to that?
Yeah, they're my boys.  I know Kyrie as well too and we talk.  I would say that kind of gives them an advantage because those are like my brothers.  When I took my unofficial there, I felt real comfortable with them and they took care of me, so, that's how that is.
What's your goal for the rest of the weekend?
I just want to win.  That's what me and my teammates are all about.  We just want to win. [/private]