On December the 17th in Durham, North Carolina, Bleid Sports will bring some of the nations top high school basketball players to Cameron Indoor Stadium for the first annual "Clash in Cameron."  The event will bring the likes of Duke prospects Jabari Parker and Mitch McGary to town as well as other big time players. There will be an abundance of talent on display and we'll list some of the stars to watch for in our next article but for now, let's take a look at what the event is about.
I got to know Matthew Moyer, the head of basketball operations at Bleid Sports recently and we had a shared interest and I liked what he was doing for the kids and schools with the event.  I have become a proud sponsor but please note that I have nothing to do with actual event planning or who is invited. "The "Clash at Cameron" grew so fast that Jamaul Alexander at NCCU was able to work it out to add the tremendous facility at his school. Both of these institutions have been such a blessing to work with. I don't know that I've met nicer people to work with," said Moyer.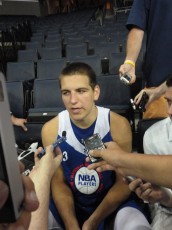 Another sponsor has come aboard as well, the Jerry Stackhouse group which puts on the N.C. Pro Am.  As you know BDN has worked closely with them during their summer event and we look forward to doing the same for the coming games. We'll have a lot more information on the event in the coming days and we'll keep you in the loop, so check back in with BDN for breaking news.  Moyer was kind enough to list the three basic principles of the that drive their effort -
The "Clash at Cameron" was developed with three basic principles in mind:
1. We want to offer student-athletes the opportunity to play at a venue that they may not otherwise have the chance to play in.
2. Our showcases are fundraisers for all of he schools involved. Each school gets 150 tickets to sell to their friends, families, and supporters. They keep all of the money from their ticket sales. We also print Gameday programs for each of our showcases. each school gets to sell 4 full pages and their team page. They may sell that "real estate" for whatever they would like. Again, they keep 100% of the money raised by selling those pages. We also offer several other fund raising opportunities for each school. We have quite a few schools across the country that are already exceeding $4000.00 in money raised for their school.
3. We are a Christian base organization. We stand firm in the belief that we offer players and coaches the chance to play in a very clean, well organized event that promotes good sportsmanship and fellowship with their fellow competitors.
More from Matthew - Once we added the NCCU facility we decided to add some extra elements to the event. Nathan Faulk, the boys coach at South View high school, asked me to put together a coaches round-table meeting. So we did. We are now bringing in Reggie Rankin from ESPN and former Boston Celtic Dee Brown to host our coaches meeting on Friday, December 16th at the Chancellors dining room at NCCU at 5:30 P.M.  We are also having a featured game on Friday the 16th at NCCU between Body of Christ Academy from Durham and La Lumiere from Indiana. That game will be followed by a 3 point shooting and slam dunk contest.
On Saturday, December 17th the games begin at 8:30 A.M. at Cameron Indoor Stadium and NCCU. There will be 8 games at NCCU and 9 games in Cameron.
Clash in Cameron Schedule
8  Mitchell vs. Fayetteville 71st boys
9:30 Mitchell vs. Hoggard girls
11  South View vs. Eugene Ashley girls
12:30  Northwood vs. Charlotte Christian
2  Concord vs. Wilmington Hoggard
3:30  South View vs. Eugene Ashely boys
5  Kinston vs. Charlotte Christian girls
6:30 Raleigh Millbrook vs. Brewster Academy (Mitch McGary)
8  Kinston vs. United Faith Christian Academy
9:30 Huntington Prep vs. Simeon (Jabari Parker
NCCU
Friday 12/16:
Raleigh's Finest Academy vs. Christian Faith Center Academy
Arlington Country Day vs. La Lumiere
--Contests-- (dunk contest, etc)
North Gwinnett vs. Upper Room
Saturday at NCCU
9:30  Anson vs. Farmville Girls
11:00  Northwood v. Concord Girls
12:30  Anson vs. Farmville Boys
2:00  Body of Christ H.S. vs. Shiloh
3:30  Rocky Mount Prep vs. Christian Faith
5:00  Quality Ed. vs. La Lumiere
6:30  Arlington vs. Whitney Young (Okafor)
8:00  Raleigh's Finest vs. Body of Christ Prep
9:30  Mt. Zion vs. Kestrel
Stay tuned to Blue Devil Nation for breaking news leading up to the event and check back with us for more event information.