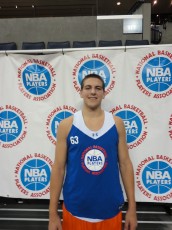 Over the last few months no one has blown up more than Brewster Academy big man Mitch McGary. McGary, who was sporting quite the tan from his recent trip to Florida, has jumped up in many rankings as a top 5 player in the country. Unfortunately for Mitch an injured ankle hampered him for much of the week here in L.A, but he still managed to be a part of two of the more memorable moments this week. On Friday night McGary gave every Derrick Williams fan a new poster as the #2 overall pick in this year's NBA draft threw down a dunk of epic proportions on . Fast forward to Saturday's warm up before the Elite 24 game at Venice Beach, McGary went up for a routine dunk, hung on the rim slightly and eventually shattered the backboard glass resulting in cuts on his neck, hands and left shoulder. He was all smiles about it though. There did not seem to be any intention to break the glass on Mitch's end, it just happened to be one of those rare freak moments in basketball, but hey, everyone loves seeing the glass shatter. Mitch gave up a few minutes of his time to chat with BDN on his time at the Elite 24. (Note - BDN Premium is running a membership special this week where you will get the best discount of the year.  Go to the join page and take advantage of 15% off a yearly membership.)
BDN: Is this your first trip out to L.A?
MM: Pretty much. I was here when I was about 9 or 10.
BDN: How was the [private] Midnight Run on Friday night?
MM: Well I got dunked. (laughs)
BDN: No big deal, anyone who tries to play defense has it happen.
MM: True true.
BDN: You seem like you're hobbling a bit, what happened there?
MM: I got a bummed ankle, I sprained it about three weeks ago. It's still not the same. I can't really move that well on it yet. I think it's just a high ankle sprain, it'll be alright in a month or so.
BDN: You think you'll give it a go on Saturday?
MM: Oh definitely. You have to. That's what I came out here to do!
BDN: How was it playing with the pro's?
MM: It was pretty cool. It was exhilarating because you don't usually get to do that so I was excited to play against them. And of course I got dunked on by Derrick Williams (laughs). Pretty bad but I'm being a good sport about it and accept it. I get dunked on all the time.
BDN: What was the most difficult aspect of playing with the pro's?
MM: Probably going up against their athleticism. I mean they are a lot more developed than us. Just going up against them is another level, the intensity too.
BDN: What was the trip to Florida like?
MM: It was good. The coaches there are pretty chill I liked them a lot. The campus is beautiful and some of the facilities and stuff like that. I'll probably go down there for an official just to get more of a feel of the school and stuff. The girls are pretty hot.
BDN: You seem to have gotten a pretty good tan.
MM: (laughs) Yea I went down to the Keyes for about 4-5 days.
BDN: You'll be visiting UNC and Duke basically back to back. Will one be an official and the other unofficial? Or will both be official?
MM: Both will be official visits.
BDN: What does Duke have planned for you when you get there?
MM: Well the 9th, I think that's a Friday, I guess I'm going to Coach K's house for dinner with the team and stuff like that and hang out with the guys. I know some of them like the Plumlees and I know of some of the guys. I know Austin Rivers is there.
BDN: How are you approached by Coach K? Has he said things you want to hear? 
MM: I mean every coach tells you what you want to hear. I prefer coaches that actually say the stuff that is the truth and..
BDN: More beneficial to you?
MM: Yea. I like to know what I have to do to play. I know whatever school I choose I'm not gonna go there and be a 30 minute+ player a game unless I work at it. I don't deserve that just going in there.
BDN: Do you feel you'll make a decision in the early or late period?
MM: Probably this winter before the season starts, or maybe I'll wait until the normal signing period I'm not sure.
BDN: There's been a lot of NBA chatter lately about you. Have you given this any thought?
MM: Not really, it's in the back of my head. I didn't know it was even possible until I..
BDN: Someone had brought it up the other day and it just blew up.
MM: Yea it blows out of proportion. People start talking and saying I said certain things. I haven't talked to anybody about it, you're the first person I've talked to about it. My coaches have talked about it. I'm just going to play it by ear and continue to get better..
BDN: Something sort of just in the back of your mind? Not a major focus?
MM: Yea not at all. I mean I want to go to college and get a four year degree, that's one of my major goals.
BDN: Do you have a favorite class?
MM: Math is one of my favorite classes, I want to get a finance degree.
BDN: Have you been working on anything this summer with regards to offense or defense?
MM: I really haven't been doing much this summer I've just been playing a lot..
BDN: Not much time to actually refine your skills..
MM: Yea pretty much.
BDN: What do you feel is the next step in advancing your game?
MM: Once my ankle heals up probably defense and some lateral stuff but that's just for my body and stuff like that. I gotta work on my body a lot more. But more or less my mid-range jumper. My forms a little funky right now, I'm just trying to figure it out and go back to how I use to shoot.
BDN: Much appreciated, Mitch.
MM: Thanks a lot. [/private]