Browse:
Home
/
Duke Spring Football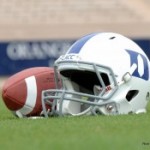 By Patrick Cacchio on March 17, 2012
It has been suggested that writing a spring update on Duke Football might help make the nightmares about mountain hawks go away, so here it is. In fact, there's actually a lot to be excited about with regards to Duke Football. Yeah, yeah, we always say that and then we're all disappointed come the fall. […]
Posted in Duke Football | Tagged August Campbell, BDN Football, Blue Devil Nation, Charlie Hatcher, Conner Vernon, David Cutcliffe, Duke Blue Devils, Duke Football, Duke Football Spring Game, Duke Spring Football, Football Friday, Football Recruiting News, Jamal Bruce, Jordon Byas, Kelby Brown, Kenny Anunike, Marquez North, Matt Daniels, Mike McGlinchey, Peter Kalambayi, Peyton Manning, Sean Renfree, Tyrone Crowder, Walt Canty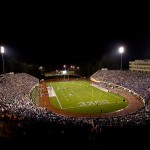 By Patrick Cacchio on April 1, 2011
This week's Football Friday looks back at last weekend's spring game and looks ahead to the spring recruiting season. Join Blue Devil Nation Premium to stay in the loop with Duke Football all year long.
Posted in BDN Premium Articles, Duke Football | Tagged Allen Jackson, BDN Football, BDN Premium, Blue Devil Nation, Dan Beilinson, David Cutcliffe, Deion Williams, Duke Spring Football, Eric Olson, Evan Baylis, Football Friday, Football Recruiting News, Jonavaughn Williams, Oshay Dunmore, Patrick Cacchio, Rick Petri, Romeo Okwara, Sean Renfree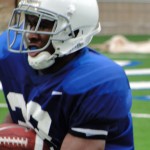 By Patrick Cacchio on April 9, 2010
DURHAM – Duke's Desmond Scott showed what Blue Devil fans have to look forward to during the recent spring football game.  BDN's Patrick Cacchio was there to take in the action and talk with Scott. Just press play -
Posted in Duke Football | Tagged Blue Devil Nation, Desmond Scott, Duke Spring Football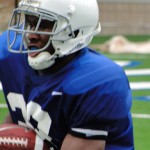 By Patrick Cacchio on March 27, 2010
The Duke Blue Devils held their annual spring football game on Saturday in sunny Wallace Wade Stadium. The game featured the first-team offense (white) against the first-team defense (blue). The blue team emerged victorious with a convincing 24-3 victory, which showcased the team's improved running game. Speed and youth were apparent on both teams, though […]
Posted in Duke Football | Tagged Blue Devil Nation, Duke Spring Football, Duke Spring Game, Patrick Cacchio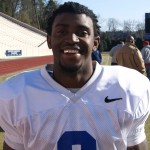 By Mark Watson on February 22, 2010
Durham, N.C. – If you follow Duke Football, yo know by now that  Johnny Williams will move to the Duke secondary  after playing wideout his first two seasons.  He's learning on the fly and we got his thoughts coming off the field after Saturday's scrimmage. How is the spring going so far? Pretty good, pretty […]
Posted in Duke Football | Tagged BDN, Blue Devil Nation, Duke Spring Football, Johnny Williams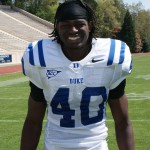 By Mark Watson on April 24, 2009
Matt Daniels will likely be the starting right safety for the Duke Blue Devils in just his second season.  Daniels took the time to talk with Blue Devil Nation and we'd like to share his thoughts with you. What is different when preparing for the 2009 football season? This year I will be more of […]
Posted in Duke Football | Tagged Blue Devil Nation, Duke Football, Duke Spring Football, Matt Daniels