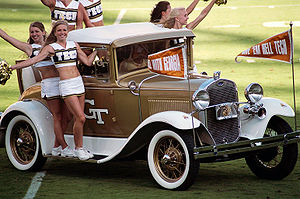 Duke (3-7, 1-5 ACC) will look to turn their season around on Senior Day this Saturday when they host Georgia Tech (7-3, 4-3 ACC) in Wallace Wade Stadium. While many Duke fans may be tempted to look ahead to basketball season, there are two final chances to watch the Duke senior class with the most wins since 1995 take to the gridiron. This Duke senior class is headlined by All-ACC stars Matt Daniels and Donovan Varner, but also includes 18 other tremendous student-athletes who will leave the Blue Devil Football Program in a much better place than they found it four years ago. Thank you, seniors!
GAME INFO
Georgia Tech at Duke
12:30 PM ET, Saturday, November 19
Radio: Blue Devil IMG Sports Network; Sirius XM Radio (Channels 94 & 193)
TV: ACC Network - Tim Brant (Play-by-play), Dave Archer (Analyst) and Mike Hogewood (Sideline)
Internet: GoDuke.com; theACC.com
KEYS FOR DUKE
1. Win the line of scrimmage: Broken record time, but seriously. Football is won and lost in the trenches, especially against the Georgia Tech option offense. The Yellow Jackets bring in the top rushing offense in the ACC, averaging just under 320 yards per game. It's a five-headed monster for Georgia Tech on the ground, led by Tevin Washington, who averages over 70 yards per game, along with 4 other players who average over 30 yards per game in David Sims, Orwin Smith, Embry Peeples, and Roddy Jones. While fans can argue the merits of the Georgia Tech offense, the bottom line is it is effective and will challenge the Duke defense for 60 minutes. If the Yellow Jackets' big, physical linemen are able to control this game, it will be a long afternoon for the Blue Devils. Conversely, with an offense that is difficult to get off the field, the key for Duke will be getting into the backfield and forcing fumbles. With the number of pitches in the option offense, the Yellow Jackets are prone to putting the ball on the ground (GT has 23 fumbles on the year) and Duke will have to capitalize (GT has lost just 8 fumbles overall).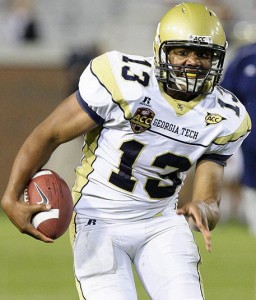 2. Explosive plays: Georgia Tech brings in one of the most explosive offensive units in the conference, averaging over 36 points per game and nearly 6 yards per carry on the ground. WR Stephen Hill is the top threat through the air, though his production has dropped off in ACC play. Still, the Yellow Jackets' offense leads the ACC in yards per play both on the ground (5.8) and through the air (11.6). Those are scary numbers for a Duke defense that is banged up across the board. With key injuries to the defensive line and in the secondary, and the potential absence of both starting linebackers, Duke will need to find several unsung heroes on defense. Expect Matt Daniels to be used heavily against the run, as the Blue Devils will have to gamble and hope that Ross Cockrell can handle Hill in single coverage.
3. Duke on offense: Which Duke offense will we see on Saturday? Will they put together a full 60 minute effort? Georgia Tech is allowing nearly 25 points and over 360 yards of total offense on the season, so opportunities will be there for the Blue Devils to score points. The Blue Devils had the Yellow Jackets on the ropes a year ago in Atlanta, but a costly turnover killed their upset hopes. If Duke can take care of the football and put together 60 minutes of offense, they could find some redemption on Saturday.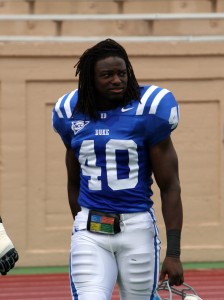 WHAT TO WATCH
1. Special seniors: It was alluded to in the opening, but bears repeating. This will be the last home game for a Duke senior class that has won 15 games over the past four years. Kyle Hill will watch his Senior Day from the sidelines, ending an impressive streak of 46 straight starts on the Duke offensive line. The remaining seniors will put forth an inspired performance as they look to end their careers with a big upset win in Wallace Wade Stadium. The Blue Devils will graduate 20 student-athletes from the program on Saturday: Paul Asack, Matt Daniels, Jeff Faris, Guillermo Freile, Ryan Hall, Charlie Hatcher, Cooper Helfet, Kyle Hill, Jay Hollingsworth, Jeffrey Ijjas, Alex King, Jon Needham, Danny Parker, George Pearkes, Kevin Rojas, Preston Scott, Will Snyderwine, Josh Trezvant, Donovan Varner, and Johnny Williams. Thank you, Seniors!
2. More records: Last week, Duke fans watched as senior WR Donovan Varner became the all-time school receptions leader. Varner will look to add to that record over his final two games, but will also look to set a new school record with a catch on Saturday. Last Saturday, Varner caught a pass in his 35th consecutive game, tying Scottie Montgomery for the all-time Duke record. Also on Saturday, Varner and Vernon will look to become Duke's top all-time receiving duo if the pair haul in 5 catches.
3. All-American: Senior Matt Daniels has put together an impressive career at Duke, topped off with an outstanding senior campaign. The quarterback of the Duke defense, Daniels is 2nd in the country in pass break-ups, passes defended, and tackles by a defensive back. Throughout his career, whenever the Blue Devils have needed a stop, it seems that Matt Daniels is there. He has been a tremendous leader for this program and will almost certainly be playing on Sundays next year.
PREDICTION
A year ago, the Blue Devils faced three option offenses, but this season, just one. The option offense is difficult to prepare for and with a plethora of injuries on both sides of the ball, Georgia Tech will represent a significant challenge for Duke. Duke should have success moving the ball against Georgia Tech if they stick to an aggressive gameplan; expect another big day for Duke's "Killer V's." An emotional pair of seniors in Matt Daniels and Charlie Hatcher will try to will the Blue Devils' defense to an upset victory, but the explosive Yellow Jacket offense will still find its way into the end zone.
Georgia Tech 35, Duke 24