[private]True Duke freshman Johnny Williams had a coming out party on Saturday where he pulled in eleven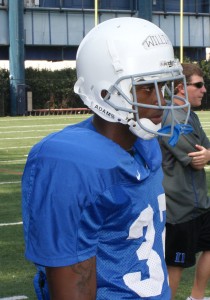 catches for 135 yards in a loss to Northwestern.  The performance earned him Rookie of the Week in the Atlantic Coast Conference.
No Blue Devil freshman has posted those kind of numbers since Walter Jones in 1988 who tallied 139 yards versus the Citadel.  "Johnny Williams is a great player.  The kid came in and worked hard in the weight room.  He was actually the only freshman here and we put him in the fire early in seven on sevens and he came along nicely," said Duke quarterback Thaddeus Lewis during this weeks press conference.
Williams was the first freshman on campus and learned his way around during the hot summer months.  He was a three year letter winner at St. Stephens HS in Alabama where he helped his team to a 39-4 record during his career.  He missed five games due to injury in his senior season, yet still managed 25 catches in limited action.  As a junior, Williams had 893 yards on receptions and 312 rushing.
Anyone who watched the Northwestern game would agree that Duke has landed a special player which will help build the program during his career in Durham.  Williams played with a confidence ahead of his years. 
"He's a competitor and he was telling me during the game, they can't check me, they can't stop me and if you throw it I'm going to make a play.  And he was out there making plays.  The thing is when he catches the ball he's making moves and making people miss and that's a good addition to this offense," said Lewis
Coach Cutcliffe was just as impressed with Williams play stating, "Johnny had a tremendous game.  He's a really fierce competitor.  What we are looking for more from him is consistency.  If Williams pulls in anywhere close to as many passes as he did this past weekend, it will benefit players like Eron Riley who might not draw as many double teams.
Cutcliffe went on to say that he challenged Williams and all the freshman to be all they could be during a morning practice.  "In my opinion, Johnny could have had 14 or 15 catches in that game.  He could have been a little sharper down the stretch and maybe have been national player of the week," said Cutcliffe.
Only time will tell if Williams can achieve lofty goals such as national player of the week, but if he shows the consistency the staff is looking for, there is no reason to think it can't happen.[/private]