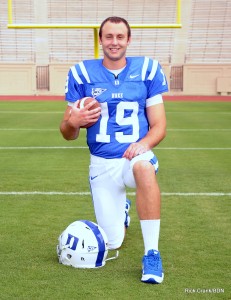 DURHAM, N.C. – Redshirt junior quarterback Sean Renfree completed 12-of-14 passes for 101 yards and one touchdown to highlight Duke's 60-play situational scrimmage on Tuesday night at the Brooks Practice Facility.
Renfree's scoring toss covered 10 yards to senior wideout Donovan Varner while senior tight end Cooper Helfet caught a scrimmage-high three passes for 45 yards.
"We got some good work in tonight," Duke head coach David Cutcliffe said.  "We put ourselves in game-like situations to get a better feel.  This is the best camp we've had since we've been here.  It has been very competitive and very physical.  From August 8th until now, we've become a better football team."
Sophomore running back Juwan Thompson headlined the ground attack with a 20-yard touchdown run.  The Blue Devils scrimmaged without the services of running backs Patrick Kurunwune and Josh Snead, and Cutcliffe expressed concern with the depth at the position.
"Josh Snead got hurt yesterday," Cutcliffe said.  "We'll wait for further evaluation by our medical staff before giving an update.  Patrick has missed some time.  Jay (Hollingsworth) has missed some time.  You do the math."
Duke's defense received a lift when senior safety Matt Daniels returned a fumble 29 yards for a touchdown.
The Blue Devils open the 2011 season at home against Richmond on September 3 at 7 p.m. in Wallace Wade Stadium.  Tickets are available online at www.GoDuke.com/tickets or by calling the Duke Athletics Ticket Office at 919-681-2583.