This week's Football Friday looks back at last weekend's spring game and looks ahead to the spring recruiting season. Join Blue Devil Nation Premium to stay in the loop with Duke Football all year long. [private]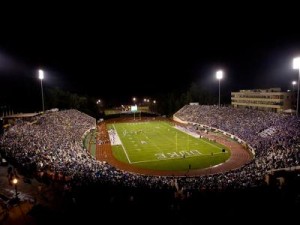 Welcome to Football Friday, under the lights! This is what happens when the Football Friday author has a busy week at his day job studying gynecology. FUN! In all seriousness, sorry to be tardy to the party, but it unfortunately will happen from time to time that we'll have a nightcap. It's been a busy week in Duke Football, so let's get right to it.
Positives from the spring game
A quick highlight of the spring game with some comments from Coach Cutcliffe was posted today on our Facebook page. There was a lot to like from the spring game and good reason to be positive and optimistic about this fall. Of course, questions still exist about this year's Blue Devils, particularly on the defensive side of the ball, but many of those questions won't be answered until they line up against Richmond and Stanford in weeks 1 and 2. The spring game was a good opportunity to evaluate some potential strengths and weaknesses as the team heads into the 2011 season. Just a few quick thoughts:
The defense as a whole, including the defensive line, performed better than expected. I thought Duke competed well along the line of scrimmage and were even able to pressure the quarterback. It still seems likely that incumbents Charlie Hatcher, Sydney Sarmiento, and Justin Foxx will see the majority of snaps at their respective positions, but the influx of redshirt-freshmen has really improved the depth along the front four. In particular, players like Jamal Wallace, who led the team in tackles in the spring game, and Jordan DeWalt-Ondijo, who was credited with a sack, appear ready to contribute this fall. I am excited to see what Coach Petri is able to do with this young group of linemen.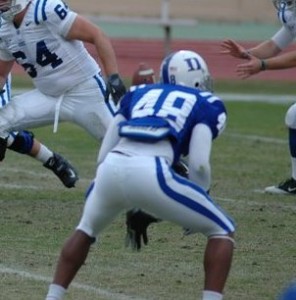 Ross Cockrell took home the most improved defensive player award, and the staff has always remained excited about his potential, despite some early struggles as a first-year starter last season. In the spring game, Blue Devil fans got a look at another exciting young member of the Duke secondary in Issac Blakeney. Blakeney was impressive last Saturday, totaling 5 total tackles, 2 tackles for loss, 1 forced fumble, and 1 pass breakup. The Blue Devils will add 3 talented freshmen to the secondary this fall in Jared Boyd, Tim Burton, and Chris Tavarez, which should mean that the Duke defensive backs will be improved from a year ago. Duke will of course need big years out of veterans Matt Daniels and Lee Butler in the secondary, but the future looks bright.
Offensively, there was even more reason for optimism. Duke is in the enviable position of having three talented quarterbacks in Sean Renfree, Brandon Connette, and Anthony Boone. After Saturday's performance, it is reasonable to assume that all three will see playing time this fall, and Coach Cutcliffe alluded to some possible creative offensive packages in his post-game comments. All three quarterbacks showed the ability to lead successful drives in the spring game, both on the ground and through the air. Though senior Jay Hollingsworth was held out, the four remaining backs were impressive in limited action. Sophomore Juwan Thompson was awarded most improved offensive player, and he is likely to see an expanded role this fall. At receiver, Duke has All-ACC caliber upperclassmen in Donovan Varner, Conner Vernon, and Cooper Helfet, coupled with rising stars in Tyree Watkins, Brandon Braxton, and Braxton Deaver. The offensive line returns all but one starter and adds talented redshirt freshmen to the depth chart. In summary, there are a lot of reasons to be excited about Duke's potential on the offense.
Duke picks up 2nd commitment for 2012
Allen Jackson met with Coach Cutcliffe after the spring game on Saturday and gave his verbal pledge to the Duke Football program. BDN spoke with the newest Blue Devil last Sunday, who mentioned Duke's academics, as well as his respect for new defensive line coach Rick Petri. As a player, Jackson has tremendous athleticism for his size and the potential to be a dynamic pass rushing defensive end at the college level. His biggest weakness is size, but he plans to work on adding strength over the next year to prepare himself for the college game. The Duke staff is very excited about Allen's commitment, and the Blue Devil Nation welcomes its newest member.
Spring recruiting picking up
In case you haven't noticed, things are really picking up with recruiting around the Blue Devils and around the country. With spring practices at most schools now in full swing, prospects are taking in practices and spring games, and commitments have begun to roll in. Duke hosted a number of prospects at the spring game, most notably TE Dan Beilinson, LB Deion Williams, DE Romeo Okwara, and OL Eric Olson. All four players have received offers from Duke and enjoyed their visit to Duke. Dan Beilinson described his visit as "a really great experience." With spring practice now completed, the Duke staff will focus their efforts on the recruiting trail.
With a few dozen offers already extended, the first step for the Duke staff is to fully assess each prospect's interest in the Duke program. Several prospects with offers, especially those from the west coast (i.e., QB Oshay Dunmore, TE Evan Baylis, WR Jonavaughn Williams) have yet to make a trip to Durham. For many families, the travel costs required by long distance unofficial visits are prohibitive, and the only way Duke will be able to see these prospects on campus will be to wait until official visits, a potentially risky proposition. This can be a difficult point in the recruiting process, as the Blue Devil staff must decide where to best focus their efforts and resources.
While I do expect Duke to eventually begin to cast a wider net with scholarship offers, most likely during June camps, there is a group of prospects that Duke has made a very strong impression on this spring. These are players already with impressive offer lists, and I suspect Duke will remain heavily involved with their recruitment. In fact, I expect Duke to secure another verbal commitment fairly soon, based on the feedback I have heard from the prospects directly. It is undoubtedly extremely early in the recruiting process, and written scholarship offers are still months away, but the early indications from the class of 2012 appear very promising for the Blue Devils.
A shameless plea until next week
Well, that's all the time I'm allowed to spend thinking/writing about football for now, so it's back to studying gynecology. I know you think I'm kidding, but I'm not. Until next week, I know there are a few of you out there who read this column weekly and are interested in Duke Football. With basketball season now sadly behind us, please join in the discussion on our football message board. There's lots to talk about, and I assure you there are no experts or holier-than-thou's among us. We've got lots more football recruiting coverage still to come and we always welcome input and suggestions. We all make up the Blue Devil Nation – WE ARE DUKE!
[/private]