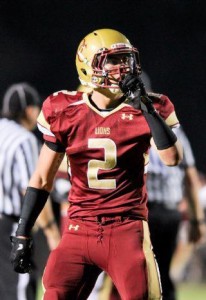 The Blue Devils are hoping to see one former Oaks Christian star light up the scoreboard in Wallace Wade Stadium this fall in receiver Blair Holliday. The Duke coaching staff is hoping that a current Oaks Christian star will light up Blue Devil opponents in the future. Cameron Judge is a 6'2" 210 pound linebacker prospect from Westlake Village, California. As a junior, Judge totaled 112 tackles, 3 sacks, and 2 forced fumbles, earning 1st Team All-Ventura County honors. Though it's early in his recruitment, the impressive athlete is hearing from a lot of schools, and the Blue Devils are giving him a long look. BDN caught up with Cameron last week for an update on his recruiting process. [private]
BDN: How would you describe your strengths as a player?
My athleticism, being a linebacker, it's one of my strengths. Not many linebackers, I think, have my athleticism. I have a 39 inch vertical and I ran a 4.4 [second] hand-time 40 [yard-dash] yesterday. I feel like my athleticism is a big advantage for me.
BDN: What are you working on this offseason as you prepare for your senior year?
I'm trying to put on some more size, gaining some more weight, I want to be like 220-225 [pounds] by the season start.
BDN: You play for a strong program at Oaks Christian; what are some of your goals for your senior year?
We're moving into the PAC-5 this year for playoffs, it's a big statement year for the entire school, so we just want to do our thing and try and win CIF in this new playoff division.
BDN: As you approach your college decision, what are the most important things you are looking for in a school?
Academics is pretty important to me, so that's definitely near the top of my list. And then also, like the environment, I want to be able to call the place home every day and feel happy there, amongst the players, coaches, and just the environment of the school in general.
BDN: Where do you stand with offers and interest from schools now?
I've been hearing from quite a bit of schools, I talk to Texas A&M quite a bit, Vanderbilt, Utah, UCLA, Oregon State, I hear quite a lot from those schools.
BDN: Which schools have you had a chance to visit?
UCLA is actually the only one so far.
BDN: Do you have any plans to visit any other schools this spring or summer?
I haven't planned any yet, but I want to get out and see some schools over the summer.
BDN: Being on the West Coast, you've got a lot of PAC-12 and other West Coast schools interested in you. Is location going to be an important factor in your college decision?
Not really, no, I'd be open to going anywhere at this point.
BDN: Do you have a timeline in mind for when you plan to narrow things down or make your final decision?
Yeah, I want to have a commitment made before the start of my senior season, but if I don't have a decision made by then, I don't want to rush it.
BDN: Thanks a lot, Cameron, and best of luck.
Thanks.
[/private]