2nd and 10 from the Duke 35 yard line
Renfree drops back, completes a pass to senior Austin Kelly across the middle. Kelly tries to elude a tackle but is brought down by Quan Sturdivant at the Duke 41 yard line. The clock hits zero. The Tar Heels celebrate and reclaim the Victory Bell. Duke's 2010 season is over.
That was the last we saw of Sean Renfree and the Blue Devils, all the way back on November 27, 2010. Over the past nine months, Duke's coaches and players have shed blood, sweat, and tears in preparation for the 2011 season. The 3-win 2010 season is gone, but not forgotten. It's week one of the 2011 college football season, and time for Blue Devil fans to recite their familiar credo, "this year has to be better, right?"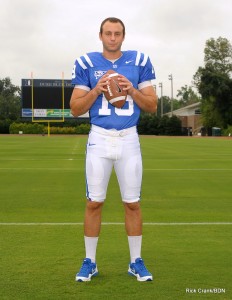 KEYS FOR DUKE
Second-year starter Sean Renfree and the Blue Devil offense have the potential to be one of the ACC's top units in 2011. In order for that potential to be realized, the Blue Devils must accomplish two things: take care of the football and establish a consistent, effective running game. After struggling with turnovers early in 2010, the Blue Devils showed dramatic improvement in their final five games. Turnovers have continued to be a point of emphasis all offseason. Junior Desmond Scott and sophomore Juwan Thompson will pace the ground game and have had an excellent training camp running behind a big, experienced offensive line. Dave Harding has stepped in flawlessly for the injured Brian Moore at center, and he will have to play at a high level in his first college game action snapping the football. With several question marks on defense, the margin for error for the Duke offense is slim.
Defensively, Duke needs to see big games from their returning stars in senior Matt Daniels, sophomore Kelby Brown, and senior Charlie Hatcher. These three players will be supported by a group of talented but mostly inexperienced Blue Devil defenders, a typical recipe for inconsistency. Similar to the offense, there are two primary goals for the Duke defense in 2011: limit explosive offensive plays and improve their play at the line of scrimmage. Duke has a deep group of high-level athletes in their secondary, and the new 4-2-5 defensive scheme will rely on their ability to make plays all over the field in an effort to slow opposing offenses. In his second year as a starter, Ross Cockrell will have to develop into a shutdown cornerback for the Blue Devils. Seven redshirt-freshmen will enter the rotation on the defensive line for Duke in 2011, and the maturation of these young athletes will be key to the defense's success. Expect to see flashes of ability from players like Jordan DeWalt-Ondigo, Jamal Wallace, and Dezmond Johnson. If the Blue Devils are able to successfully execute their new defensive gameplan, this group's results should be greater than the sum of its parts.
If Duke is going to make a bowl game in 2011, their special teams unit will have to be special. The Blue Devils have the talent in the kicking game to dominate special teams at times this season. Will Snyderwine has established himself as one of the top kickers in the country. Alex King is a proven veteran with experience and versatility. Freshman Jamison Crowder is a playmaker at kick and punt return. Improved depth across the roster should lead to better kick and punt return units. The pieces are in place for a solid special teams effort; the players simply have to execute.
GAME ANALYSIS
Turnovers
To put it lightly, Duke was plagued by turnovers in 2010. Duke's 28 turnovers, however, are eclipsed by Richmond's 32 turnovers a season ago. Needless to say, the team that takes care of the football stands to have the best chance of winning this matchup. Late in the season, Sean Renfree appeared to turn a corner, throwing just three interceptions in the final five games. Limiting turnovers has been a point of emphasis for the Duke offense all spring and summer, while the Duke defense is hoping to create more turnovers than they did a year ago. If the Blue Devils can build a first half lead, expect the Duke secondary to make some plays when the Spiders are forced to pass. Duke should win the turnover battle.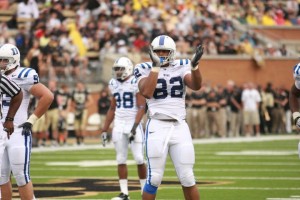 Sacks
Richmond plays a physical game of football, and in the last two meetings between these schools, dominated the line of scrimmage. The Duke defense has struggled to pressure opposing quarterbacks. With youth along the defensive line and a pass-happy offense, Duke will rarely win the sack battle. The key will be to limit the loss of yards on offense and to make some timely tackles for loss against the Spiders. The Spiders did graduate their top 3 tacklers from 2010, but still have the players to apply some pressure. Richmond will win the sack battle.
3rd Down Production
Richmond converted just 34% of their 3rd downs in 2010, while the Blue Devils were able to convert 40% of 3rd down opportunities. With a veteran offense returning, Duke should again have success on 3rd downs, utilizing their deep receiving corps to pick up 1st down yardage. The Duke defense has struggled on 3rd down in recent years, but with an improved secondary and a better scheme, they should do a better job of limiting big conversions. Duke will win the 3rd down battle.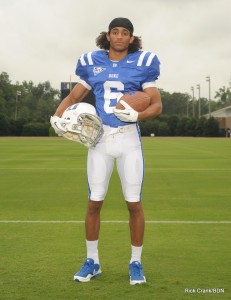 Explosive Plays
The game features a trio of All-Conference wide receivers, all capable of opening the game up with an explosive play. Tre Gray will be a challenge for the Duke secondary, and his matchup with Duke's Ross Cockrell will be one to watch. The "Killer V's" will be up to their usual tricks, but Richmond will have to pick their poison as senior Cooper Helfet and sophomore Brandon Braxton also have big-play ability. On the ground, the Spiders will utilize a committee approach, while Duke will feature a heavy dose of Desmond Scott and Juwan Thompson, two players who have dominated training camp with big plays. Duke has too many weapons on offense; they will win the explosive play battle.
Rushing TDs
Richmond will look to establish their running game early, and if they are able to control the line of scrimmage, it could be another long season opener for the Blue Devils. Duke will be able to counter with a veteran offensive line and three talented runners of their own in Desmond Scott, Juwan Thompson, and Brandon Connette. With a deep offensive line, Duke should be able to run the ball into the end zone when needed. The Duke defense will have their hands full with trying to keep Richmond's Kendall Gaskins out of the end zone, but Duke has a deeper stable of proven runners. Duke will punch a few in on the ground.
Field Goals
Both teams feature outstanding All-Conference kickers. Duke's Will Snyderwine has connected on 86.4% of his career field goal opportunities. Richmond's Will Kamin has hit 90.9% of his career field goal opportunities. This matchup is a push.
Penalties
Since the arrival of David Cutcliffe in Durham, the Blue Devils have been one of the most disciplined teams in the ACC. In 2010, Duke committed just 55 penalties for an average of 40.6 yards per game. The Spiders were even better, committing just 50 penalties for an average of 35.5 yards per game. That trend should continue under new Head Coach Wayne Lineburg. This matchup is a push.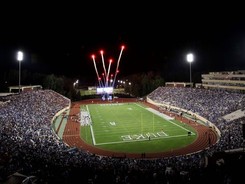 PREDICTION
Fool us once, shame on you. Fool us twice, shame on us. Fool us three times, not going to happen. Duke is ready for Richmond. There are sure to be some first-game jitters, but Duke won't get tangled in the Spiders' web. Sean Renfree has emerged as a leader on this Blue Devil team, and he will guide the Duke offense to a big night. The game will be won (or lost) along the line of scrimmage, and Duke's linemen are bigger and stronger than they were two years ago. Desmond Scott and Juwan Thompson will have big days on the ground. Playing from behind, Richmond will be unable to establish a consistent power running game, forcing Corp to make plays through the air against the deep Duke secondary.  The Blue Devils should come away from this game with a lot of positives to build on and a lot to learn from, while Duke fans will leave Wallace Wade Stadium thinking, "this year will be better!"
Duke 34
Richmond 17