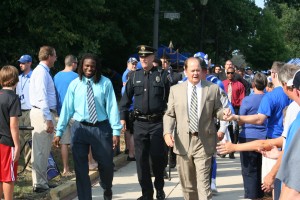 Are you ready for some football, Blue Devil Nation? Saturday afternoon will be your last chance until September 1st to see some Duke Football, so get your fill. The Blue Devils will take to the field on Saturday at 1PM in Wallace Wade Stadium for their annual spring game. BDN's Football Friday is here for your preview.
Logistics
First of all, highs in the upper 70s, with a slight chance of isolated thunderstorms. Should be a perfect spring day for some football if the rains miss the Methodist Flats. That also means a perfect day for some tailgating. Get there early, as the team will conduct the Blue Devil Walk at 11:00 AM. Team BDN will be there in full force, so be sure to say hi. Here's the information on the parking situation. Bring your wallets, even though admission is free (stadium gates open at 11:15), as there will be plenty of opportunities to get your Blue Devil gear, as well as stuff your face with Chick-fil-a, Domino's, and Blue Devil Concessions. Oh, and the most important reason to bring your wallet is to purchase your 2012 season tickets. Ticket office reps will be on hand and help you pick your exact seats. Try before you buy. The game kicks off at 1PM and Coach Cutcliffe will address the crowd during halftime of the scrimmage. Spring practice awards will also be announced at halftime.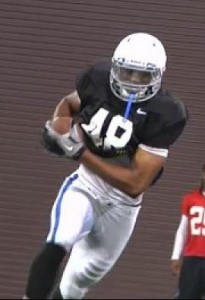 Scouting the Blue Devil Offense
The Duke offense will feature a number of familiar faces, but it's likely to be the unfamiliar ones who will make an impression on Saturday. We all know what Conner Vernon is capable of at wide receiver, but as he's been limited due to injury this spring, expect to see a lot of Blair Holliday and Jamison Crowder, both of whom have had very strong spring performances. Nick Hill is another young face who appears ready to contribute, and Corey Gattis and Tyree Watkins add a veteran presence to the receiving corps. With Jack Farrell and Braxton Deaver sidelined with injuries, the Blue Devils had concerns at wide receiver heading into spring practice. Coming out of spring practice, tight end is no longer a concern, and you'll likely see why as Issac Blakeney and David Reeves are sure to impress.
Up front, the Duke offensive line returns all but graduating senior Kyle Hill, and that continuity should benefit the Blue Devil offense. This group has improved each year under Coach Cutcliffe, and they're looking to take a big step forward this fall under new OL Coach John Latina. Expect to see a few holes opened for the likes of the now healthy Josh Snead and last year's leading rusher Juwan Thompson, who have seen the majority of carries with senior Desmond Scott nursing injury. If that trio isn't impressive enough for you, the Blue Devils will add two more big-time running backs in just a few months, as Jela Duncan and Shaquille Powell will push for early playing time.
Am I forgetting something? Ah, yes, quarterback. While Peyton Manning had been a fixture in the Duke practice facilities this offseason, he will not be taking snaps under center for the Blue Devils on Saturday. Sean Renfree remains entrenched as the starter, and he's had yet another good spring running the Duke offense. While much of spring practice is situational, Renfree has shown the ability to get the ball downfield, averaging 15.7 yards per completion in the last scrimmage. But Renfree's old news, right? Coach Cutcliffe and the Duke staff have been looking at ways to get guys like Brandon Connette and Anthony Boone more involved in the offense, and they've done well with running the ball and catching the ball in some unique schemes. But don't get too excited. Knowing the Duke coaching staff, the Blue Devils are unlikely to show off anything particularly new or exciting on Saturday, so we'll all just have to wait until the fall. Expect to see Connette, Boone, and freshman Thomas Sirk take several snaps under center in relief of Renfree; all have taken big steps forward in their command of the offense this spring.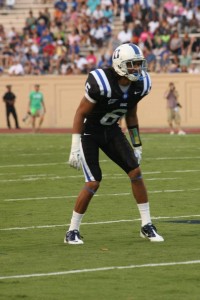 Scouting the Blue Devil Defense
Somehow, it seems that Duke has had a perpetually young defense the past few years, and that remain the case this spring, though they are overall more experienced. The losses of Matt Daniels and Charlie Hatcher will be the biggest voids to fill, and there are a number of candidates looking to contribute. Up front, Duke will be without their top pass-rushers Saturday in Kenny Anunike and Jordan DeWalt-Ondijo, but will feature much of the same group of athletic ends we saw a year ago, led by Justin Foxx, Dezmond Johnson, and Jamal Wallace. Sydney Sarmiento, Jamal Bruce, and Nick Sink are likely to see the majority of time on the inside up front. The defensive line continues to improve under Coach Petri and has the benefit of going up against a big and experienced offensive line in practice.
At linebacker, the Blue Devils will be without Kelby Brown for the foreseeable future, but expect sophomore David Helton to continue to impress. The redshirt is off for Kelby's younger, but bigger, brother Kyler, and it appears that a nose for the football is in their genes. Austin Gamble is the lone upperclassman, though sophomores C.J. France and Jon Woodruff have some experience. And before you get down on the Blue Devil linebackers, keep in mind that stud recruits Keilin Rayner and Deion Williams will be on campus in just a few months.
Coach Knowles' 4-2-5 scheme relies heavily on the secondary, and the emergence of Ross Cockrell as a shutdown corner is key. He'll be joined by senior Lee Butler at cornerback, though youngsters Jared Boyd and Tim Burton will see time. The leader of the secondary this year is most likely to be leading returning tackler Walt Canty, though hard-hitting Jordon Byas has also turned some heads with August Campbell sidelined this spring. Newcomers to look for at safety include the hard-working Chris Tavarez, Britton Grier, transfer Jeremy Cash, and former WR Brandon Braxton. All should see snaps on Saturday and overall, this group has some of the best playmakers on the defensive side.
Scouting the Blue Devil Special Teams
Will Monday. That's about all you need to know. With Will Snyderwine and Alex King now graduated, Monday has handled all of the punting and kicking duties this spring, and handled them well. By the fall, incoming freshman Ross Martin may challenge him for the placekicking duties, but expect to see Monday handle the punting for the next four years in Durham. On the return side, Jamison Crowder remains the Blue Devils' top threat, but he'll be joined by incoming freshman DeVon Edwards this fall, who took more than a few kicks to the house during his high school career. In all likelihood, getting to see Monday punt and kick should be a refreshing sight for Blue Devil fans and the only real highlight on special teams Saturday.
Recruiting still sizzling
Who are all those people with lanyards and nametags? That would be the dozens of high school prospects and their families who will be on campus this weekend to take in the Blue Devil program. Several members of the Duke class of 2012 will be on hand Saturday, and they'll be joined by a huge group of future prospects. With 3 commitments already on board in 2013, the coaching staff is flying high on the trail and will have in some of their top targets in this class, including a handful considered among the nation's elite. Coach Cutcliffe and his staff work on recruiting every single day, and this weekend will be no exception. And just like the staff, we follow the recruiting trail here at BDN, so be sure to check out some of our recent interviews with the likes of TE Nathan Marcus, and OL Sterling Korona, and of course lots more to come. Don't be surprised if the Blue Devils hear more good news by the end of this weekend.
In case you haven't figured it out already, Blue Devil Nation is the place to be for Duke Football fans. We cover the team year-round, and would love to have you join our growing BDN Premium community. We can't wait to see you all in Wallace Wade Stadium this Saturday. WE ARE DUKE.