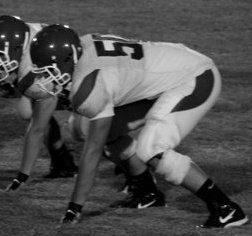 In their three-plus years in Durham, Head Coach David Cutcliffe and Offensive Line Coach Matt Luke have built the Duke offensive line into a position of strength. The past two recruiting classes have brought in a very good group of offensive linemen, and the Blue Devils hope to continue that trend with the class of 2012. Andrew Jelks is a 6'6" 262 pound lineman from Paris, Tennessee. Andrew has already received half a dozen offers, including one from Duke and in-state power Tennessee. BDN caught up with Andrew after he visited Duke for a spring practice. Highlights from his junior year can be viewed here.
BDN: Can you start off by describing your strengths for fans who haven't had a chance to see you play?
I think I have very good footwork for my size, and athletic abilities, I have much more than a lot of people.  I think those are my strengths.
BDN: What are some of the things you have been working on this offseason?
I'm focusing on putting on weight right now, that's my biggest focus, and that's about it.  Getting stronger.
BDN: What are some of your goals for your senior year?
You know, there's always I want to win state, and I think we have a good enough team to do it, so that's my goal right now.
BDN: As you look at your college decision, what are the most important factors you are looking for in a school?
Mainly, I'm looking for a good relation with the coaches.  If I like them, and how they want to use me.  And proximity to home is, it's not a major factor, but I'm gonna be thinking about it a lot.
BDN: What schools have been in contact with you so far?
Well, Duke of course, was the first school to offer me.  I've been in contact with Duke, Louisville, Cincinnati, Tennessee, Alabama, Missisippi State, Ole Miss, Vanderbilt, and Arkansas State.
BDN: How was your visit to Duke?
It was awesome, I loved it up there.  The coaches were real cool, and I love the offensive line coach, Coach Luke, he's a real down to earth guy, and he tells you how it is, and Coach Cut, he's just an awesome coach.
BDN: Do you have any other visits planned for this spring or summer?
Yeah, I'm definitely, I'm gonna take one to Tennessee sometime here soon, I'm going to Ole Miss in April, and I'll be at Alabama sometime in the spring.
BDN: Is there anything else you think is important for college football fans to know about you?
I mean, I'm just – I'm smart, got a 4.0, and I love playing football.
BDN: Thanks a lot, Andrew, and best of luck to you.
Alright, thanks.