Head Coach David Cutcliffe is known for his ability to develop quarterbacks, thanks to his work with Thad Lewis and Sean Renfree at Duke, and Peyton and Eli Manning at Tennessee and Ole Miss. In the class of 2012, Duke has already been in contact with many of the top quarterback prospects around the country, including a sleeper in-state dual-threat prospect. Matt Johnson is a 6'3" 210 pound quarterback from Maiden, North Carolina. He's been in contact with several in-state ACC schools and made a trip to Durham earlier this year for Duke's Junior Day. Highlights of Matt's junior season can be viewed here.
BDN: Can you start off by describing some of your strengths for fans who haven't had a chance to see you play?
Yeah, my coach coordinates offense, we run a shotgun offense, but I am – we run a 50% passage percent, but I have found strength in being a good runner, and I play behind my pads, I've been told, but I really try to just get every yard when I'm running, and I have focused on passing to strengthen myself in passing, but running's definitely been my biggest strength, and slowing the game down a little bit and playing at my own pace has been my big thing that I've been pretty good at this year.  I don't really kind of pride myself in anything, but just my reads and everything like that going in.  But I'm more of a dual threat quarterback.
BDN: What are some of your goals for your senior year?
This year, I want to help my team.  I want to pass for over 1500 yards.  I was just 1000 this year, with run a lot more than that, but I want to be considered as a college level passer, and not just a dual threat quarterback.  I also want to strive to win a state championship, that's what I want for my team, but the passing and reading the coverages better, and making – slowing the game down even more, just to have control over the situation is really what I want, and complete passes, basically.
BDN: Is there a college or NFL quarterback you have studied closely or have tried to emulate?
I've always admired Peyton Manning, just for his – his poise in the pocket, and then the way he calls the game, and seems to have everything in his hands.  He's working with everybody, and they're reacting to it.  It's what I love about it, and it's kind of where I want to be.  But I want to play with the maturity level that is far passed my own, just to have control of the situation mainly.  But – I loved Brett Favre until just recently, but –
BDN: As you approach your college decision, what are the most important things you are looking for in a school?
A big thing about it, and I've put it on all my seats, is the location of where it is.  I kind of want to stay pretty close to home.  I don't really want to leave my parents that much, and I think I probably have an opportunity to do that, but also I want to find a place that has a communications major.  I kind of want to be a broadcaster when I grow up, but a lot of it is academics for me.  I want to go somewhere where I can maybe be out in 4 years, but have a good degree, and I want to go somewhere where I can play and that I can grow as a football player, and as a leader.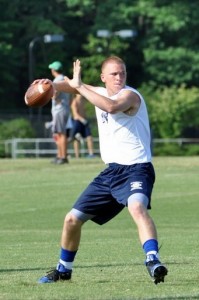 BDN: Who are the schools that you have been hearing from the most and which schools were the first to contact you?
It all kind of started with, I think it was Wake Forest, NC State, ECU, and Duke in there, and that was really cool, getting those letters from Coach Roper at Duke, and going to the game, I was very excited about getting that stuff and receiving letters of just, "Come to our game, come watch."  It was all surreal to me, but I never really felt like I was lost in the crowd.  I felt like it was a privilege being in the place I was at; I count it as a blessing, being able to go.  But I went to NC State a couple times, ECU a couple of times, and I think it's been ECU and Duke that has talked to me the most in just recruiting-wise, and keeping up contact with me.  But it's been a great thing for me, I'm humbled by the entire thing, but I really want to just find a place I'm comfortable at, and I really felt comfortable at all 3 of those places.  But a lot of other colleges were talking to me just through letters, just sending me stuff.  But communication-wise, I talked to the other colleges.
BDN: Do you have plans for any additional visits this spring or summer?
I definitely want to – I went to Duke's Junior Day the other day.  I had a great time there, I'm actually looking forward to another visit there.  Thinking about going to ECU's Junior Day, and that'll be a big thing, and any other Junior Day I'm invited to, I'll be happy to accept that invitation no matter where it is, but I definitely liked NC State, ECU, and Duke as a place I've been to.  I wanted to visit Wake Forest, I don't know all about that, I don't know what my opportunities are gonna be, but I'm not sure if there's anywhere else I want to go.  I want to go anywhere, really.
BDN: Is there anything else you think is important for college football fans to know about you?
I try to be the same person I am on the field as I am off the field.  I've never been the most skilled player, I wouldn't say, but I'd say I'd be able to pull a team through anything, just with – it doesn't matter if we're down 40 or up 40, I'm gonna play my heart out.  I don't know the whole give up or let off thing, I just know how to play football and how to score touchdowns, and how to go 100% every play.  I'm not – I just want to keep everybody's spirits up on the field; I'm a good motivator, and I'm not gonna pride myself in being a leader, but I think somebody has to do it, and it's gotta be somebody willing to step up, and I try to do that most of the time, and I think I do a pretty good job of it.
BDN: Thanks a lot, Matt, and best of luck to you.
All right man, thank you. God bless you.  Bye.