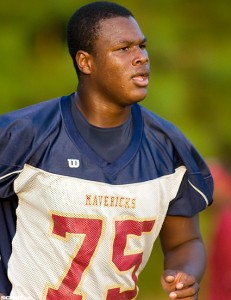 In their three-plus years in Durham, Head Coach David Cutcliffe and Offensive Line Coach Matt Luke have built the Duke offensive line into a position of strength. The past two recruiting classes have brought in a very good group of offensive linemen, and the Blue Devils hope to continue that trend with the class of 2012. One of the top offensive lineman in the country is D.J. Humphries, a 6'6" 265 pound offensive lineman from Charlotte, North Carolina. As a junior at Mallard Creek, D.J. has attracted schools from all across the country, already receiving scholarship offers from over 20 schools, including Duke. Highlights from his junior year can be viewed here.
BDN: Can you start off by describing some of your strengths for fans who haven't had a chance to see you play?
I think one of my main strengths is me being athletic.  Most coaches love my feet, they love my feel, so no one's really told me too much that they want me to work on as far as on the field, but I've put a lot of work into run blocking over the summer and that definitely paid off, I had over 100 pancakes for the season. I'm a natural pass blocker, so that really was never too hard to pick up.
BDN: What are some of your goals for your senior year?
As far as my team, state championship.  But other than that, for myself, I just want to continue doing what I do, playing well, try to be All-American again, first team All-American again.
BDN: Growing up in the Carolinas, is there a particular school you grew up following?
I'm from the east side of Carolina originally, so growing up I followed South Carolina and Clemson, but I started to like LSU and Florida, 'cause I mean, I was raised around SEC football, but that's pretty much – that's the attitude I take to the field is SEC football, but I mean, I'm still interested in ACC as well, but I'll watch Florida and LSU and everything else.
BDN: Who was the first school to offer you?
Clemson was the first school to offer me.
BDN: Have you been able to narrow things down at this point in the process?
I mean, Florida's probably my number one right now, and then maybe LSU, South Carolina, Georgia, and Tennessee.
BDN: Do you have any plans for visits this spring or summer?
I'm probably gonna try to get down to – Florida probably my first visit, coming up in March, that'll be my first stop and I begin making all my visits in March.
BDN: Do you have an idea for when you would like to make your college decision?
Probably the US Army [All-American] game.
BDN: Thanks a lot, D.J., and best of luck to you.
All right.  No problem, bye.