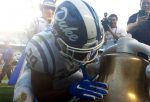 The Duke Blue Devils scored 14 points in the 4th quarter as they defeated arch rival North Carolina 27-17 in Chapel Hill.  The win earned coach David Cutcliffe his 100th win as a college coach.  Make no mistake about it, the Victory Bell remaining in Durham for another year shows how much the program has been.   It is a source of pride for players and coaches alike and helps on the recruiting trail.
The 4-0 Blue Devils took the lead in the 4th quarter on a Shaun Wilson one yard touchdown plunge.  Shortly thereafter, Bryon Fields sealed the game on a 61 yard interception return of a Chazz Surratt pass.  It was the 4th interception for a touchdown by Field in his career.
Duke played an error free game and save a 56 yard Surratt dash, they once again played shut down run defense.  That forced North Carolina to go to the air and in a close game like the one today, it took just one turnover to swing the game.
"A lot of really good things happened on that field," said Cutcliffe and he was right.  This years Duke team is cool under game pressure and they fought until the end earning a hard-fought win.
Duke close the first half on a sour note.  After a botched field goal, North Carolina star of the future Chazz Surrant completed two deep passes to Anthony Ratliff, one for a touchdown.
The Blue Devils had a chance to take a nice lead into the locker room but instead found themselves in a 10-10 deadlock.  But some teams would have allowed that momentum to continue, but Duke did not.
Brittain Brown led Duke is rushing with 92 yards on just 10 carries. Shaun Wilson added 56 yards (102 all-purpose yards) and Daniel Jones 45 yards for 186 net yard rushing.  Wilson has now scored a rushing touchdown in four straight games.
Daniel Jones was at times pressured  but played a mistake free game, throwing for 202 yards and a first half scoring play to tight end Davis Koppenhaver.
Jones biggest pitch besides to touchdown came late in the game to T.J. Rahming (6 catches, 73 yards).  The Blue Devils also went for a 4th and one in their territory in the 3rd quarter which led to a Austin Parker 24 yard field goal.
Duke will have little time to enjoy this victory in that they now face nationally ranked Miami this coming Friday night in a games televised by ESPN.  The Blue Devils have now put themselves in contention for the division crown and a win in this game would get the nation talking.
The Blue Devils have now won 15 of their last 18 games against opponents from the state of North Carolina.  Duke has already matched its total win total from a season ago. Duke has now scored 162 points to date this season which ties the record for the second most in any one season.
In closing, some of the Duke players stopped to ring the ball after the game.  But they did not linger long and most of the guys ran to the locker room with the bell in tow.  Once inside the locker room, you could hear the joy and the bell was indeed in play.