St. Louis Rams' safety Matt Daniels claimed the week 5 victory with an impressive 9/10 performance. All four Blue Devil Greats and all four Blue Devil Nation staff members correctly picked the Blue Devils to snap their 12-year losing streak to Wake Forest last Saturday. At 4-1, the Blue Devils have a crucial showdown with the Virginia Cavaliers this week, and despite a number of injuries, our experts are all confident Duke will find a way to win again this week.
Here are the overall standings: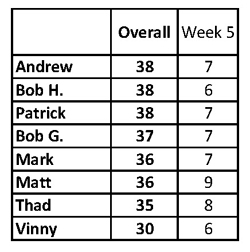 In week 6, we're closing in on the halfway point of the college football season, putting us deep into the heart of conference play. The SEC gets top billing this week with two huge conference matchups, as #4 LSU travels to #10 Florida, and #5 Georgia heads up I-20 to take on #6 South Carolina. Urban Meyer will look to stay unbeaten at Ohio State as they host Big 10 rival Nebraska, and in the Big 12, Geno Smith and the explosive West Virginia Mountaineers head to the Lone Star state to face the Longhorns. Way out west, Washington hopes to pull off another big upset against Oregon.
The Triangle plays host to three big matchups on the ACC schedule this week. Down 15-501 in Chapel Hill, the Tar Heels will look to send the Hokies back to Blacksburg with another loss, while over in Raleigh, NC State looks to upset #3 Florida State. Duke looks to get to 5-1 with a win over Virginia in Wallace Wade Stadium. Elsewhere in the ACC, Clemson hosts the Ramblin' Wreck of Georgia Tech and Miami travels to Chicago to take on Notre Dame.
Here are this week's picks: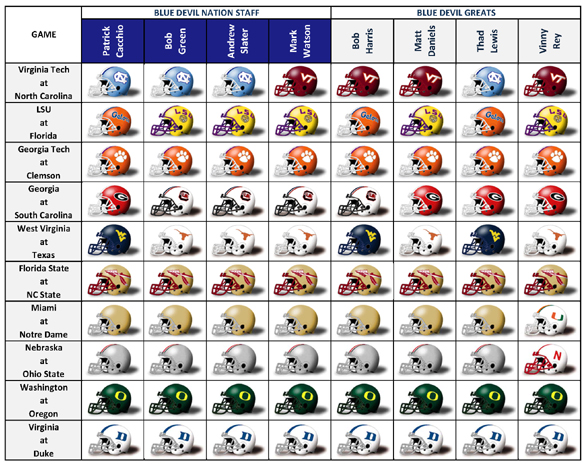 Patrick Cacchio: There is no love lost in this matchup, as the two teams clash in another critical ACC contest. The Blue Devils will have to keep their emotions in check, but the extra motivation UVA provided with their past unsportsmanlike play will have Duke ready for revenge. Expect Sean Renfree to play and have a big day along with Conner Vernon, who will become the ACC's all-time receptions leader with his first catch of the day. Virginia will have success moving the ball in Phillip Sims' first college start; it will be up to the depleted Duke secondary to come up with another critical turnover to set up Ross Martin for the game-winner. Duke 38, UVA 35
Bob Green: Quarterback is the main consideration for everyone analyzing this week's match-up. Duke's starter, Sean Renfree, hurt his elbow against Wake Forest and Virginia's back-up Phillip Sims hurt his leg against Louisiania Tech. Throw in the fact Virginia starter Michael Rocco is the only QB in the ACC with more interceptions than touchdowns and the QB situation for both teams is as clear as a country road in heavy early morning fog.
I've seen some reports Virginia desires to open their playbook up and air the ball out this Saturday afternoon. With the success Duke has had pressuring opponent's quarterbacks so far this season, tied for second in the ACC with 14 sacks, I'd say that strategy would be playing straight into Defensive Coordinator Jim Knowles hands, or more accurately stated, straight into Kenny Anunike and Dez Johnson's hands.
My expectations are for an extremely tight contested ball game that is decided late in the fourth quarter by a field goal. If my scenario comes true, Duke fans have to be excited to have the accurate leg of freshman Ross Martin to pin the outcome upon. Duke 34, Virginia 31.
Andrew Slater: In arguably Duke's biggest game in more than a decade, they'll face a UVA coming off of an embarrassing loss to Louisiana Tech. With Renfree listed as a game-time decision, the fate of the Blue Devil may fall on the shoulder of Anthony Boone, who did a great job in the final quarter against Wake Forest, and a severely banged up defense to slow down an aggressive and versatile UVA offense now featuring Phillip Sims, the Alabama QB transfer. I'm sufficiently concerned about the Blue Devil defense, but am hoping that somehow they can slow down the equally pass-happy Cavaliers through schematics, the collective will of the players, and an energized fan base looking at potentially Duke's first bowl game in eighteen years. It'll be interesting to see if weather plays a factor in this afternoon game as both teams have struggled to establish the run this year. 34-31 Duke
Mark Watson: This is am important game for both teams moving forward and it will be a battle of wills. If the Blue Devils do not get complacent or play from behind, they'll win this game and be one win shy of bowl eligibility. Duke 37 Virginia 30
Bob Harris: The Blue Devils will handle whichever QB takes the field for the Cavs. Duke has an attitude now, and 5-1 is coming and UVA heads home at 2-4. Final Duke 45 - UVA 27.
Matt Daniels: Duke is on fire right now, snapping a 12 game losing streak against the Deacs and about to regain a winning streak vs the struggling Cavaliers. Duke wins on offense against a young Virginia secondary 31-14.
Thad Lewis: Duke has to stay healthy and continue to play all around football; defense, offense, and special teams must continue to play consistently.
Vinny Rey: I see Duke's defense being able to cause key turnovers to be the difference in the game, along with an explosive offense. Duke 27 Virginia 13