BDN's weekly college football picks are back, and with some added NFL swagger. For the 2012 season, four Blue Devil Nation staff members will test their college football acumen against four Blue Devil Greats.
Calling the plays for the Greats will be the Voice of the Blue Devils, Bob Harris. In thirty-six football and basketball seasons, Harris has broadcast over 400 Duke football games and more than 1,200 Duke basketball games, including thirty-seven ACC tournaments, twelve Final Four games, nine ACC championship games and four NCAA titles. After winning his third North Carolina Sportscaster of the Year award in 2011 by the National Sportscasters and Sportswriters Association, BDN is thrilled to have Bob join our weekly college football picks.
Lining up under center for the Blue Devil Greats is Cleveland Browns QB Thaddeus Lewis. A four year starter in Durham, Lewis became Duke's all-time leader in passing yards and touchdowns during his career. Entering his third season in the NFL, Lewis is 5/8 for 90 yards this preseason.
Two great Blue Devil defenders will quarterback the defense.  A two-year team captain while at Duke, Cincinnati Bengals LB Vincent Rey ranks 9th all-time in tackles at Duke and is the career leader with 3 fumbles returned for TDs. After playing in 18 games his first two seasons in the NFL, Rey enters his third year with the Bengals and has totaled 16 tackles already this preseason. St. Louis Rams safety Matt Daniels finished his Duke career as a 1st Team All-ACC selection and 2nd Team All-America selection in 2011. On Duke's all-time records charts, he ranks 13th in tackles, third in caused fumbles and tied for sixth in pass breakups. He signed as a free agent with the Rams in April.
BDN's staff of Patrick Cacchio, Bob Green, Andrew Slater and Mark Watson will try to keep up with this quartet of Blue Devil Greats. Follow along all season long as we pick some of the nation's toughest games and give our predictions for the Blue Devils' weekly match-ups.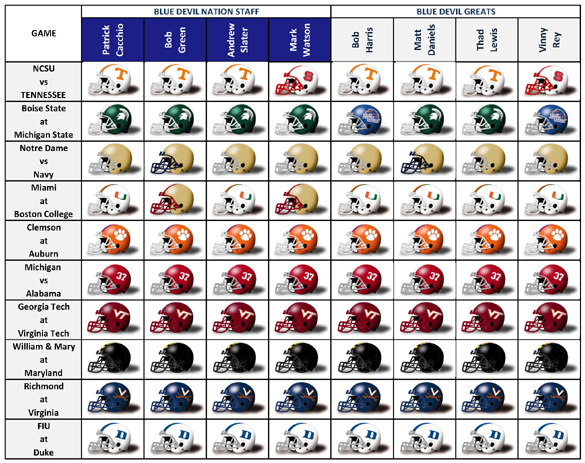 Mark Watson: Did you know that the Blue Devils' last win came against these Panthers, who return most of their starters and have made two consecutive bowl games? Duke has few seniors on the roster but despite low numbers they are good leaders. Expect a hard fought game which goes to the wire. Duke 27, FIU 23
Patrick Cacchio: The Golden Panthers, a preseason pick to win the Sun Belt Conference, present a tough opener for the Blue Devils this year. Last year's thriller in South Florida came down to the wire, with Duke's Jordan DeWalt-Ondijo forcing a crucial fumble to secure the victory. Expect a similar slugfest under the lights in Wallace Wade Stadium, with the Blue Devils emerging victorious thanks to a crucial turnover and clutch special teams play. Duke 27, FIU 24
Bob Green: This game will be won in the trenches. Duke's offensive line is big, strong and experienced so it is time for them to exert their will over FIU's vaunted defense and lead Duke to victory. The running backs have to have holes to run through and Sean Renfree must have time to throw the ball down the field. It all starts with the big horses upfront!
On defense, Duke's defense is unproven up the middle with the graduation of NT Charlie Hatcher and Safety Matt Daniels along with the injury to MLB Kelby Brown. The key will be finishing sets with stops on 3rd down so the offense comes back on the field.
Fans should look for a Duke freshman to make a big play on Special Teams: Duke 27, FIU 24.
Andrew Slater: Florida International presents a challenging opening round opponent for Coach David Cutcliffe's strongest and deepest Duke team. Both teams return a lot of starters, but it will be interesting to see the early impact of the slight permutation of moving Durham native Desmond Scott to receiver and the addition of big play sophomore Jamison Crowder to Duke's record-setting wide receiver, Conner Vernon. Last year, the Blue Devils did an excellent job in pass protection for QB Sean Renfree against FIU, but FIU 6'4" DL Tourek Williams, the Sun Belt's preseason defensive player of the year, will provide an early test for Takoby Cofield and arguably Duke's strength, the offensive line. Duke's special teams should see, at least, a marginal improvement with the addition of freshman All-American kicker Ross Martin. In what very well may end up being a close battle between Duke's short passing game, which can take advantage of the veteran Renfree's accuracy and long-standing comfort level with Vernon, and FIU's keep and contain defense, the improved field goal kicking, which was an abysmal 45% last season, could be the deciding factor in a third opening game victory for Coach Cutcliffe at Duke. Duke 30, FIU 24
Bob Harris: DUKE in a great game. Duke's run-game is much improved, and the versatility of this team will send them into the winner's circle. Duke 38, FIU 21
Matt Daniels: Although Duke is troubled by injuries going into the season, as usual, they will top FIU due to the work of their special teams. I look for Lee Butler, Jamison Crowder and Tim Burton to make huge plays on special teams to give Duke the edge to win the game. Duke 28, FIU 17
Thad Lewis: Duke, of course, with a 28 to 14 victory with Sean throwing 3 TDs and one of the backs giving us one TD on the ground. Duke 28, FIU 14
Vinny Rey: Duke, led by fifth year senior Sean Renfree, will continue their aerial attack afresh and anew in Wallace Wade. Kenny Anunike and the defensive linemen will win up-front, causing major havoc. This will be Duke's year: Duke 34, FIU 17