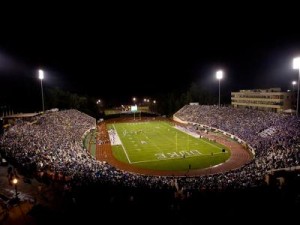 FIU at Duke
7:00 PM ET
Saturday, September 1
Wallace Wade Stadium
Durham, North Carolina
TV: ESPN3.com
Radio: Blue Devil IMG Sports Network, Sirus/XM 134
Duke in 2011: 3-9, 6th in ACC Coastal
FIU in 2011: 8-5, 4th in Sun Belt Conference
DUKE INJURIES
PROBABLE - DE Kenny Anunike (leg), DE Jordan DeWalt-Ondijo (leg)
QUESTIONABLE - S Anthony Young-Wiseman (leg)
DOUBTFUL - DE Jonathan Woodruff (leg)
OUT - CB Jared Boyd (leg), LB Kelby Brown (leg), NG Jamal Bruce (foot), S Jordon Byas (leg), TE Braxton Deaver (leg), LB Britton Grier (hand), TE Jack Farrell (leg), OG Lucas Patrick (ankle)
OUT FOR SEASON - WR Blair Holliday, DE Allen Jackson (shoulder), S Taylor Sowell (leg)
FIU INJURIES
WILL TRAVEL: WR Dominique Rhodes (bruise)
Last year: Duke emerged with a narrow 31-27 victory in Miami. RB Juwan Thompson scored a pair of TDs in the fourth quarter as the Blue Devils erased a 10-point deficit.
HOW DUKE CAN WIN
Despite being outgained by the Golden Panthers last year, Duke won the game by winning the turnover battle. Both teams feature speedy playmakers all over their depth charts, and both teams return a majority of their starters from a year ago. For two evenly matched teams, the difference in the game is likely to be only a play or two. The team that makes the fewest mistakes will emerge victorious.
If Duke can establish a running game to open things up for Sean Renfree and Conner Vernon through the air, their offense should be able to put up points on the Golden Panthers. Defensively, Duke has to pressure relatively-unproven QB Jake Medlock and look to force a turnover or two. A year ago, FIU had a game changer on its special teams unit in T.Y. Hilton. This year, Duke has a number of special teams players capable of breaking the game open, along with a much-improved kicking game led by Ross Martin and Will Monday.
HOW DUKE CAN LOSE
FIU is one of the most experienced and athletic teams Duke will play all season. The Blue Devils have struggled in home openers under Coach Cutcliffe, and if they come out with anything but their best on Saturday, they'll wake up Sunday 0-1. Question marks remain for a Duke defense that has been near the bottom of the ACC in most defensive statistics over the past two seasons, and they will be challenged early and often by explosive RB Kedrick Rhodes. A year ago, WR Wayne Times gave the Duke secondary fits, and he will keep Ross Cockrell and Lee Butler busy again this year. Along the defensive line, Golden Panthers DE Tourek Williams has NFL talent and the ability to disrupt the Blue Devil offense. This game has the potential to become a track meet, much like the 1st quarter of last year's matchup, and with Duke missing multiple starters, FIU could be the stronger team in the 4th quarter. Add all of FIU's strengths together along with Duke's injuries, and it's easy to see why the Golden Panthers come in expecting just their second win against a BCS team in program history.
WHY DUKE WILL WIN
Coach Cutcliffe enters the 2012 season with his deepest and most talented team since his arrival in Durham. For a program that has teased fans with the prospect of putting it all together the past two seasons, 2012 is a big year. The Blue Devils will come in well-prepared, energized, and ready to play. The Golden Panthers will put forth a tremendous effort in what should be a very well-played football game. Ultimately, the game will come down to one or two critical plays, and Duke's much improved special teams unit should prove to be the difference in yet another thriller in Wallace Wade. Duke 27, FIU 24