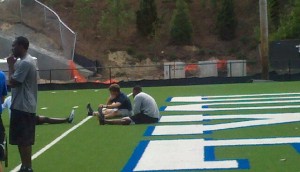 Fear not, loyal fans, Football Friday returns! If you've been under a rock for the past week, please be sure to check out all of our great interviews and reports from the NBPA Top 100 Camp. BDN was on the scene as always and has the best content with Duke's prospects in 2012 and beyond. After a week hiatus here at Football Friday, we have a lot to discuss this week, so…lesssgo.
Congratulations to Kyrie, Nolan, and Kyle
All of us at Blue Devil Nation wish the best to Kyrie Irving, Nolan Smith, and Kyle Singler, as they begin their NBA journey. To hear their names called last night was certainly a dream come true for each of them and their families. We'll be pulling for them and we know they will continue to make Duke fans proud in all that they do.
NFL stars invade Duke Football Facilities
With the NFL lockout continuing to drag on, former Duke QB Thad Lewis has become a fixture around campus this summer, but the Duke players were in for a surprise this week as they hit the weight room and the practice field. New York Giants Super Bowl XLII MVP QB Eli Manning has been working out at Duke this week with his receivers, including former UNC star Hakeem Nicks. The NFL players' presence created a buzz on campus and among the Duke players, generating some excitement around Duke Football during the dog days of summer. It's a great testament to the investment Duke has made in their football facilities that NFL players are working out on campus. As the program continues to build, Duke's presence in the NFL should continue to improve.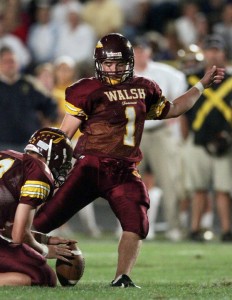 Nine in Class of 2012
Duke is up to nine verbal commitments in the class of 2012 with the addition of kicker Ross Martin and offensive linemen Casey Blaser and Tanner Stone in the past week. All three were on campus recently for Duke's football camps and outworked the competition to earn scholarship offers. At 6'5" and 6'6", Casey and Tanner have solid frames to grow into with some work in the weight room, and appear poised to help anchor the Blue Devil line in 2012 and beyond. Martin is ranked as one of the top placekickers in the country by kicking guru Chris Sailer, and will join 2011 punter Will Monday to solidify Duke's special teams for years to come.
Camp All-Stars
Duke hosted hundreds of young football players over the past two weeks, all of whom were looking to make a name for themselves in the eyes of the Duke coaching staff. Overall, the competition was outstanding and the Duke staff was thrilled with the turnout from not only the class of 2012, but future classes as well. Several of the camp standouts are already members of the Duke class of 2012, validating the staff's previous scouting and evaluation. Jacksonville stars Dwayne Norman and Erich Schneider were impressive at safety and tight end; both remain solid verbal commitments to the Blue Devils. Along the offensive line, the two newest Blue Devils, Blaser and Stone, were among the best blockers on the field. The two big linemen have great athletic ability, work ethic, and football mentality.
Three 2012 quarterbacks stood out among the dozens of signal-callers who attended the various Duke camps and the David Cutcliffe QB College. The Blue Devils first offered Miami's Bilal Marshall back in January, and they remain impressed with his dual-threat ability, hoping he will choose to become an impact player for the Blue Devil program. Highly-coveted lefty Tyler Cameron also showed great dual-threat ability, while 6'5" sleeper Thomas Sirk simply blew the staff away with his arm, ultimately earning himself a scholarship offer from Coach Cutcliffe. At the other skill positions, two receivers from the class of 2013 also earned themselves early scholarship offers. Jacksonville's Ahmad Fulwood, at 6'4," seemed to haul in everything thrown his way, while Ohio's Shelton Gibson showcased his tremendous speed. Charlotte's Jela Duncan posted a blazing fast 40 time, and he remains at the top of Duke's RB wish list, along with Tarboro star Todd Gurley and bruising SC back Dondre Brown.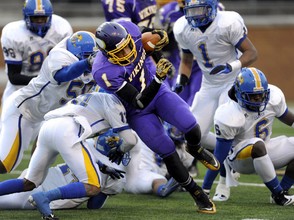 Rubber, meet road
With Duke's camps now complete and fall training camp still over a month away, the focus over the next several weeks will almost exclusively be on filling out the class of 2012. With the advent of the internet, everyone is now able to become a self-proclaimed expert when it comes to recruiting. But unlike basketball, where one recruit can truly make or break a class, it's essential to see the big picture in football recruiting. Let's try to take a look at the forest, instead of the trees.
The best place to start is probably with a rough sketch of the Duke 2012 roster, barring any early defections or injuries, to give us a sense of the Blue Devils' scholarship situation, depth, and needs:
QB (4): Sean Renfree (R-Sr.), Sean Schroeder (R-Jr.), Brandon Connette (Jr.), Anthony Boone (R-So.)
RB (4): Patrick Kurunuwe (R-Sr.), Desmond Scott (Sr.), Josh Snead (Jr.), Juwan Thompson (Jr.)
WR (8): Conner Vernon (Sr.), Corey Gattis (R-Jr.), Tyree Watkins (R-Jr.), Brandon Braxton (Jr.), Jamison Crowder (?So.), Blair Holliday (R-Fr.), Nick Hill (R-Fr.), Max McCaffrey (Fr.)
TE (5): Jack Farrell (R-Jr.), Ryan Hall (R-Jr.), Braxton Deaver (R-So.), David Reeves (?So.), Erich Schneider (Fr.)
OT (5): Perry Simmons (R-Jr.), Takoby Cofield (R-So.), Marcus Aprahamian (R-Fr.), Casey Blaser (Fr.), Tanner Stone (Fr.)
OG (6): Dave Harding (R-Jr.), Joey Finison (R-Jr.), John Coleman (R-Jr.), Laken Tomlinson (R-So.), Lucas Patrick (R-Fr.), Cody Robinson (R-Fr.)
C (3): Brian Moore (R-Sr.), Conor Irwin (R-Sr.), Matt Skura (R-Fr.)
DE (10): Kenny Anunike (R-Sr.), Justin Foxx (R-Jr.), Jordan DeWalt-Ondijo (R-So.), Dezmond Johnson (R-So.), Nick Sink (R-So.), Jamal Wallace (R-So.), Sam Marshall (R-Fr.), Mario Sanders (R-Fr.), Allen Jackson (Fr.), Carlos Wray (Fr.)
DT (7): Curtis Hazelton (R-Sr.), Sydney Sarmiento (R-Jr.), Will Bryant (R-So.), Steven Ingram (R-So.), Jamal Bruce (R-So.), Lucas Fisher (R-Fr.), Carson Ginn (R-Fr.)
LB (9): Austin Gamble (Sr.), Kevin Rojas (R-Jr.), Kelby Brown (Jr.), C.J. France (R-So.), Kyler Brown (?So.), David Helton (?So.), Britton Grier (R-Fr.), Jon Woodruff (R-Fr.), Deion Williams (Fr.)
CB (8): Tony Foster (R-Sr.), Zach Greene (Sr.), Ross Cockrell (R-Jr.), Lex Butler (R-Jr.), Garrett Patterson (R-Jr.), Quan Stevenson (R-So.), Jared Boyd (?So.), Tim Burton (R-Fr.)
SAF (8): Jordon Byas (R-Sr.), Walt Canty (Sr.), Taylor Sowell (R-Jr.), August Campbell (R-Jr.), Anthony Young-Wiseman (R-Jr.), Issac Blakeney (R-So.), Chris Tavarez (R-Fr.), Dwayne Norman (Fr.)
K (2): Paul Asack (R-Sr.), Ross Martin (Fr.)
P (1): Will Monday (So.)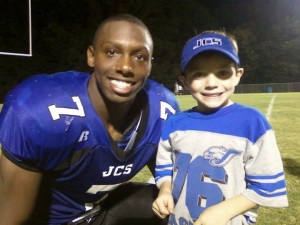 With only a handful of scholarships remaining (if my math is right, please don't check me), Duke has a glaring need at RB, where they will only have four scholarship players and no underclassmen. The expectation is that Duke will look to add at least one, but probably two running back prospects with their remaining scholarships. We also think that the staff would love to add a top QB to follow behind Boone, with Bilal Marshall and Thomas Sirk at the top of the list. At receiver, Duke could look to add someone alongside McCaffrey, and Drae Bowles is the number one priority; those around the program call the highly-coveted Bowles a potential program-changing recruit for the Blue Devils.
Duke probably needs to add another tight end in 2012 to join Erich Schneider, and the top two targets are currently Dan Beilinson and Ryan Morris. Elsewhere along the offensive line, Duke has a great amount of depth, which will allow Blaser and Stone to develop during their first years in Durham. There could be room for at least one more lineman in this class, and Duke remains hopeful that Alex Kozan or Andrew Jelks (who will not be announcing his decision soon, contrary to reports) will make their pledge to the Blue Devils.
Defensively, Duke has to be thrilled with the first three members of the class of 2012; both Wray and Jackson should develop into top ACC pass-rushing ends, and Norman is the prototypical hard-hitting safety the coaching staff loves. The biggest remaining need defensively is probably at defensive tackle, where Duke would love to add a potential program-changer in Korren Kirven (although another option could be to move Wray to DT and add an elite DE). A top prospect like Keilin Rayner or Jeremiah Allison to join under-the-radar commit Deion Williams would solidify the linebacking corps, and there's room for at least one more defensive back at corner or safety.
With the graduation of pre-season All-ACC and All-American selection Will Snyderwine, there will be big shoes to fill at placekicker, and Duke hopes that Ross Martin, one of the top five kickers in the country, will be up to the task. Alongside Will Monday, Martin should carry the Duke kicking game for the next several years.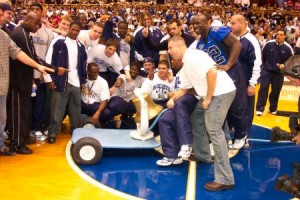 Closing thoughts
With so many moving pieces, it's hard to keep a finger on the pulse of football recruiting, and even harder to objectively evaluate individual commitments. Duke has done a nice job so far of adding solid athletes at positions of need (DE, SAF), while also bringing in a few prospects with high potential at positions of depth (OL, WR). Scholarships remain available for potential program-changers like Drae Bowles or Korren Kirven, and the best way to secure those commitments will be to win games this fall.
Well, that was quite the whirlwind of name-dropping. If we still haven't satisfied your craving for Duke football, be sure to check out our recent previews featured on College Football Zealots and BC Interruption. And of course follow us on Twitter for up to the minute updates on Duke Football recruiting and team news. We're on Facebook, too, by the way. And if you clicked on all the links in this article and are wondering why you can't read the interviews, then it's time for you to join BDN Premium. If you want to discuss Duke Football, correct my earlier math, or simply just want to become the most well-informed Duke fan on the planet, then you should also join BDN Premium. And current members, be sure to check out our new-look Football Message Boards today.
I guess that's it for this week. Seriously? You were going to let me get away with that? Yeah, something kind of big happened in Chapel Hill this week. But see, there isn't much to say, really, the NCAA took care of that for me. And so did Stewart Mandel. And Brett McMurphy. Good luck with all that, Butch. And give us back the Victory Bell.
Until next week, WE ARE DUKE.
This is a sample of the weekly Duke Football updates you'll have access to as a BDN Premium member.  Join today and get inside access to happenings around the athletic programs where you'll have a front row seat on the recruiting front.