Browse:
Home
/
Jay Hollingsworth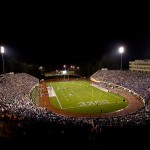 By Patrick Cacchio on July 29, 2011
If you think football season is close, consider this: there is only one more Football Friday before Duke opens training camp. If that doesn't get you excited, hopefully the rest of this column will. Early analysis suggests that this may be the longest Football Friday ever, so pace yourself! No sales pitch this week. If […]
Posted in BDN Premium Articles, Duke Football | Tagged Anthony Boone, Austin Kelly, BDN Football Friday, Brandon Braxton, Brandon Connette, Brandon Harper, Brandon King, Braxton Deaver, Brett Huffman, Brian Moore, Bryan Morgan, Butch Davis, Coach Cutcliffe, Coach K, Conner Vernon, Conor Irwin, Cooper Helfet, Corey Gattis, D.J. Reader, Danny Parker, David Reeves, Desmond Scott, Dondre Brown, Donovan Varner, Duke, Duke 2011 schedule, Duke Blue Devils, Duke Football, Duke football offense, Duke Football Preview, Duke Football Single Game Tickets, Duke football tickets, Duke Offensive Line, Duke Quarterback, Duke Running Back, Duke Tight End, Duke Wide Receiver, Everett Withers, Football Friday, Football Recruiting News, Jamie Gilmore, Jay Hollingsworth, Jela Duncan, John Coleman, Josh Snead, Juwan Thompson, Keilin Rayner, Kevin White, Korren Kirven, Kyle Hill, Laken Tomlinson, Marcus Allen, North Carolina football, Patrick Kurunuwe, Perry Simmons, Rams Club, Richard Brodhead, Robert Conyers, Ryan Janvion, Sean Renfree, Takoby Cofield, Torey Agee, Tyree Watkins, UNC Football, UNC Football scandal, UNC NCAA investigation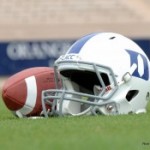 By Patrick Cacchio on March 25, 2011
Duke Football will hold its annual spring game this Saturday at 3 PM in Wallace Wade Stadium. The event is free to the public and offers fans a chance to get a first look at the 2011 Blue Devils. Duke men's lacrosse will host Georgetown at 1 PM in Koskinen stadium, so be sure to […]
Posted in Duke Football | Tagged BDN Football, Blue Devil Nation, Charlie Hatcher, Conner Vernon, Desmond Scott, Donovan Varner, Duke Defensive Line, Duke Football Spring Game, Football Friday, Jay Hollingsworth, Jordon Byas, Kelby Brown, Lee Butler, Matt Daniels, Rick Petri, Sean Renfree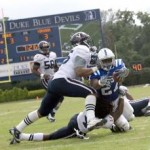 By Mark Watson on August 27, 2009
BDN caught up with Duke running back Jay Hollingsworth after today's steamy practice.  The Devils are preparing for Richmond who they face in the home opener at 7:00 next Saturday evening.
Posted in Duke Football | Tagged BDN, Duke-Richmond, Jay Hollingsworth