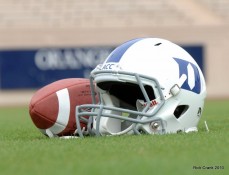 Duke Football will hold its annual spring game this Saturday at 3 PM in Wallace Wade Stadium. The event is free to the public and offers fans a chance to get a first look at the 2011 Blue Devils. Duke men's lacrosse will host Georgetown at 1 PM in Koskinen stadium, so be sure to come out and support Duke athletics on what should be a fun Saturday in Durham!
Rejoice, Blue Devil fans! Football Friday is here. Ok, today is not a day for rejoicing. But let's at least talk some football to take our minds off the…disappointment. And after today's day of mourning, maybe you can put that bottle down and head out to Wallace Wade Stadium Saturday afternoon to check out the 2011 Blue Devils? Think you could do that for me, sport? Sure, why not!
Well, if you do go, and I truly hope you will, here are five questions to think about as you watch the spring game in Wallace Wade on Saturday:
1. Can the Duke defensive line slow down the run?
I'm sure most have already determined that I'm an eternal optimist when it comes to Duke football. That being said, I have no delusions of Duke having a dominant defense in 2011. Rome wasn't built in a day, and for a squad that finished 2010 ranking113th out of 120 FBS programs against the run, Duke has a long way to go. In 2009, the Blue Devils ranked 74th against the run, and I'm hoping that with the addition of Rick Petri and a group of young and athletic linemen, Duke moves back in that direction. The defensive line should benefit from going up against a pretty good and healthy Duke offensive line, so this is definitely a matchup to watch on Saturday.
2. Can the Duke defensive line pressure the quarterback?
I promise, all the questions won't be about the defensive line – just most of them. In addition to struggling against the run in 2010, Duke finished 108th in pass efficiency defense, 113th in sacks, and 109th in tackles for a loss. These are not numbers we want to show potential donors when pitching the Wallace Wade upgrades. There is no question that there was room for improvement in the Duke secondary last year as well, but in general, opposing quarterbacks were way too comfortable throwing against the Blue Devils. The good news is that Rick Petri comes from a Miami defense that led the country in tackles for loss, so he may have a few tricks to help Duke find their way into the backfield. We'll also have to see if new defensive coordinator Jim Knowles has any new ideas for how to bring pressure from Duke's linebackers and safeties.
3. Have Sean Renfree and the Duke offense taken a step forward this spring, especially in terms of taking care of the football?
In an earlier edition of Football Friday, I mentioned the key to 2011 success likely lies in the ability of the offense to take care of the football. The 2010 Blue Devils were turnover machines, finishing last in the ACC and 112th in the country in turnover margin. With a full year of starting experience under his belt, the hope is that Sean Renfree and his receivers will be able to eliminate many of their mistakes from a season ago. Of course, in the spring game, this is difficult to evaluate. If the offense takes care of the ball, is that because the defense didn't apply pressure (see question 2)? These are things that the coaching staff, and fans, should keep a close eye on Saturday.
4. Will Duke be able to consistently run the ball behind a stronger, deeper offensive line?
If you've followed some of Duke's spring practice reports, you might think that Duke has a stable of Heisman-caliber running backs, along with dual-threat QB Brandon Connette. Early in spring practice, many of Duke's young defensive linemen were still getting their feet wet, and the defense as a whole was adapting to a new coordinator. By the spring game, many of those kinks should be worked out for the defense, and it should be a good matchup in the trenches. Duke's running backs have been a little beat up this spring, but those who have played, have played fairly well. A consistent rushing attack will alleviate some of the pressure on Duke's passing game and even the defense.
5. Who will step up and be the leaders of this year's Blue Devils?
I debated whether to talk about leadership or surprise players in this last question, and I think leadership is more important. Some of the surprise players may not even be on campus yet, but this year's leaders have to be. If Duke wants any chance of a bowl game in 2011, they will need a group of strong, vocal leaders on both sides of the ball. With a year of starting experience, I expect Sean Renfree to take control of the Blue Devil offense, aided by a group of upperclassmen at running back (Jay Hollingsworth and Desmond Scott), receiver (Donovan Varner and Conner Vernon), and the offensive line (Kyle Hill and Brian Moore). Defensively, leadership is much more of a question mark. Charlie Hatcher is a warrior and the lone senior along the defensive line, while seniors Matt Daniels and Lee Butler (who has missed all of spring practice) should anchor the secondary. Outside of those three players, Duke lacks significant game experience on defense, which means that players like sophomore Kelby Brown and junior Jordon Byas may have to assume leadership roles. On Saturday, keep an eye on the sidelines and in the huddle to see which players are ready to step up and lead this young Blue Devil team.