It's Friday afternoon, which can only mean one thing – Football Friday! This week, we take a look at Duke's 2011 ACC opponents spring practices along with some recruiting updates. [private]
It's a long one this week, so I won't distract you with any witty opening filler. Let's get right to it.
Matt Daniels named to Lott IMPACT Trophy Watch List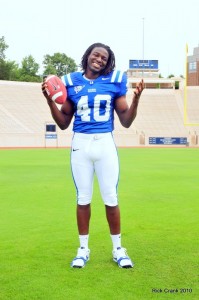 That's a mouthful of an accomplishment. Interestingly, there were 11 candidates from the ACC, more than any other conference. Daniels is a player that I've enjoyed watching develop over his four years in Durham, and I always feel like he has another level we still haven't seen. Hopefully, this will be the year that he reaches that level and helps to turn around the Duke defensive unit. As one of the most versatile players on defense, his playmaking ability will be key to the Blue Devils' success in 2011.
Scouting the ACC spring practices
With lots of transitions occurring on the sidelines and under center around the ACC this year, it may be a good opportunity for the Blue Devils to pull off a few upsets. Several teams will wrap up their 2011 spring practice this weekend with their spring games, so be sure to tune in to the ESPN family of networks to scout out some of Duke's 2011 opponents (ESPN – you can email me for the address to mail my endorsement check). So sit back and enjoy a cold one while we take a whirlwind tour around the ACC. Oh wait, you're still at work, so grab a cup of coffee instead? Anyway, here are some of the headlines from Duke's 2011 ACC opponents this spring:
Boston College: the Eagles will be Duke's first ACC opponent this fall, which may be a good thing for the Blue Devils. BC will return nearly all of their offensive starters, who will be operating under a new coordinator in Kevin Rogers. The emphasis so far this spring appears to be on the passing game, which has been inconsistent so far this spring. In the first scrimmage of the spring, Chase Rettig was on the same page with his receivers, and the BC offense finished with 5 touchdowns. In their second scrimmage, however, the defense had their way with the new offense, finishing with 4 interceptions and 4 sacks. BC will be a tough opponent, as we saw last year in Wallace Wade Stadium, mostly due to Montel Harris on the ground, and Luke Kuechly on defense. If Rettig and his receivers can develop consistency, BC will be a dangerous team for the entire ACC.
Florida State: most expect the Seminoles to be at the top of the ACC in 2011, and you can see for yourself on Saturday at 4PM on ESPN3. This team will go as far as QB E.J. Manuel can take them, and the indications this spring are pretty good. Manuel is the athletic signal-caller that has given the Blue Devils trouble in recent years. Perhaps the biggest question for the Seminoles will be their offensive line, where they will have to replace 2 starters and had 4 players out for spring practice. Overall, the Seminoles lost only 3 starters each on offense and defense, and the expectations are high in Tallahassee.
Wake Forest: the Deacs' will hold their spring game on Saturday at 1 PM. After a disappointing 2010, Wake Forest loses 8 starters. Tanner Price is the unquestioned starter on offense and will be backed up by Ted Stachitas. Both players gave the Blue Devils trouble last year in a  54-48 loss in Winston-Salem. Much like the Blue Devils, the Deacs struggled mightily on defense last year, and Coach Jim Grobe has been pleased with the defensive intensity this spring. The running game will be led by Josh Harris and Brandon Pendergrass, but questions remain in the kicking game for Wake Forest. The expectation is for this team to be improved from a season ago, but in order for that to happen, they will have to show more consistency this fall than they have this spring.
Virginia Tech: the Hokies lose perhaps the most of any Duke opponent in 2011, but in Blacksburg, they reload, not rebuild. The defending ACC champs lose QB Tyrod Taylor along with RB Ryan Williams and RB Darren Evans to the NFL, leaving the Hokies' offense in the hands of redshirt-sophomore Logan Thomas and junior tailback David Wilson. There have been rave reviews this spring for Wilson (even though he's missed several practices due to track), who is working under first year running back coach Shane Beamer (yes, Frank's son), after long-time assistant Billy Hite retired. The VT defense also has questions as they replace 5 starters from 2010, but the Blue Devils will have to keep the ball away from returning CB Jayron Hosley, who led the country with 9 interceptions and 17 defended passes in 2010.
Miami: lots of changes in Coral Gables this spring under new head coach Al Golden. The Hurricanes will hold their spring game on Saturday at 3 PM, and questions still remain heading into the fall. The coaching staff has been openly disappointed in the intensity and conditioning of many of the Miami players this spring, and Golden has left the depth chart up for grabs this spring. That includes quarterback, where Jacory Harris and Stephen Morris are battling for the starting job, though Spencer Whippel was the starter heading into the spring. We'll get to see lots more from the Hurricanes, as they've struck a deal with ESPNU to air a series of All-Access shows this spring.
Virginia: the Wahoos wrapped up spring practice last week with nearly as many questions as answers. It's a complete toss-up at quarterback, where the updated depth chart lists Michael Rocco and Ross Matheney in the "first group" and Michael Strauss and David Watford in the "second group." In short, no one has established themselves as the leader of this offense this spring, and that has to be a concern for a team that loses 19 lettermen, including 5 starters. After a shootout in Wallace Wade Stadium last year, the Blue Devils will be glad to hear that QB Marc Verica and RB Keith Payne are among the starters lost. The Cavaliers' defense should be improved from a year ago as they enter their second year in the 4-3 scheme, and will be anchored in the secondary by CB Chase Minnifield, who finished 2010 with 6 interceptions. Offensively, it's tough to evaluate a team with 4 inexperienced potential starters at QB.
Georgia Tech: the Yellow Jackets are yet another ACC team who will be breaking in a new QB in 2011, as Tevin Washington takes over for Josh Nesbitt. The Blue Devils saw plenty of Washington in 2010 in their 30-20 loss in Atlanta. This spring, head coach Paul Johnson has been disappointed in the play of his offensive line, which returns three starters from a year ago. In addition to Nesbitt, the Jackets' triple-option offense will have to replace Anthony Allen at B-back, but return Roddy Jones and Orwin Smith at A-back. Defensively, GT will have to replace 6 starters, but they do return all 3 starters up front in Al Groh's 3-4 scheme. The front three will have to be the strength of this defense, and it has impressed the coaching staff this spring.
North Carolina: if you thought Bieber fever was annoying, wait until you meet the Tar Heels with Renner fever. Bryn Renner inherits the starting job at quarterback, and impressed the Tar Heel faithful with a 9/13, 123 yard performance in their spring game. The highlight was a 43-yard pass to Erik Highsmith, something UNC saw far less often during the T.J. Yates era. After a tumultuous 2010 and an ongoing NCAA investigation, the Tar Heels will have several new faces on both sides of the ball in 2011. Five starters depart on both offense and defense, which means that the few returning starters, such as senior DE Quinton Coples and senior TB Ryan Houston will have to shoulder (no pun intended) much of the load on defense and offense, respectively. Despite suffering a broken scapula in the spring game, head coach Butch Davis expects Houston to be an every-down back for the Tar Heels this fall.
Spring evaluation period starts today
Ok, I don't know about you, but I'm exhausted after that tour of the ACC. That took some serious work, and I didn't even talk about NC State, Clemson, or Maryland. Anyway, recruiting gets back into full gear today, as the spring evaluation period opens up. So what does that actually mean? The Duke staff has 168 evaluation days to use between now and May 31. An evaluation day is a day spent in evaluation of a prospect's athletic and/or academic ability. The staff is limited to 1 athletic evaluation and 1 academic evaluation per prospect during this time. So whom will the staff be visiting? Let's take a look at the offers out there by position.
Quarterbacks: we'll start with the glamour position, and one that Duke has built into a strength for 2011 with Sean Renfree, Brandon Connette, and Anthony Boone. Miami's Bilal Marshall remains the only quarterback prospect with a Duke offer, and we'll check back in with him soon to get an update on his recruitment. There are 19 other QBs on the board, highlighted by names like Bart Houston, Casey Cochran, and Matt Johnson.
Running backs: Duke remains committed to taking at least one or two running backs in the class of 2012, and they've extended 7 offers with 17 other prospects under evaluation. Keith Marshall is at the top of every school's list, but he's joined by Todd Gurley, Dami Ayoola, Dondre Brown, Dontonio Jordan, Jay Jay McCullough, and Nick Tompkins as prospects with verbal offers.
Wide receivers: with Donovan Varner and Conner Vernon now upperclassmen, the Blue Devils will look to reload at receiver in the class of 2012. Seven receivers have verbal offers, which include Nelson Agholor, Jared Crump, Desmond Frye, P.J. Harris, Justin Johnson, Max McCaffrey, and Darius Powe. Twelve other receivers are on the Blue Devils' list of 2012 prospects.
Tight ends: the Blue Devils' got on the board early with a commitment from Erich Schneider, but remain in pursuit of top TEs Dan Beilinson, Kent Taylor, and Evan Baylis.
Linemen: as would be expected, linemen make up the majority of verbal scholarship offers to date. On the offensive line, Duke is looking to add a few top prospects and has extended 11 offers to players like Patrick DeStefano, Mark Harrell, D.J. Humphries, Andrew Jelks, Eric Olson, and Max Tuerk. The emphasis, however, is the defensive line, where Duke has extended 17 verbal offers to players like Allen Jackson (committed), Korren Kirven, D.J. Reader, Jordan Watkins, and Carlos Wray. In addition to the prospects with offers, Duke has over 40 other linemen on their recruiting board.
Linebackers: Duke is going hard after two linebackers in particular early in Keilin Rayner and Deion Williams. There are several others under evaluation, but the Blue Devils remain in good shape with those two players.
Secondary: the defensive secondary is another position of emphasis in the class of 2012, and the Blue Devils have extended offers to 13 prospects at cornerback and safety. In addition to players like Michael Summers, Albert Reid, Ron Geohaghan, and Dwayne Norman, the staff is evaluating another 15 prospects.
We'll be back
Lots of recruiting coverage coming this week as the staff hits the recruiting trail and we tag along for the ride. No idea what we'll talk about next week, so you'll just have to come back to find out. As always, feel free to join in the discussion on our message board if you need a football fix before next Friday. WE ARE DUKE.
[/private]