Browse:
Home
/
Bart Houston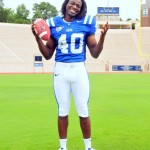 By Patrick Cacchio on April 15, 2011
It's Friday afternoon, which can only mean one thing – Football Friday! This week, we take a look at Duke's 2011 ACC opponents spring practices along with some recruiting updates.
Posted in BDN Premium Articles, Duke Football | Tagged Albert Reid, Allen Jackson, Andrew Jelks, Bart Houston, BDN Football Friday, Bilal Marshall, Blue Devil Nation Premium, Boston College, Carlos Wray, Casey Cochran, D.J. Humphries, D.J. Reader, Dami Ayoola, Dan Beilinson, Darius Powe, Deion Williams, Desmond Frye, Dondre Brown, Dontonio Jordan, Duke Football, Duke Football 2012 Recruiting, Dwayne Norman, Eric Olson, Erich Schneider, Evan Baylis, Florida State, Football Friday, Football Recruiting News, Georgia Tech, Jared Crump, Jay Jay McCullough, Jordan Watkins, Justin Johnson, Keilin Rayner, Keith Marshall, Kent Taylor, Korren Kirven, Lott IMPACT, Mark Harrell, Matt Daniels, Matt Johnson, Max McCaffrey, Max Tuerk, Miami, Michael Summers, Nelson Agholor, Nick Tompkins, North Carolina, P.J. Harris, Patrick Cacchio, Patrick DeStefano, Ron Geohaghan, Todd Gurley, Virginia, Virginia Tech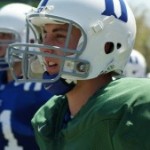 By Patrick Cacchio on March 4, 2011
Even in the middle of March Madness, Football Friday is back to satisfy your weekly craving for Duke football. So far, we've covered Duke's incoming freshman class, football recruiting 101, and a look at the fall schedule. While we love us some good recruiting scoop here at BDN, we think it's also just as important […]
Posted in BDN Premium Articles, Duke Football | Tagged Austin Gamble, Bart Houston, BDN Premium, Brian Moore, C.J. France, Charlie Hatcher, Dave Harding, David Cutcliffe, David Reeves, Desmond Scott, Duke Football 2011, Erich Schneider, Football Friday, GTHC, Jamal Bruce, John Coleman, Jordan DeWalt-Ondijo, Jordon Byas, Josh Snead, Justin Foxx, Juwan Thompson, Kelby Brown, Kenny Anunike, Kyle Hill, Laken Tomlinson, Lee Butler, Patrick Cacchio, Patrick Kurunuwe, Perry Simmons, Quan Stevenson, Rick Petri, Sean Renfree, Sydney Sarmiento, Tacoby Cofield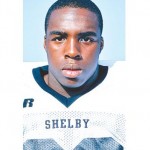 By Patrick Cacchio on February 18, 2011
Football Friday is back for its second week and BDN's Patrick Cacchio offers up a brief introduction to Duke Football recruiting. Join Blue Devil Nation Premium today to get an inside look at Duke athletics and become a part of our growing community.
Posted in BDN Premium Articles, Duke Football | Tagged Allen Jackson, Bart Houston, Bilal Marshall, Blue Devil Nation Premium, Carlos Wray, D.J. Reader, David Cutcliffe, Football Friday, Football Recruiting News, Ian Fisher, Keilin Rayner, Keith Marshall, Matt Godin, Patrick Cacchio, Preston Durham, Todd Gurley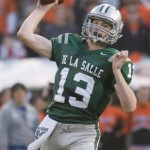 By Patrick Cacchio on February 17, 2011
Bart Houston is a 6'4" 201 pound quarterback from Concord, California. As a sophomore starter for perennial powerhouse De La Salle, Houston led the team to a 11-0 record, an 18th straight CIF-NCS title and the CIF State Open Division Title. His sophomore performance was eclipsed by his junior campaign, during which Houston led De […]
Posted in Duke Football | Tagged Bart Houston, Blue Devil Nation, David Cutcliffe, De La Salle Football, Football Recruiting News, Patrick Cacchio