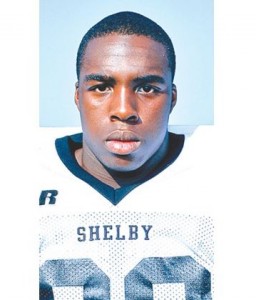 Football Friday is back for its second week and BDN's Patrick Cacchio offers up a brief introduction to Duke Football recruiting. Join Blue Devil Nation Premium today to get an inside look at Duke athletics and become a part of our growing community. [private]
We did it! We all survived another week and we're back for our second installment of Football Friday. Somehow, enough of you read this column last week that they're letting me write it again. It's all thanks to you, our members, with your emails, your PMs, your tweets, and your Facebooking. And as a big thank you to you, we'll give you what you want this week – recruiting updates.
Kudos and other random thoughts
I figure I'll get the simple stuff out of the way first each week. Duke had 13 players named to the ACC All-Academic team, more than twice any other ACC school. In fact, add together any other two ACC schools and you're still not even close. Virginia and North Carolina? 5 players combined. The 2 Techs? 9 players combined. The Duke players who were recognized are some of the team's stars on the field - almost all of them are starters. Obviously, having the smartest players doesn't translate into wins on the field, but academic excellence is an important part of Duke culture, and it's great to see that as Duke football becomes more competitive, we're not forgetting our roots (cough, tarheels, cough). Congratulations to all of the well-deserving student-athletes.
I feel obligated to get on my soapbox for a minute and talk about what happened at Toomer's Corner in Auburn. It's a great reminder for all of us that our individual actions (and tweets/Facebook posts) reflect on our fan base as a whole. A proud tradition at Auburn has been forever tarnished by one severely misguided Crimson Tide fan. The bottom line is that all of us as fans need to do a better job of cheering for our own team and respecting our opponents, as difficult as that can sometimes be.
Football recruiting 101
For those who have heard Coach Cutcliffe and his staff talk about recruiting, much of the rest of this article may be review, but bear with us, there are big names at the end.
I'm going to go out on a ledge here and assume that if you're a BDN member, you follow Duke basketball recruiting pretty closely. And why wouldn't you? All you have to do is find a ranking of the top 25 or so prospects in a given class, read one of Mark's magnificent basketball updates (or should it be magnificent Mark's basketball updates?), check out highlights on YouTube, and you're pretty much a Duke basketball recruiting insider, right? That doesn't work so well for football. ESPN lists over 15,000 prospects in the class of 2011, and already has about 10,000 prospects in the class of 2012. Unfortunately, Duke cannot just target the top 25 or so from the rankings, since they have to fill out a roster with 85 scholarships. So somehow, we have to sort through all of those football prospects to find our future Blue Devils. I should have asked for more cell phone minutes for Christmas.
Luckily, the list gets broken down several ways. First, each member of the Duke coaching staff serves as the recruiting coordinator for a geographic area. For example, as you might expect, Matt Lubick is the lead recruiter for most of the west coast. Then, within a region, there are only a certain number of FBS-caliber athletes, which can be determined by evaluating game film and transcripts (or paying for a scouting service).  At Duke, the next step is probably the most restrictive, and that's whether or not the student will qualify academically for admission to Duke. The staff will then focus their recruiting efforts on this remaining group of core prospects. Obviously, hundreds of hours of work go into the evaluation process alone, but luckily for us, we don't have to really start following all of this until Duke starts recruiting a prospect to see if there's a mutual interest. I won't be needing those cell phone minutes after all!
A word on in-state recruiting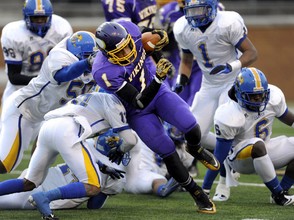 Ok, a couple hundred words. A common misconception/criticism seems to be that Coach Cutcliffe and his staff are almost exclusively focusing their recruiting efforts on North Carolina prospects and failing to "leverage the Duke brand" at a national level. This is simply not true, and the numbers prove it. Duke's current roster has about two dozen players from North Carolina, which is by far the least among the 4 North Carolina ACC schools. The Duke staff has placed an emphasis on in-state recruiting, but it's by no means exclusive.
There are two primary benefits to Duke's emphasis on North Carolina and surrounding areas. First, prospects within driving distance of Durham are the easiest to get on campus for unofficial visits, which allow prospects to build relationships with the coaching staff and grow comfortable with the Duke campus. The Duke staff places a lot of stock in the ability to get to know a player at a personal level, and the best way to do that is to have as much face-to-face contact as the NCAA allows. Second, it's important to a lot of players and their parents that they go to school close to home. This may be more significant for athletes than the average college student, as it is usually important for the player's family to be able to watch him play on Saturdays. Most college football rosters are made up of a significant number of in-state recruits, and this probably has a lot to do with it.
Breaking down the 2012 board
The Duke staff maintains a recruiting board of a few hundred prospects. Each prospect is evaluated individually by the entire coaching staff and a collective decision is made whether to offer that prospect a scholarship or to evaluate again at a later time in the recruiting cycle. For the class of 2012, there are already well over 100 prospects on Duke's board, and roughly a third of them have received verbal scholarship offers to date. In addition to the board, there are several hundred other prospects that Duke will invite for unofficial visits to Junior Days, summer camps, and games during the fall as part of their ongoing evaluation process. Keep in mind that just by taking a quick look at Duke's current roster, it's easy to see that there won't be many scholarships available in 2012 (think 15, give or take a few).
So how does the board breakdown? Since I mentioned the in-state emphasis, let's start there. Duke is currently evaluating or has offered about 30 players from North Carolina, and roughly another 30 players from neighboring states. There are also over a dozen prospects from Florida and Ohio, and another dozen from California and Colorado as well.
Position-wise, Duke has clear needs at QB, RB, and DL in 2012. As such, there are 18 quarterbacks already on the board, 10 running backs (4 with offers), and 16 defensive linemen (8 with offers). The offensive line is a position that is best built by signing a few prospects in each class, and Coach Matt Luke has done a great job getting in early with top prospects. Duke has already offered 10 offensive linemen, all of whom are highly-coveted by programs around the country. Obviously, there are a handful of players that have been offered at other positions, but for now, we'll just focus on the key areas of need.
Top targets
QB: Right now, Bilal Marshall is the only quarterback with a Duke offer. Coach Cutcliffe, known as a QB guru for his work with the Mannings, tends to keep his quarterback recruiting close to the vest, but we know that most of the top high school quarterbacks in the country are on his list (Gunner Kiel, Zeke Pike, Bart Houston, Casey Cochran). Even though Marshall seems to be at the top for now, we know that Duke has also been involved with Ian Fisher from Maryland, and that Bart Houston will visit this weekend. Several other top quarterbacks are giving Duke a serious look and it seems safe to say at this point that Duke has a good chance of landing an elite quarterback in this class, though it's too early to say which one.
RB: Keith Marshall is a perfect example of why it's important for Duke to build its relationships and reputation in-state. Many consider the speedy prospect out of Raleigh's Millbrook High School to be the top running back in the class of 2012, and Duke was among the first to offer him. It's too early to tell where his recruitment will go, but he'll have his pick of schools from around the country and Duke remains in the mix. Another top in-state RB is Todd Gurley, who took in Duke's win over North Carolina in Cameron Indoor Stadium last week. At this stage in the process, Duke is in good shape with Gurley and will be a major player in his recruitment.
DL: Vince Oghobaase was probably the last elite defensive line prospect to commit to Duke, but early indications are that Duke will land one in 2012. Early on, Duke is in good shape with Carlos Wray, D.J. Reader, Matt Godin, and Allen Jackson. All four look to be solid 4- or 5-star caliber prospects and have all made visits to Durham and came away impressed.
LB: This is another area of need and Duke is in good shape early with two top prospects in Preston Durham and Keilin Rayner.
2011 preview next week
In case you didn't know, Duke's schedule was released this week, spring practice kicked off Wednesday, and Duke hosts its second Junior Day this weekend. Oops, probably should have written about those this week, but I had to give you guys what you wanted. I guess we'll tackle those issues next week. Again, I have to give you a reason to keep coming back (as if my wit and charm aren't enough). Best of luck making it through another week. Until then, WE ARE DUKE.
[/private]