Even in the middle of March Madness, Football Friday is back to satisfy your weekly craving for Duke football. So far, we've covered Duke's incoming freshman class, football recruiting 101, and a look at the fall schedule. While we love us some good recruiting scoop here at BDN, we think it's also just as important to talk about the players we already have. With that in mind, this week's Football Friday takes a look at the early reviews from Duke's 2011 spring practice. [private]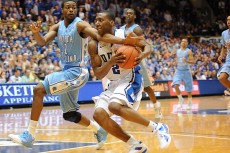 Duke travels to Chapel Hill
This weekend is all about Duke vs. North Carolina. The Tar Heels have dominated the Blue Devils on the gridiron of late, and that's a trend that we'd all like to see come to an end this fall. More importantly, however, is to come away with a victory and the #1 seed on the hardwood Saturday, and I think the Blue Devils have a great chance to do it. The two teams match up with each other poorly, and that should make for another very interesting game. In the first game, UNC had no answer for Duke's guards, while Duke struggled to contain UNC's bigs. Kyle Singler and Harrison Barnes essentially neutralized each other. I expect to see much of the same on Saturday, and if either team can get a boost from their bench, that could end up being the difference. It's Duke and Carolina, with the ACC regular season championship on the line, which means we're in for another thriller.
Recruiting news
The Blue Devils hosted 26 prospects on February 19th for the second of their junior days. The prospects took in Duke's practice, toured the facilities, and met with the coaches.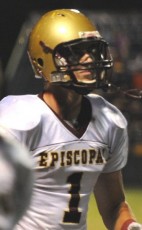 Current Duke commit Erich Schneider made the trip from Florida and got to spend a lot of time with Coach Middleton and the tight ends. The long distance award goes to QB Bart Houston, who flew in from California for the weekend. Houston's recruiting has recently picked up and offers are starting to come in for the talented signal-caller. A few other prospects were in town this past weekend to take in Duke's spring practice, including offensive lineman Andrew Jelks. Jelks told BDN he really liked Duke and had high praise for Coach Cutcliffe and Coach Luke. The top Tennessee prospect intends to make visits to Knoxville, Tuscaloosa, and Oxford, Mississippi this spring.
Congratulations are due for Duke TE commit David Reeves, who helped Greensboro High School capture a Regional Championship on the hardwood. Best of luck to David and Greensboro as they continue their quest for an Alabama State Title.
With only 12 seniors scheduled to graduate this season, the Blue Devils will be particularly selective this year with their recruiting. No new offers were extended this week, and the top targets remain the same as we discussed in our earlier Football Friday. Invitations have been sent out to prospects for the spring game on March 26, and it will be important for the Blue Devils to have a good showing, both on the field and in the stands.
Spring Practice
Duke wrapped up the first half of spring practice on Wednesday, and will take a much-needed two-week break for spring break. No coach or fan wants to hear that Duke is banged up this spring, but it's the truth. Duke has been practicing with about 55 players this spring, which can make it difficult to assess individual performances. In particular, the Blue Devils are thin on the defensive side of the ball, where Kenny Anunike, Kelby Brown, Lee Butler, and Quan Stevenson are out for the entire spring, and other key players have missed time. At this point, everyone is expected to be healthy for the fall, which obviously is most important, but with a young team, you'd like to see players play as many snaps as possible this spring.
Right now, the strengths of this team should be no surprise to most fans, and it starts with the play at quarterback and receiver. Sean Renfree has had a very good start to spring practice, and Brandon Connette and Anthony Boone have also made strides since the fall. Renfree told BDN last week that he feels as comfortable as he ever has playing football, and it's shown on the field. For the most part, he's been on the same page with his receivers and his offensive line, which has made things difficult for the Duke defense. As we mentioned last week, the Duke offense must take a big step forward in taking care of the football if the Blue Devils are to have any success this fall. So far, Renfree and co. look poised to do just that.
For those who have followed Duke's spring scrimmage statistics, you'll note that the running backs have put up some impressive numbers. Josh Snead has been out with a MCL sprain, but Desmond Scott. Patrick Kurunuwe, and Juwan Thompson have played well and shown the ability to break out big runs. The real credit here goes to Duke's offensive line, where they lose only one starter in center Bryan Morgan. Brian Moore shifts over from right guard to take the starting center spot, and Duke has been working in Conor Irwin, Joey Finison, and Dave Harding as well. Overall, the line looks much improved, and projects to start Moore at center, Kyle Hill at left tackle, Harding at left guard, John Coleman at right guard, and Perry Simmons at right tackle. Redshirt-freshmen Laken Tomlinson and Tacoby Cofield have both played well this spring and will likely back-up Coleman and Simmons this fall.
As you can expect with several starters out, defensively, Duke has had mixed results this spring. The theme on defense seems to be athleticism and inconsistency; Duke is clearly stronger and faster than they have been in past years, but they are extremely inexperienced with only 5 seniors on the entire defensive unit. The key for the Blue Devils will be the play up front, and newcomers Jamal Bruce and Jordan Dewalt-Ondijo have shown some play-making ability and will compete for playing time this fall. New DL Coach Rick Petri is working hard with his young linemen, which include 10 underclassmen. Over the course of the spring and fall, the expectation is that this group, led by returnees Charlie Hatcher, Sydney Sarmiento, and Justin Foxx, will develop under Coach Petri into a solid ACC defensive front, but there will continue to be growing pains along the way. Among the defensive backs, the Blue Devils' athleticism has been evident, as players such as Austin Gamble, C.J. France, and Jordon Byas appear ready to contribute this fall.  Duke has the athletes on defense to improve from last season's ACC-worst unit, and consistency will be the key to the group's success this fall.
In summary, at this point in the spring, the offense is clearly ahead of the defense, which is what you would expect to see with a more veteran group. I think Coach Cutcliffe said it best with his assessment of the first half of spring practice: "I'm not disappointed at all. What you see is that we don't have a lot of people who are ready to play 50 or 60 snaps of ACC football, so there's a learning process to that." Overall, the effort and energy from the Blue Devils has been excellent. The team continues to work hard this spring and improves each day, which is exactly what you want to see from a young team.
Next week
We've got lots more football prospect interviews coming your way, so be sure to check back during your March Madness downtime. Until next week, GTHC.
WE ARE DUKE.
[/private]