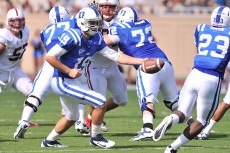 Stadium: Kenan Stadium
Surface: Natural Grass
Capacity: 60,000
Radio: Blue Devil IMG Sports Network; Sirius XM Radio (Channels 94 & 193)
TV: RSN - Rich Waltz (Play-by-play), Keith Jones (Analyst) and Jenn Hildreth (Sideline)
Internet: GoDuke.com; theACC.com
Tickets: 1-877-375-DUKE
Series: North Carolina leads, 57-36-4
Last Time: North Carolina amassed 519 yards of total offense and held off a late Duke rally to post a 24-19 win over the Blue Devils in Durham. QBs T.J. Yates and Sean Renfree threw for 264 and 242 yards, respectively.
Duke Closes 2011 at North Carolina
• The Blue Devils will close out the 2011 schedule this week by travelling to face rival North Carolina.
• Duke is 3-8 overall and 1-6 in ACC play following its 38-31 loss to Georgia Tech last week. The Tar Heels stand at 6-5 overall and 2-5 in league play after losing to Virginia Tech, 24-21, last Thursday.
• Saturday's game will mark the 98th on the gridiron between the two schools, with North Carolina holding a 57-36-4 all-time series advantage.
• The Tar Heels have won seven straight and 20 of the past 21 meetings including last year's 24-19 decision in Durham.
Victory Bell
• The battle for the Victory Bell began in 1948 with North Carolina earning possession with a 20-0 win in Chapel Hill. Duke head cheerleader Loring Jones and North Carolina head cheerleader Norman Spear decided on the idea of the Victory Bell.
• Jones designed the model while Spear obtained a bell from an old railroad train. Red Lewis, Duke's business manager for athletics, agreed to find money in the budget to pay for the bell.
Record Book Watch
• With one and four pass receptions respectively, WRs Donovan Varner and Conner Vernon will become just the sixth and seventh players in ACC history with 200 career catches. The current group includes Clemson's Aaron Kelly (232), Wake Forest's Desmond Clark (216), Virginia's Billy McMullen (210), Florida State's Peter Warrick (207) and N.C. State's Jerricho Cotchery (200).
• With 53 catches in 2011, Varner is seven receptions away from becoming the first player in ACC history to post three seasons with 60+ grabs. He is one of 13 players in league history with two campaigns with 60+ catches, a list that includes teammate Vernon.
• With 68 catches on the year, Vernon is six grabs shy of the Duke single-season record of 74 set by Wes Chesson in 1970. Vernon fell one reception short of the standard last season with 73 catches.
• With a nine-reception outing last week versus Georgia Tech, Vernon matched the school's single-season record for most games with 5+ catches with nine. Vernon, who also had nine games with five of more catches last year, shares the standard with Chesson (1970) and Roger Boone (1987).
• With 2,738 passing yards this season, QB Sean Renfree is 262 yards shy of reaching 3,000 for the season. Renfree topped the 3,000-yard barrier last year (3,131) to join Ben Bennett (1982-83), Anthony Dilweg (1988) and Thaddeus Lewis (2009) as Blue Devils to accomplish the feat at least once.
• Having completed 65.0 percent (269-of-414) of his pass attempts through 11 games, Renfree is on pace to break the school's single-season record for pass completion percentage, a mark currently held by Bennett (.640 [300-of-469] in 1983).
• With 14 pass breakups this fall, S Matt Daniels is one PBU shy of matching the Duke single-season record of 15 set by Erwin Sampson in 1989.
• Duke has 19 rushing touchdowns through 11 games this season — matching last year's total for the most since 1994 (21). Sophomore RB Juwan Thompson has seven rushing scores — the highest total by a Duke running back since 2005 when Justin Boyle scored nine times on the ground.