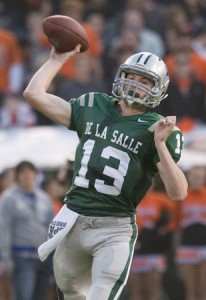 Bart Houston is a 6'4" 201 pound quarterback from Concord, California. As a sophomore starter for perennial powerhouse De La Salle, Houston led the team to a 11-0 record, an 18th straight CIF-NCS title and the CIF State Open Division Title. His sophomore performance was eclipsed by his junior campaign, during which Houston led De La Salle to a perfect 14-0 record and #4 national ranking, completing 66% of his passes for 20 touchdowns with just 4 interceptions. He added 11 touchdowns on the ground while also handling some of the punting duties. Highlights from his junior season can be viewed here.
Colleges have been watching Houston closely the past two years and most scouts have him near the top of their national QB prospect rankings. At this point, Houston is just getting started with his recruiting process and will fly to Durham this weekend for his first unofficial visit to Duke.
BDN: Can you start off by describing the strengths and weaknesses of your game for fans who haven't had a chance to see you play?
My strength, I have to say, is accuracy.  I completed 66% of my passes in the season, and in the post-season I completed 77%.  So accuracy and quick decision making, I think those would be my strengths. My weaknesses, I'd have to say, is getting quicker and faster, I'm living with the jump rope.
BDN: Being a quarterback, is there a particular player in the NFL or in college that you compare yourself to or have studied closely?
Well, this is a throwback, but I try to model myself after Johnny Unitas and Bart Starr, so kind of a throwback there.  But current ones, I'd have to say Peyton Manning and Aaron Rodgers.
BDN: Congratulations on your undefeated championship season last year. What are your goals for your team and for yourself individually in your senior season?
My goals for senior year, well nothing less than last year.  Win state, and if national championship comes along, then that'd be cool too.
BDN: What are the most important things you are looking for in a college?
I'm looking at outstanding academics and a big football tradition, basically.
BDN: What schools have you recently heard from? Who were the first schools to contact you?
Just in general, I haven't gotten any offers yet, but Duke, Oregon State, Miami, Wisconsin, UCLA, Penn, Cornell, - those are the big names that I'm hearing from.  It's a pretty diverse group.
BDN: Which schools have you had a chance to visit so far? What schools do you definitely plan on visiting later this year?
I have not, but next weekend I'm taking an unofficial visit to Duke.  I will be visiting other people, but I have not scheduled them yet.
BDN: In your contact with college coaches, have any schools stood out to you at this point in the process?
Well, we have friendly conversations, but I haven't talked to anybody long enough to have a longstanding relationship yet, so we'll see probably by later in the summer.
BDN: Is there anything else that you think is important for college football fans to know about you?
Okay, there's one thing.  I'm big on the team part of football, and not much of the individual part.  It's more of football a team sport, and it's not all about me.  It's about everyone else.  So you won't be seeing me playing the hat game on signing day, I just want to make a decision and go.  I don't want to bring much attention to myself.
BDN: Thanks a lot, Bart, and best of luck to you.
All right, any time.