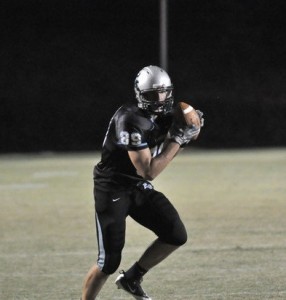 With the impending graduation of Cooper Helfet and Danny Parker, Duke is looking to reload at the tight end position in the class of 2012. On Saturday, the Blue Devils did that, securing a commitment from top in-state TE Dan Beilinson. Beilinson is a 6'5" 220 pound prospect from Panther Creek HS in Cary. As a junior, Beilinson caught 37 passes for over 500 yards, helping Panther Creek to a conference title and the state regional playoffs. His performance earned him 1st Team Tri-Nine All-Conference, among many other accolades. Highlights from Dan's junior year can be viewed here. Beilinson chose the Blue Devils over offers from NC State, Wake Forest, Miami, Vanderbilt, Arizona State, Indiana, and ECU. Along with another verbal commitment, Erich Schneider, Beilinson has helped Duke successfully reload at tight end in 2012.
Welcome to Duke, Dan!
BDN caught up with Dan shortly after his commitment on Saturday.
BDN: How did you come to your decision to commit to Duke today?
Ok, yeah I guess I just decided to commit today, it was just kind of a gut feeling. I asked myself where I wanted to go and I said Duke and it just felt right.
BDN: How did you let the coaches know and what did they have to say to you?
I gave Coach Cutcliffe and Coach Middleton a phone call and they were both really excited, and I'm really excited right now as well and hopefully we'll have a good time working together.
BDN: Now that you've got your decision out of the way, what are your plans for the rest of your summer?
I don't really have any plans, just going to go to school workouts and focus on my senior year now.
BDN: Well best of luck with your senior year and I know Duke fans are excited to have you part of the Blue Devil family. Thanks a lot and congratulations on your commitment.
Alright, thank you very much.