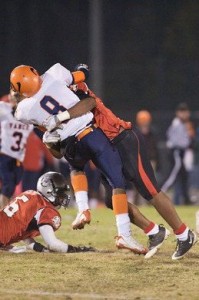 Duke Assistant Coach Jim Collins is quietly building a tradition of quality linebackers in Durham. The Blue Devil linebacker alumni are headlined by recent standouts such as Mike Tauiliili (All-ACC), Vincent Rey of the Cincinnati Bengals, and Abraham Kromah of the CFL. Over the past two seasons, the Blue Devil linebackers have been led by standout freshmen in Freshman All-American Kelby Brown in 2010 and All-ACC Academic selection David Helton in 2011. With the recent signing day addition of talented in-state LB Keilin Rayner, the Blue Devils hope that trend will continue in 2012 and beyond. In the class of 2013, one elite LB has quickly risen to the top of Duke's wish list. Peter Kalambayi is a 6'2" 230 pound prospect from Butler High School in Matthews, NC. A member of the ESPNU150 Watch List, Kalambayi has already amassed over 20 scholarship offers. With 80 tackles and 6 sacks as a junior, Kalambayi has established himself as one of the top players in the class of 2013 in the state, and with a 4.3 GPA, he's also the star student that could excel in Durham. BDN caught up with the elite student-athlete after his visit to Duke for the UNC basketball game on March 4. [private]
BDN: How would you describe your strengths as a player?
I have really good speed and pass-rushing ability.
BDN: What are you working on this offseason as you prepare for your senior year?
My hands and my quickness, overall quickness.
BDN: As you approach your college decision, what are the most important things you are looking for in a school?
A school with a consistently good football program and a great academic school as well.
BDN: Do you have any ideas for what you might want to study in college?
No, not yet.
BDN: Where do you stand with offers and which schools are you hearing from the most?
I think I have 21 [offers]. Clemson, UNC, Stanford, Duke, UVA, they're recruiting me pretty hard right now.
BDN: Which schools have you had a chance to visit recently?
Duke, UNC, and UVA.
BDN: What stood out to you on your visits to those schools?
All 3 are good schools. UVA, I only went once. UNC, I went multiple times. Duke, I went multiple times. They're all just great schools. Duke's football program is developing, but UVA and UNC have great football programs and I like them all.
BDN: Are there any coaches you have started to develop a close relationship with?
Coach Brown from UVA, Coach Brewer from UNC, and Coach Cutcliffe from Duke.
BDN: Are there any other schools you plan to visit or would like to hear from?
I have no plans, but I want to visit Clemson and Stanford sometime before next year.
BDN: Do you have a timeline in mind for when you plan to narrow things down or make your final decision?
Probably after football season. I don't know, I guess I'll start narrowing it down before my season.
BDN: Thanks a lot, Peter, and best of luck.
Thanks.
[/private]