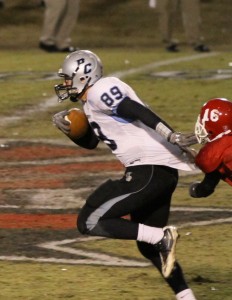 With the impending graduation of Cooper Helfet and Danny Parker, Duke will be looking to reload at the tight end position in the class of 2012. After an early verbal commitment from Florida prospect Erich Schneider, the Blue Devils have remained focused on a local prospect to fill their remaining spot at tight end. Dan Beilinson is a 6'5" 220 pound tight end from Cary, North Carolina. As a junior, Beilinson caught 37 passes for over 500 yards, helping Panther Creek HS to a conference title and the state regional playoffs. One of the top tight end prospects in the state, his performance earned him 1st Team Tri-Nine All-Conference, among many other accolades. Highlights from Dan's junior year can be viewed here. With eight scholarship offers in hand and interest from several other schools, Beilinson has narrowed his college choices to three finalists. [private]
BDN: Where are you in your recruiting process?
I'd say I've basically narrowed the schools down basically to NC State, Duke, and Wake Forest, and I'm just trying to figure out which of those schools is the best fit for me. I'm not really looking at this point for anything else, I'm just trying to decide between those three schools.
BDN: Have you had a chance to visit your finalists recently?
Yes, last weekend I actually visited all three of them.
BDN: You've obviously had a chance to visit these schools a few times now; what are the specific things you have been evaluating on your more recent visits?
I'm just trying to see the best relationship with a coach that I can establish, how they coach and how that relates to me. Just try to see what they're doing and just try to evaluate based on that.
BDN: It sounds like the relationship you are developing with the coaches is important; which coaches are you closest with?
At NC State, Coach Archer would be the recruiter for my area so I've got to know him pretty well. And then the former tight end coach, Coach Bridge, I know him very well and I'm establishing with the new tight end coach, Coach Horton, so I'm developing a relationship there. At Duke, mainly I know Coach Middleton and Coach Cutcliffe very well, and some of the other coaches I've established contact with. And then at Wake Forest, Coach Russ and Coach Tereshinski have been the two main people that I've talked to.
BDN: What stood out to you about each of your three finalists?
They're all very good educational schools. If I choose to got to [NC] State or Duke, I'd probably do engineering and then if I go to Wake Forest, I'd probably do more of a science field. So in all aspects the education is really good and that's really appealing to me. And then in football, all the programs are either rising or already good, so that adds more to the effect.
BDN: When do you expect to make your final decision?
I hope, in my head it just kind of happens, but it could be soon, or it could go past the season, I really don't know, but it might be soon, I'm not sure.
BDN: Thanks a lot, Dan, and best of luck to you.
Alright, thank you very much.
[/private]