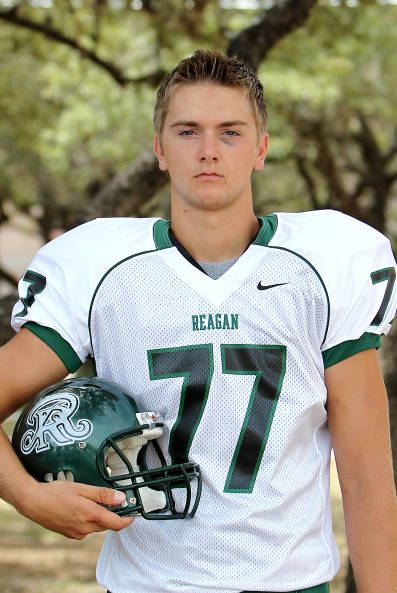 Are the Blue Devils building a pipeline of offensive linemen from Texas? Last year, the Blue Devils signed an athletic offensive line prospect from the state of Texas in 6'6" 255 pound Tanner Stone. Over this past weekend, Duke added another big Texan in 6'4" 295 pound Austin Davis. Offensive Line Coach Latina is hoping to keep the pipeline flowing and add another top prospect from the state in 6'7" 250 pound Sterling Korona from Reagan High School in San Antonio. The hard-working offensive line prospect is receiving plenty of interest from Big 12 schools, but recently picked up his first scholarship offer from the Blue Devils. BDN checked in with Sterling to find out more about his recruitment. [private]
BDN: How would you describe your strengths as a player?
In terms of my strength, I think some of my biggest strengths are that I'm very technical with everything I do. Everything is technique, technique, technique. The better technique you have, the better it works out for your strengths and weaknesses, it comes with the technique, as long as you have better technique, it strengthens everything. In terms of what I want to bring to the college level, I think I can bring my work ethic, I pride myself on it. I think with work ethic, everything can be gained through work ethic as long as you keep working and keep getting stronger, everything will get better with time and if you keep working at it, you'll be in good shape.
BDN: What are you working on this offseason as you prepare for your senior year?
My biggest things are gaining weight, getting stronger and faster. Improving the bond between my teammates and me, just working on getting a strong bond and a strong team together, hoping to make a bigger run than we did last year. My biggest things that I'm working on now are just my strength, my quickness, and my overall size and mass.
BDN: As you approach your college decision, what are the most important things you are looking for in a school?
Well, it all comes first with education. The better the education, the more I'm inclined to look into a school as someplace I want to go. And then obviously, great with football. Some of the biggest things are like when I've talked with Coach Roper, he's been very helpful with me, he's been a great guy, he's always willing to answer any questions I have and help me with anything I need. Having a great support system around, it just really helps you.
BDN: Where do you stand with offers and interest from schools now?
I have received interest from Texas State, [Texas] A&M, Texas Tech, UTSA, Houston, Kansas State Illinois, Yale, Princeton, basically that's some of them. Duke has offered me and others have been talking about it and others have been implying it. But mostly Duke has told me that they've offered me and they want to get me up there. With some other schools it's the same, but mostly Duke is the biggest of all of them right now.
BDN: Which schools have you had a chance to visit?
I've visited Texas Tech and [Texas] A&M. I'm going to visit UTSA, Houston in a few days, probably Kansas State and some other Big 12 schools, but those are just a few.
BDN: You're obviously in the heart of Big 12 country in Texas. How much of a factor will location be when you make your decision?
Well, we've always been very family-oriented, but if the opportunity presents itself and the scholarship is there and the academics is there and the athletics is there, I'll be inclined to go wherever I feel I have the best opportunity.
BDN: It's still early in the process, but are there any schools that have stood out to you at this point, or do you have a rough ranking in your head?
I think Duke has to be number one at this point. I'd probably put Houston next, followed by Texas Tech and Texas A&M and then UTSA.
BDN: Do you have a timeline in mind for when you plan to narrow things down or make your final decision?
Well, to me I think it would probably be better for me to visit with people, see all the sides from people in my family and stuff like that, probably would be better for me to wait closer to Signing Day to bring all the facts and all the situations together and then make the best decision.
BDN: Thanks a lot, Sterling, and best of luck.
Thank you.
[/private]
Sterling's highlights can be viewed here.