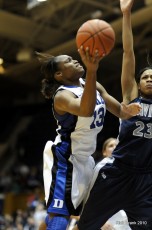 GREENSBORO - The Duke Blue Devils are headed to the ACC Tournament Championship game with74-66  a victory over a pesky Georgia Tech team.  The Blue Devils dominated the paint area outscoring the Yellow Jackets by a 28-16 margin in the paint.
The Yellow Jackets cut a large Duke lead down to 2 with 7:10 left, but Duke bounced back on back to back baseline buckets from Karima Christmas and Haley Peters  and then another Christmas lay in and then one from Thomas which sparked an 8-2 run and that edge carried the Blue Devils through to victory.
Karima Christmas had a monster game for the winners throwing in a team high 20 points to go with 6 rebounds, 2 steals and 2 assists.  When Duke needed a bucket or a play she seemed will to take on that role.
The Blue Devils came out red hot in the first half shooting an impressive 68,2% from the field and that effort ranks 7th in the schools history.  Duke enjoyed a 13-5 edge off turnovers as well despite the Yellow Jackets vaunted press.
Jasmine Thomas added 12 points, while Chelsea Gray tossed in 10 as the only double figure scorers save the aforementioned Christmas.  Once again, Coach P played 10 players but her bench got a bit shorter via minutes played for some players which is a combination a shortened bench and match ups.
With the win Duke goes to 28-3 on the season and they play the winner of the North Carolina-Miami game at 1:00 p.m. on Sunday.  That said, let's have a nice turnout to support the Blue Devils in Greensboro tomorrow.
Check back for videos.  We had a hard time downloading them in Greensboro but will try when we get to Chapel Hill for tonight's men's game.