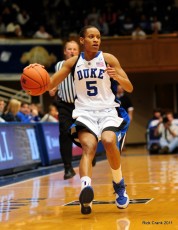 The Duke Women earned a share of the ACC Regular Season Championship with a 66-58 victory over arch rival North Carolina before a sold out crowd in Cameron Indoor Stadium.  The win pushed the Blue Devils overall record to 26-3 going into this weeks Atlantic Coast Conference Tournament in Greensboro, N.C.
While this would not be Karima Christmas, Jasmine Thomas and Krystal Thomas's last game in Cameron due to hosting the first round in the NCAA Tournament, it was their last regular season game.  That meant senior day speeches and as always they were heart felt and emotional. 
The Blue Devils also took turns cutting down the net as they celebrated the victory but you could tell this wasn't the net they coveted and Coach McCallie otherwise known as Coach P, alluded to that on the post game press conference.
As for the game itself, the Blue Devils found themselves trailing at the half to the pesky Tar Heels who rolled out to an early 15-8 lead.  Duke settled down after the half and their defense allowed them to take a 38-37 lead on a Karima Christmas three pointer and the Blue Devils never trailed again.
Jasmine Thomas gave Duke a commanding 56-42 lead on a three pointer of her own at the 9:42 mark and that allowed them to cruise to a 66-58 win.  Thomas led Duke with 17 points and 5 assists to go with 2 steals.
But it was Karima Christmas who posted a double-double of 14 points and 10 rebounds and 6 assists of her own.  Fellow senior Krystal pulled down a game high 13 rebounds and you'll see her in the videos below.
Duke got a spark from Allison Vernerey too, where she tossed in 11 points making and grabbed 6 rebounds and swatted back 2 shots on her birthday.  Shay Selby played with an edge adding 7 points as did freshman Tricia Liston.
Chelsea Gray who is healing an ankle sprian tried to make a go of it but wasn't successful.  She is now day to day but expected to play in the tournament.
Duke outscored North Carolina 26-16 in the paint and outrebounded their rival 52-46.  The win was the 23rd in a row in Cameron Indoor Stadium where Duke went undefeated this season.  Duke will now take on the winner of the Virginia-Wake Forest winner  having won the tie breaker and earning the number one seed.
Check out the raw but emotional videos below -