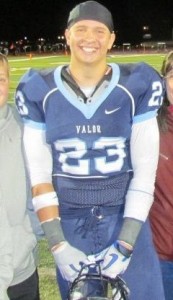 With the recent decision by Terrell Jackson to re-open his recruitment, the Blue Devils find themselves looking to bulk up their defensive line in the class of 2012. With that in mind, Duke hosted Valor Christian DE Michael Mann on an official visit over the weekend. Originally committed to Arizona State, Mann opted to re-open his own recruitment after the coaching staff change in Tempe. A teammate and close friend of Duke WR commit Max McCaffrey, the Blue Devils have had Mann on their radar for awhile. The 6'4" 220 pound DE prospect is coming off his third straight Colorado HS Championship and spoke with BDN shortly after his visit to Durham. [private]
BDN: How did your official visit to Duke go?
I'm at the airport right now; I just got done with my visit. It was a fun weekend. It was a lot of fun. They did a great job of hosting it. Definitely the high points were the basketball game, getting to walk around and see the campus for the first time, and just hanging out with the coaches, they are some great guys, they're funny, and we got along really well.
BDN: You had originally committed to Arizona State. Can you talk a little about how Duke entered your recruitment and when you first heard from them?
Definitely. I committed to Arizona State in the summer and I was all set and ready to go, but due to the coaching changes and all that stuff, it really opened up things for me. I re-opened my recruitment. It turns out that my best friend, I think you know him, Max McCaffrey, he goes to my school and he lives right next door. He committed to Duke as well. He's a great kid and it would be really fun to come with him. But that's how I got introduced to Coach Lubick. He was out here and was able to see me play and he liked me and that's kind of how Duke got a hold of me.
BDN: What other schools are you considering at this point?
I took an official visit to Colorado State last weekend. It's definitely CSU, Duke, and UCLA. I can still go to Arizona State but I don't really want to because of the new coaching staff, they want me to gray shirt and all this weird stuff.
BDN: It's obviously always a tough situation when there's a coaching change. What will be the most important factors as you sit down and make your final decision?
Yeah. After being at Duke, my priority is definitely to get an education first. I'm going to college to get an education. AS much as I'd like to play in the league, I'm going to put forth my best effort, but I want to be realistic and know that I'm probably going to rely on my degree one day. That's very important to me. I want to go into business, so I want a good business school and a good education. Next for me would be the football aspect. And last would be socially and the location. Those are the factors that will definitely come into play when I make this big decision.
BDN: Do you have an idea when you would like to make that final decision?
I'd like to make it definitely soon. Duke is going to call me, they're going to keep in touch with me. I'm anxious to hear something from them in the next few days, it could be as early as tonight, it could be by Tuesday, to know officially what I've got going on with Duke.
BDN: Thanks a lot, Michael, and best of luck.
I appreciate that, sir, thank you so much.
[/private]