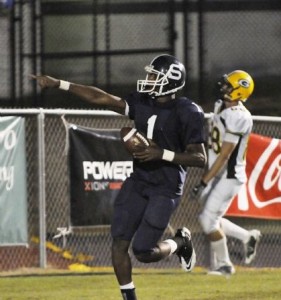 When Head Coach David Cutcliffe came to Durham, he vowed that he would transform the Blue Devils into a faster and more athletic team. In his first few recruiting classes, he has added several high-level athletes, including Isaac Blakeney in 2010 and Jamison Crowder in 2011. The coaching staff is looking to continue that trend in the class of 2012, and recently hosted a speedy, versatile athlete from the state of Georgia. Micheal Summers is a 6'1" 190 pound athlete from Statesboro, Georgia. As a junior, he played on both sides of the ball, totaling over 1100 all-purpose yards and 10 touchdowns, leading the Statesboro Blue Devils to a 11-3 overall record, falling just short of a state championship. The talented athlete made the trip to Durham this past weekend and came away with his first verbal scholarship offer. Highlights from his junior season can be found here.
BDN: Can you start out by describing your strengths as a player?
Running the ball, my running speed, catching, blocking, and pass defending.
BDN: You've played multiple positions very well in high school. Do you have a preference for what position you play in college, or have coaches told you they are recruiting you for a specific position yet?
Slot receiver, running back, safety, and cornerback.
BDN: What are some of the things you have been working on this offseason?
I'm working on a lot of agility work, and a lot of explosions, a lot of upper body work to get stronger, a lot of speed work, working uphill, a lot of catching, and a lot of catching to become a better receiver. I'm just doing a lot of – mainly a lot of agility work, work on my foot speed and balance.
BDN: You guys came up just short of a state championship at Statesboro last year. What are your goals for yourself and for your team in your senior year?
Well of course our main goal, you know, is to win the regional game and to make it back to the playoffs, and to win the state championship.  We believe we can accomplish those goals, 'cause you know, we have a lot of our players coming back from last year.
BDN: What are the most important factors you're looking for in a college?
The most important things I'm looking for in a school is the education, and the academic side of the school, 'cause if coaches aren't graduating their players, then, you know, it's really no good because there is life after football also.  It's not just about football, because one day football is gonna come to an end.
BDN: You mentioned the importance of academics; do you have a specific field that you would like to study in college?
Yes, I'm interesting in studying public policy and sports management. I'm looking forward to majoring in those.
BDN: What schools have you heard the most from so far? Who were the first schools to contact you?
Schools I've been hearing from the most are Duke, Georgia Tech, East Carolina, Louisville, Syracuse, Illinois, a little bit from Vanderbilt and South Carolina State, and North Carolina.
BDN: Which schools have you had a chance to visit so far?
I had a chance to visit Duke.  I had a chance to visit North Carolina.  I've had a chance to visit – I visited Clemson.  I've visited Georgia Tech.  And I've visited South Carolina State.
BDN: Have any schools stood out to you at this point in the process?
Are there any schools in particular that stood out for me?  Duke.  Duke's really stood out for me, you know, based on their academics, and I really like their coaching staff.  They have a good group of coaches there, Coach Middleton, and Coach Cutcliffe.  They're very nice guys.  And Coach Roper.
BDN: Do you have plans to visit any other schools this spring or summer?
Yes, this spring I plan on visiting Louisville, on East Carolina, and maybe some other schools.  But as far I know, those two.
BDN: Do you have an idea for when you would like to make your college decision or how you would like to narrow things down?
Well I kind of want to make a decision by the end of the summer.  But right now I'm just trying to enjoy everything, you know, till we get a grasp for each university.  But I really would like to make a decision towards the end of this summer.
BDN: Is there anything else that you think is important for college football fans to know about you?
I love the game.  I work hard.  I love to win.
BDN: Thanks a lot, Michael, and best of luck to you.
Okay, thank you, sir.