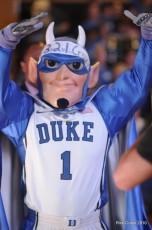 Site: Durham, N.C.
Stadium: Wallace Wade Stadium
Surface: Natural Grass
Capacity: 33,941
Radio: Blue Devil IMG Sports Network; Sirius XM Radio (Channels 94 & 193)
TV: ACC Network - Tim Brant (Play-by-play), Dave Archer (Analyst) and Mike Hogewood (Sideline)
Internet: GoDuke.com; theACC.com
Tickets: 1-877-375-DUKE
Series: Georgia Tech, 47-30-1
Last Time: Georgia Tech went ahead with an 85-yard interception return for a TD by Mario Butler in the third quarter and held on for a 30-20 win over Duke in Atlanta, Ga. Duke passed for 334 yards, and Georgia Tech ran for 320.
Duke Hosts Georgia Tech
• The Blue Devils will close out the home portion of their 2011 schedule this week by hosting Georgia Tech.
• Duke is 3-7 overall and 1-5 in ACC play following its 31-21 loss at Virginia last week. The Yellow Jackets stand at 7-3 overall and 4-3 in league play after losing at home to Virginia Tech, 37-26, last Thursday night.
• Duke and Georgia Tech have met 78 times on the gridiron dating back to 1933. The Yellow Jackets have won seven straight over the Blue Devils and lead the all-time series, 47-30-1.
• Duke's last win came in 2003 (41-17 in Durham).
Senior Day
• A total of 20 seniors will be honors prior to the game for Duke's annual Senior Day festivities.
• The list includes K Paul Asack, S Matt Daniels, S Jeffrey Faris, WR Guillermo Freile, TE Ryan Hall, NG Charlie Hatcher, TE Cooper Helfet, OT Kyle Hill, RB Jay Hollingsworth, K Jeffrey Ijjas, P Alex King, OT Jon Needham, TE Danny Parker, TE George Pearkes, LB Kevin Rojas, WR Preston Scott, K Will Snyderwine, S Josh Trezvant, WR Donovan Varner and CB Johnny Williams.
Virginia Defeats Duke, 31-21
• Virginia QB Michael Rocco threw two touchdown passes to lead the Cavaliers to a 31-21 victory over Duke as 45,733 fans looked on at Scott Stadium in Charlottesville, Va.
• With a seven-catch outing, WR Donovan Varner became Duke's all-time leader in pass receptions, eclipsing the record of 189 catches set by 2010 College Football Hall of Fame inductee Clarkston Hines from 1986-89. Varner finished with 132 receiving yards and scored his first touchdown of the year on a 64-yard strike from QB Sean Renfree.
• Duke RB Juwan Thompson rushed for a pair of one-yard touchdowns — his third multi-touchdown game of the season — while Renfree threw for 303 yard to mark the eighth 300-yard passing day of his career.
• Duke S Walt Canty posted a career-high 15 tackles including two behind the line of scrimmage.
• Duke freshman LBs C.J. France (8 tackles) and David Helton (7 tackles) earned the first starting assignments of their careers. Duke played without LB Kelby Brown, the team's leader in tackles for loss entering the week.
Record Book Watch
• Senior WR Donovan Varner broke one school record and tied another one last week at Virginia. The Miami, Fla., native became Duke's all-time leader in receptions, passing Clarkston Hines who had 189 grabs from 1986-89. In addition, Varner equaled Scottie Montgomery's school standard of most consecutive games with at least one catch (35).
• Redshirt junior QB Sean Renfree's 303-yard outing against Virginia marked the eighth 300-yard game of his career, moving him into a tie for fourth place on the school's all-time list. Thaddeus Lewis holds the school standard with 11.
• Junior WR Conner Vernon's 22 career games with 5+ catches are the most in school history ... Vernon's nine games with 5+ receptions in 2009 matched the school's single-season record.
• Duke has 19 rushing touchdowns through 10 games this season — matching last year's total for the most since 1994. Sophomore RB Juwan Thompson has seven rushing scores — the highest total by a Duke running back since 2005 when Justin Boyle scored nine times on the ground.