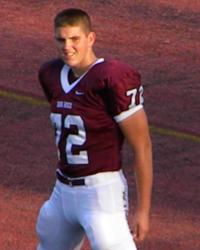 Head Coach David Cutcliffe has placed an emphasis on the importance of winning the kicking game during his tenure at Duke, and has thus placed an emphasis on recruiting top special teams prospects.  With redshirt-senior Jackson Anderson the lone long snapper on the roster, the Blue Devils filled a need by landing one of the top special teams prospects in the country, as 2012 LS Thomas Hennessy gave his pledge to Duke University over the weekend. Hennessy is a 6'3" 205 pound prospect from Don Bosco High School in New Jersey. Ranked among the top 10 long snappers in the country, Hennessy will join fellow HS special teams standouts Will Monday and Ross Martin in Durham this fall.
Scouting Report from Kohl's Kicking:
Thomas has outstanding accuracy as he was the only snapper to register 15/15 targets hit during the showcase events in May 2011. He stays consistent with his snap velocity and has smooth mechanics. 2nd place finisher overall and 1st place finisher for class of 2012 at Eastern Showcase camp. Had a good second day of charting at Underclassmen Challenge in January, 2011 and was the top finisher at the Eastern Showcase Event and finished the day by winning the snap competition. Has worked very hard and has made great strides in his development as a LS. Top 10 finisher at 2011 National Invitation Scholarship Camp.
BDN caught up with the newest Blue Devil shortly after his decision.
[private]
BDN: How did you become interested in Duke and what led you to decide on the Blue Devils?
I first became interested in Duke my sophomore year when I started looking at high school because of its academic reputation. Ever since, I've always wanted to go there and we took a visit down there the weekend after the Super Bowl and toured the campus and the facilities and I just loved everything about it and knew it was where I wanted to go. 
BDN: You've become one of the top long snappers in the country. How did you end up becoming a long snapper?
I started playing long snapper my freshman year. We needed somebody to do it and I wanted to do it and it turned out I had a knack for it. Ever since then I've worked hard at becoming the best I can be and have attended lots of national kicking camps and earned the #9 national ranking this past year. 
BDN: Is there anything else you think Duke fans should know about you?
My school, Don Bosco, we've played a lot of national games and games in front of 10,000-plus fans. We played a game in MetLife Stadium in front of 20,000 fans, so I'm used to snapping the ball in big games and I think that will help prepare me for college.
BDN: Thanks a lot, Thomas, and congratulations on your commitment.
Thank you!
[/private]