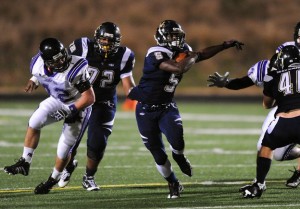 It's no secret that Jela Duncan has been the Duke coaching staff's top priority in the class of 2012 for the past several months. The Mallard Creek star RB is viewed as the type of elite athlete that will help the Blue Devils' program get to the next level. As signing day approaches, Duncan is making his final visits and has narrowed his choices to Duke, ECU, Wake Forest, and North Carolina. Coach Cutcliffe has developed a strong relationship with the elite prospect throughout his recruitment and welcomed him to Durham on an official visit this weekend. Duncan checked in with BDN shortly after returning home from his Duke official visit. [private]
BDN: How was your visit to Duke?
IT went pretty good, it went pretty good. I like it up there, I like it.
BDN: You've been to Durham a few times before. What were you able to see on this visit that was different?
Well I got to see more this time. They showed me the academic buildings, got to see the indoor facility since it's been put up, and I got to sit down and meet with the coaches a little bit more than I had before.
BDN: Did you get to spend some time with the Duke players and who was your host?
Yes, I did. Jamison Crowder. That was my first time actually meeting him.
BDN: Can you talk a little about your relationship with the Duke coaches?
First off, I have a great relationship with Coach Cut. We talk on the phone probably every other day. He calls sometimes just to check up on me and see how I'm doing. My relationship with the running back coach, Coach Roper, that's a pretty good relationship. We sat down and watched film. He showed me some of the offense that they're running and it's basically some of the things we run at Mallard Creek. It was pretty simple.
BDN: What other visits do you have scheduled and when do you think you'll make your final decision?
I'll probably make my final decision after I come back from Wake Forest next weekend.
BDN: Is that your last visit remaining?
Yes sir it is. I probably might go on an unofficial visit to UNC this week but I don't have the date yet.
BDN: You've also been able to visit ECU. Do you have a ranking of schools in your head at this point?
It's basically between ECU, Duke, and UNC and Wake Forest.
BDN: What will be the one or two things that are most important as you make your final decision?
If I feel like I'm at home. Am I comfortable? Am I going to be able to be there for four years without football, looking at life outside of football?
BDN: Thanks a lot, Jela. Best of luck.
Ok, thank you sir.
[/private]