Historically, National Signing Day has been a lackluster affair for Blue Devil fans, as Coach Cutcliffe and his staff typically work hard to secure verbal commitments during the summer and fall recruiting seasons. Last year, Duke fans were pleasantly surprised by the Signing Day commitment of Alabama TE David Reeves. This year, however, Duke Football fans will finally get to experience some authentic Signing Day drama. Duke is a finalist for two of the top uncommitted prospects in North Carolina, Jela Duncan and Keilin Rayner. [private]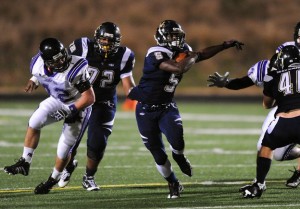 RB Jela Duncan
Height: 5'9"
Weight: 190 pounds
High School: Mallard Creek
Hometown: Charlotte, North Carolina
BDN Scouting Report:  With Keith Marshall and Todd Gurley heading to UGA, Duncan will be the top running back to remain in the state of North Carolina. After an outstanding high school season at Mallard Creek, Duncan capped off his career with 112 yards on only 7 carries in the 75th Annual Shrine Bowl. Duncan is an outstanding runner; he's physical for his size, has great hands and good vision. There is no question that he has the tools to be successful at the college level and the ability to make an immediate impact for a program like Duke.
BDN Analysis:
Duke: Ever since he blew away the Duke coaching staff with his performance at camp last June, Duncan has been at the top of the Blue Devils' recruiting board. Duke was the early leader, but seemed to fade slightly as other schools became involved. To those who have followed his recruitment and spoken with Jela throughout the process, it has always seemed like there's something missing at Duke for him. The Blue Devils were fortunate to be able to take a commitment from Shaquille Powell in December, and a backfield of Powell and Duncan could become one of the ACC's best. That being said, relative to their competition, Duke does have a crowded backfield, and Duncan will have to earn early playing time. Duke put forth their best on his official visit to Durham, and Duncan remains closest with Coach Cutcliffe, who followed up with an in-home visit last week.
ECU: Seemingly on the outside looking in for much of his recruitment, ECU has surged of late. After an official visit to in early January, Duncan seemed to find what he was looking for, and declared ECU his new leader. The Pirates offer a great social scene, immediate playing time, and perhaps most importantly, an NFL RB legacy. Football is king as ECU, and a star RB could quickly find himself crowned BMOC. With the upcoming conference realignments, ECU will face a relatively weak C-USA schedule and their national exposure may not match that of their ACC brethren. ECU, however, does not have a current RB commitment in the class of 2012.
Wake Forest: For those handicapping this recruitment, Wake Forest was a natural dark horse candidate: closest to home, recent success in the ACC, a run-heavy offense, and a solid academic reputation. It should be no surprise, then, that the Demon Deacons' hit a home run with their recent official visit and have become a major player in Duncan's decision. The Deacs' already have an under-the-radar RB committed in the class of 2012 in Texan Joshua Wilhite. Still, Coach Grobe likely was able to sell Duncan on being the understudy and heir apparent to breakout star Josh Harris.
Summary: First and foremost, whichever school ends up with a commitment from Jela on National Signing day, they're getting a good kid and a great running back. When recruiting battles get heated, players often are vilified, and that shouldn't happen here. Duncan has been polite and conscientious throughout this process. He took his time, focused on his senior season, and then evaluated all of his options. This is not a decision he nor his family takes lightly, and in the end, he will select the school he feels offers him the best opportunity of fulfilling his dreams.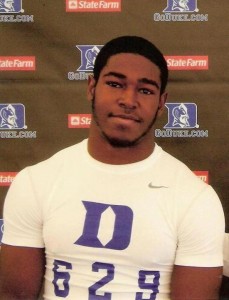 Keilin Rayner
Height: 6'3"
Weight: 215 pounds
High School: North Brunswick
Hometown: Leland, North Carolina
BDN Scouting Report: Rayner is a prolific run-stopper from either the LB or DE position. His size and speed likely translate best as an outside linebacker at the college level, but his versatility is one of his strengths. A tackling-machine, Rayner has a great nose for the football and the strength to wrap up ball-carriers. He has the instincts and athleticism to be a playmaker in the ACC, but must improve his coverage skills to earn early playing time on defense. His tackling ability and motor make him an excellent candidate to see early action on special teams.
BDN Analysis:
Duke: Duke was also an early leader for Rayner, as the Blue Devils were among the first to offer the in-state defensive star. By the fall, however, it appeared that Duke has fallen back to the pack, though the staff continued to communicate with Keilin. From Duke's perspective, Rayner is the prototypical linebacker for their 4-2-5 defensive scheme. He has the tackling ability and frame that is reminiscent of current Bengals' LB Vincent Rey, a former Duke star. Rayner would have the ability to earn immediate playing time, while also setting himself up for life after football, something important to his family.
ECU: The Pirates are the hometown school for Rayner, and that proximity to home is always tough to beat. Rayner shared his official visit to Greenville with Duncan, and all reports are that the staff hit a home run that weekend. ECU offers the same things as above: social scene, passion for football, and immediate playing time.
Summary: Rayner has played things incredibly close to the vest over the past week, making this a tough one to call. Reports are that the Blue Devils' are the favorite among his family, but that the official visit to ECU is still looming large in Keilin's mind. As with Duncan, it's important to note that Rayner will be an excellent representative of whichever program he chooses. He's been great to interview and will be a great addition to any football program.
While it's seemingly easy for fans to make these decisions, each prospect has his own priorities, pressures, likes, and dislikes. Duke has done a good job in recruiting both players and has remained in both recruitments from day 1. The Blue Devils have earned a hat on each table and we'll all have our fingers crossed on Signing Day. The addition of either Duncan or Rayner would be a perfect ending to what appears to be one of Duke's strongest recruiting classes in recent years. The addition of both could just be the turning point this program has been looking for.
Be sure to check in with BDN for all the latest Duke Signing Day coverage. [/private]