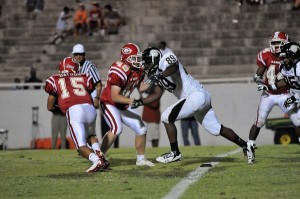 Duke is looking to build their defensive line on the recruiting trail, and have targeted a number of top prospects across the country. One of the first prospects to receive a scholarship offer from the Blue Devils is DE Jaylen Miller, a 6'2" 263 pound prospect from Gaffney, South Carolina. One of the top pass-rushers in the class of 2013, Miller is attracting interest from a number of ACC and SEC schools, and plans to hit the road hard this summer to evaluate his many suitors. BDN caught up with Jaylen earlier this week to get an update on his offseason and his recruitment. [private]
BDN: How would you describe your strengths as a player?
I would say some of my strengths are pass-rushing. My pass-rushing has to be the best strength that I do have, and my quickness.
BDN: What are you working on this offseason as you prepare for your senior year?
For my senior year, I've got to work on my motor. I've got to stay 100% every play, that's a problem that I've been having. I can't take any plays off. My senior year, I want to have no regrets. My senior year, I want to be able to say I left it all out on the field.
BDN: As you approach your college decision, what are the most important things you are looking for in a school?
The most important thing I would say is the feeling I get. I mean, the education and everything, the football program, but the feeling I get, the atmosphere about the school. That's somewhere I've got to spend four years of my life, in college, so I've got to be comfortable going there for four years, so the feeling that I get when I go to the school, the campus, the people, and everything around it, that will play a major role in it.
BDN: Where do you stand with offers and interest from schools now?
I've been in contact with plenty of schools, but I've got offers from Wake Forest, Duke, North Carolina, and I got one from Florida just yesterday. I think some schools locally around here have offered me, I have one from Alabama State, I have one from Wofford and Furman.
BDN: Which schools are you planning to visit this spring or summer?
This summer I'm going to visit as many schools as possible, just to make sure I get the right idea about the school. That's basically my plan for the summer, to make sure I get the right idea about the school. I don't want to misjudge a school or anything like that. I'm going to try and get to some camps also this summer.
BDN: It's still early in the process, but are there any schools that have stood out to you at this point, either on a visit or your relationship with the coaching staff?
I've been to Clemson a few times, like Junior Day. I went to South Carolina's Junior Day and North Carolina's Junior Day. I know most of the coaches pretty well, except for [South] Carolina, I don't know their coaches very well. As far as Clemson, I know the coaches very well and North Carolina, I know the coaches pretty well.
BDN: Do you have a timeline in mind for when you plan to narrow things down or make your final decision?
Right after the end of my senior football season, I don't know if I'm going to narrow it down then, or what. It all depends on who offers and the feeling that I get. They say you'll know what school is best for you when the time comes.
BDN: Thanks a lot, Jaylen, and best of luck.
Okay, I appreciate it.
[/private]