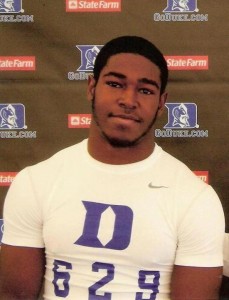 The Duke coaching staff has been scouting the country in search of players to help improve the Blue Devil defense, but they have been focused on an in-state linebacker for several months now. Keilin Rayner is a 6'3" 220 pound linebacker prospect from Leland, North Carolina. As a junior, Keilin played primarily defensive end, helping North Brunswick HS to the state playoffs and a 5-7 overall record. The Duke coaching staff would love to add Rayner to the class of 2012 at linebacker, where he could make an early impact for the Blue Devils. Highlights from Keilin's junior year can be viewed here. Duke and ECU were the first two programs to offer a scholarship to Rayner, whose recruitment has taken off this spring. When BDN last spoke with Keilin, Duke was a program that had impressed him, but with over half a dozen offers now, where do the Blue Devils stand?
BDN: What coaches have stopped by to see you this spring?
Pretty much all of them, Clemson, Maryland, Virginia Tech, [NC] State, [North] Carolina, ECU, and Wake Forest came by.
BDN: When we last spoke Duke and ECU were the first two schools to offer you; what other schools have offered you this spring?
[North] Carolina, [NC] State, Duke, ECU, Wake, Clemson, South Carolina, Florida International, I think that's about it.
BDN: Which schools have you visited so far?
I didn't get to visit any this spring, but previously I visited ECU, [NC] State, and Duke. I'm hoping to visit [North] Carolina maybe next week.
BDN: Do you have plans for any other visits this summer?
Maybe some camps, but other than that I don't know yet.
BDN: With recruiting picking up for you, what are your thoughts for when you want to narrow things down and make your decision?
I would like to visit all the schools that have offered me and some other schools that haven't, probably make my decision later after I've visited.
BDN: Which schools or coaches do you feel like you have the best relationship with?
Coach Cutcliffe and Coach Luke from Duke.
BDN: What are your plans for the summer?
Just work out, pretty much.
BDN: That's great, I know you mentioned you would be playing more linebacker this fall, what kind of things have you been working on?
A lot of coaches said to work on my hip flexibility and getting off the ball, working on that.
BDN: Thanks a lot, Keilin, and best of luck.
Thank you.