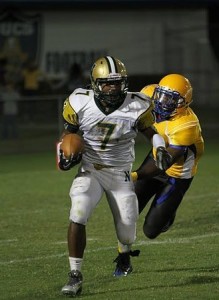 When Coach Cutcliffe first arrived at Duke, he placed an emphasis on speed in recruiting. Speed continues to be an emphasis on the recruiting trail, as Duke looks to add to its current crop of speedy playmakers in Durham. The Blue Devils have hosted dozens of top 2013 prospects on campus already this spring, and are in the process of extending offers to the very best student-athletes available. Dequavais Mann is a 5'9" 185 pound athlete from Northern Nash High School in Rocky Mount, North Carolina. During his junior season, Mann showed off his playmaking ability on both sides of the ball, lining up at running back, wide receiver, and cornerback. After a recent visit to Durham, Mann is hopeful that he will be one of the select prospects to receive a Duke scholarship offer. [private]
BDN: How would you describe your strengths as a player?
First, I'd have to say that I think I can give a team more at the cornerback position. I just started playing cornerback my sophomore year. I was playing running back and this year we had a young line with mostly sophomores and freshmen. Next year, I think I'll have more of an impact on the offensive side of the ball now that we have experience. I actually got in contact with Ohio State earlier and they want me to come down to one of their one-day camps, but being that they already have a couple of cornerbacks committed, they want me to compete at the wide receiver position, so we'll see how that goes.
BDN: Do you have a preference for a position to play in college?
I'm actually kind of open to playing anywhere. I think that having a variety of positions that I can play will make my recruiting process better, more teams can look at me. Some might need me on the defensive side of the ball, some might need me on the offensive side of the ball, so I train equally on both sides of the ball.
BDN: What are you working on this offseason as you prepare for your senior year?
Mostly I've been doing resistance training, like running with a parachute, having training bands, working on my first two steps, my backpedal, trying to get more explosive. I plan on attending the Nike Combine next weekend in Charlotte and I also got invited to the Rivals Elite 100 Camp, that's April 1st, so I'll definitely be there. That's what I'm working on right now, my 40s, my shuttle, my vertical – trying to get all of my measurements up.
BDN: As you approach your college decision, what are the most important things you are looking for in a school?
First off, hands down, academics. I'm using my athletic ability basically to get a free education, that's the main thing because you never know what's going to happen to you, so you've got to have a good education. The second thing I would say are the coaches and the environment. You know, I want to be somewhere that's basically my second home, somewhere where I feel like I fit in and is the best place for me. When I went down to Duke, actually, the way that Coach Cut and his staff greeted me, it felt great. I wasn't just a statistic there, they knew me, they were like "Hey Quay, how are you doing, we're glad to have you down here." Everyone that saw me, having that feeling, that felt great.
BDN: You mentioned Duke and Ohio State as two of the schools you have been in contact with. What other schools have you been in contact with and who are you considering at this time?
I've been in contact with Coach Charlie Wiles from Virginia Tech, he's the one recruiting our area. He's a great guy, I love them too, hopefully I'll be down for a visit soon. I've had light contact with UNC, not as much as the other schools. I'd like to get to know their coaching staff better. The main two right now are Duke and Virginia Tech. Ohio State, today was the first day I was in contact with Ohio State, so maybe that will pick up.
BDN: Is Duke the only school you have had a chance to visit so far?
Yes sir, that's the only school, that was the first visit.
BDN: Can you talk a little bit more about your visit to Duke? What are your thoughts on the Duke program?
Like I said earlier, the way they just greeted me, the coaching staff, it feels good knowing that you're there among other players and they recognize you out of everyone else. They were so excited to see me. I actually was with one of the other cornerbacks from Duke and I had a long talk with him about how he likes the campus and the stuff he told me was just great. Overall, I can see myself playing at Duke. It's not too far from home, for one thing, and I just love the environment they have there. I would like to go back and visit. They asked me to come down for their spring game March 31 so I plan to take that trip to see them again.
BDN: Do you have any other visits scheduled at this time?
I've been talking to – the only coach I've been talking to from Virginia Tech is Coach Wiles, he said he was going to talk to the rest of his staff to see if they could get me down there, but I'm not sure when that will be yet.
BDN: Are there any other schools you definitely plan to visit this spring or summer?
Other than Ohio State and Duke, those are the main two camps that I know for sure I'm going to be at. I would like to take a lot of instate one-day camp visits and a couple of out of state. I would like to go to LSU, though, for their one-day camp, once I find out more information on that.
BDN: Thanks a lot, Quay, and best of luck.
Alright Patrick, thanks.
[/private]