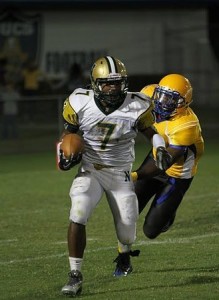 Head Coach David Cutcliffe and the Blue Devils have been on a roll over the past two weeks on the recruiting trail, securing 5 verbal commitments in the class of 2013. On Monday evening, they added another talented athlete to their defensive backfield in Northern Nash's Dequavais "Quay" Mann. The 5'9" 185 pound athlete picked up a scholarship offer from the Blue Devils on Saturday during his visit for the annual spring game. Mann has showcased his speed and skills on the combine circuit this spring, posting a 4.42 second 40-yard dash and earning several accolades from coaches and scouts. The speedy athlete is likely to join fellow class of 2013 commit Evrett Edwards at cornerback in Durham, but has also showcased his abilities on offense and in the return game at the high school level. BDN spoke with Quay earlier this spring, and also caught up with him just minutes after his commitment to the Blue Devils.
BDN: Congratulations on your decision, Quay. What was is that led you to your decision to commit to Duke tonight?
Yes sir, I committed to Duke about 25 minutes ago. I just love the atmosphere down there, I love Coach Cut and what he's telling me. I just love the way it feels like a second home there, it feels good. It's close to home, so my family will get to come see me on Saturdays. It just is a great fit, you know, great academics, get a degree from Duke...it was a bunch of different things that went into my decision.
BDN: What did the coaching staff have to say when they heard about your decision?
Coach Cut was very excited when I told him, he made the comment that he was anxious to get the best cornerback in the nation to campus, so he was just really excited about that and  talked about how much I can help them on defense and maybe a little bit on offense and in the return game also.
BDN: What should Duke fans expect to see from you on the field?
As soon as I get on campus, I'm going to work hard, try my best and help my new teammates to turn it around, you know, Coach Cut has done a great job down there building up the program and I feel great to be a part of that.
BDN: We'll definitely keep in touch with you during your senior year. Congratulations on your commitment, Quay, and best of luck this fall.
Thanks a lot, Patrick.