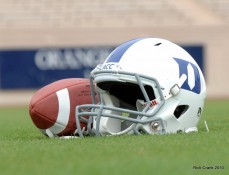 Different states are on different schedules, so in North Carolina the regular season is winding down, with playoffs commencing next Friday night. Therefore, this week's results impacted conference championships and playoff seeding. In other states, the regular season marches on for another week or two.[private]
Defensive back Breon Borders and his Statesville (NC) teammates wrapped up the North Piedmont Conference Championship with a 56-6 rout of South Rowan. The Greyhounds finish the regular season at 10-1, and are the third overall seed in 3AA West. They host Enka (5-5) this coming Friday.
Charlotte Christian defeated Providence Day 24-16. Providence Day cornerback Bryon Fields is Duke's most recent verbal commit; Bryon recently won the Power 98 Athlete of the Week Award. Providence Day (7-4) will play at Charlotte Country Day (9-1) next Friday in the first round of the NCISAA playoffs.
Two-way player Quay Mann rushed for 44 yards on 10 carries in a losing effort as Northern Nash fell to Rocky Mount 26-9 to end their season with a disappointing 2-8 record.
Hidden Valley (VA)  fell to 5-4 on the season after bowing to undefeated Salem (9-0) by the score of  24-14.  Jake Kite caught six passes for 49 yards in the contest. The Titans play Cave Spring next Friday in their regular season finale.
Defensive Back Evrett Edwards caught seven passes for 69 yards, but Woodbridge (VA) was upset by Forest Park 21-19. Woodbridge must beat Stonewall Jackson next week in their regular season finale to qualify for the playoffs.
Dual threat quarterback Parker Boehme did not play as Jacksonville (FL) Sandalwood dropped a controversial 17-16 decision to Flagler Palm Coast. Boehme was in a walking boot this week and is most likely out for the season after re-injuring a toe in last week's win over DeLand.
Quarterback T.J. Douglas ran for touchdowns of 77 and three yards and threw a 32-yard touchdown pass as Fort Myers defeated Ida Baker 30-27.
In California, Norco improved to 5-4 on the season with a 56-16 shellacking of Corona. Running back Joseph Ajeigbe rushed for 101 yards and a touchdown on four carries. His touchdown run covered 68 yards.
Wide Receiver Darren Andrews caught a 68 yard touchdown pass in the 4th quarter as Bishop Amat (CA) defeated Loyola 30-20. In the 2nd Quarter, Andrews scored a touchdown on a screen pass that covered 60 yards. Overall, Andrews caught eight passes for 176 yards.
Walker (Marietta, GA) scored with 38 seconds remaining in the game to improve to 8-0 with a 21-14 victory over Whitefield Academy.  Defensive tackle Mike Ramsay stars for Walker.
2014 Report:
Northside defeated East Duplin 21 -14 to win the East Central Conference Championship and complete a perfect 11-0 regular season. The Monarchs are the #1 seed in the 2AA East and host Croatan (6-4) this coming Friday. Northside previously defeated Croatan 41-13 back on September 28.  Northside wide receiver Josh Cabrera is a Duke recruiting target.
Southern Durham and quarterback Kendall Hinton host Wilmington Hoggard in the first round of the 4A East Play-offs.
Shai McKenzie rushed for 323 yards and six touchdowns as Washington (PA) defeated Waynesburg 69-6 to finish the regular season undefeated at 8-0.
That's all for this week. Be sure and follow Duke's verbal commits and recruiting targets as Blue Devil Nation brings you the latest news on all the high school playoff action.[/private]