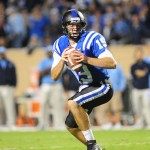 The Duke Blue Devils will face Cincinnati for the first time in the two schools' history tomorrow evening in the Belk Bowl in Charlotte, North Carolina. Duke comes into the contest 6-6 while the Bearcats sport a 9-3 record, so the Blue Devils need a victory to secure their first winning season since 1994.
Cutcliffe has Bowl Experience
While bowling may be new to many around the Duke program, not so for Head Football Coach David Cutcliffe. Coach Cut carries a 4-1 bowl record into this game, and he's 11-6 as an assistant coach. He knows what it takes to focus in on big games, and this should help a young Blue Devils squad.
Blue Devils are the Underdog
Had this game been played in the regular season, the Blue Devils would have been double digit underdogs, but the Bearcats lost not only their Head Coach but their coordinators as well. That has dropped the line to just 7 in the Bearcats' favor.  Before any of you go betting the bank on Duke, figuring that Cincy is reeling, think back to a Richmond game where the Spiders had lost their Head Coach weeks before the season started, and yet they still handled Duke.  The bottom line is for Duke to win, it'll take a maximum effort. Cincinnati is solid on both sides of the ball, and they match up well with Duke.  They have played well defensively in particular, having permitted more than 30 points in but a single game this season.
The Here and Now and the Future
Bowl games reward teams' success over the course of the entire season.  Let's be honest: before the season started, not many picked Duke to get to a bowl game.  It's a terrific accomplishment, one that rightfully earned Coach David Cutcliffe ACC Coach of the Year honors. But it was a contingent of focused seniors that really put the Devils over the hump. This will be the last opportunity for fans to see the Sean Renfree-to-Conner Vernon connection, and the success of that duo will be a major key to the game.
But the other reward stemming from a bowl bid is the opportunity for the team to benefit from all the extra practices in preparation for the game.  The Blue Devils have gotten a jump-start on next season by changing some player positions and grooming future starters. Being in a bowl also shows that the program is moving upwards, and that is the key to recruiting better players and getting their signatures on the dotted line.  Duke will lose 13 seniors this season, with approximately 10 of them having played key roles over the years. There will be a lot of holes to fill for the 2013 Blue Devils.
Duke needs three TD's
The Blue Devils have scored 46 touchdowns thus far this year, and therefore need three more against a stingy Cincinnati defense to set a new all-time record of 49. The 1989 team coached by Steve Spurrier holds the Duke record with 48 touchdown scored.
The keys to a win for Duke
I was asked by a radio station what the keys to a win were for Duke. The first thing is simply to get off to a good start. Duke has not played well from behind this season, and needs to set the tone early.  A quick start would also bode well against a Cincinnati team that has been wracked by coaching defections.
Another key is to slow down Cincinnati's running QB and two solid running backs -- and that's an area Duke has struggled in this season. The third item on the to-do list is to protect QB Sean Renfree and allow him time to pass, as Duke must find a way to get into the end zone against a stout Bearcat defense.  Duke has not fared well when Renfree has not had time to throw.  The fourth key is to establish the run, for balance is a must against a Bearcats defense that will pin their ears back and go after the passer if the opponent struggles rushing the ball.
If I had to pick one crucial item, though, it would be get off to a good start and therefore not have to play from behind early on.
Final Take
When I first learned, a week or so ahead of the official announcement, that Duke would face Cincinnati in the Belk Bowl, I thought it would be a difficult matchup for the Blue Devils. On paper, the Bearcats are the better team, with solid personnel at every position. Their defense has been physical and hard to score on for most of the year, and they can run two quarterbacks at you. Since that time, the Bearcats have lost some coaches, but it remains to be seen if this will rally their troops or cause some disruption. Personally, I think it is unlikely that the Bearcats will simply roll over, as adversity tends to bring teams together more often than not.
But the Blue Devils more than anything else needed some time off.  They've gotten it.  That has enabled them to regain their health and to add some new wrinkles to the game plan. I feel it will come down to turnovers and ball control. Duke needs to keep its defense off the field as much as possible, and they need to find a way to get to the quarterback, something that has been difficult for Bearcats opponents. I am expecting a solid and spirited performance from Duke, and hope for a victory.  If they get it, it would provide tremendous momentum going into an important off-season. See you at the game.