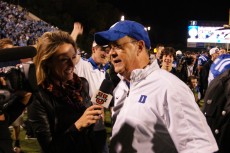 The Duke football win over North Carolina was huge on many levels. Of course the team has to move forward, but before they do so, let's take a quick look back.
Wallace Wade was Close to Perfect
What a great crowd on Saturday night in Wallace Wade. Kudos to the Duke students, who created a long missed atmosphere that made the game so enjoyable in a most special way for all the fans. In years past, the UNC faithful have outnumbered Duke fans, even in Duke's own stadium, but not on this night. Every time the UNC crowd would get their chants going, the Duke fans came right back, waving their night glow pom-poms in unison; everyone seemed to sense that this game was more than a bit special. It's been awhile since I have seen this kind of atmosphere, and I was happy to see that the promotions all went off in such an impressive way. It was a solid football atmosphere and a very entertaining game.
No Shortage of Feel Good Moments
No matter which way you turned after the Duke victory, Wallace Wade was engulfed by emotion. I was trying to take in the atmosphere all at once, but my senses got overloaded as Sean Renfree connected on the winning 4th and 2 pass to Jamison Crowder with mere seconds left on the clock to lift Duke to the win. Although Duke fans and players alike erupted in joy, still the anticipation of the full celebration continued to build, as the Tar Heels had to run off two more plays before the game was in the books. As the Tar Heels' desperation plays failed, Duke players made their way towards the North Carolina crowd to grab the Victory Bell, and paint it a darker shade of blue. Other players just looked on, one praying, others just taking it all in as fans rolled over the sides of bleachers, turning the field into utter and glorious chaos. Coach Cutcliffe was drenched by a bucket of Gatorade; just before the ESPN cameras grabbed him, he was rescued from the mob by his North Carolina State Highway Patrolman guard. By this time, as the Bell made its way to the home side, fans had gathered around the team and the Bell like ants at a picnic, a swarm of sweaty and unbridled glee. As the celebration continued, I began to notice all the faces, from basketball players to the Duke Administration. Athletic Director Kevin White and many of the people who have worked hard and been patient as Duke Football has been rebuilt all had looks of sheer satisfaction. And Cutcliffe? He looked like a kid at times, knowing he had secured the biggest win around here in a long time. The win. A win over your rival North Carolina. A win that puts Duke on the map of true, legitimate football programs. A win that makes you bowl-eligible with four games yet to go. A win to remember.
The Look of Happiness
For me, the look on so many players' faces was priceless. So many emotions, so many smiles, so much elation for all of them. It's the happiest I had ever seen Duke quarterback Sean Renfree, and receiver Conner Vernon was right there as well. Vernon was mobbed by fans in a genuine love fest, and he posed for countless photos on the field as the celebration continued. Renfree and Vernon have been through a lot, and as seniors they are seeing the hard work and belief pay off, as Duke is now 6-2.
Bowl Eligible
It's one thing to beat your rival North Carolina and end a long losing streak, and paint the Victory Bell Duke Blue, but the Blue Devils are now bowl-eligible, becoming the third ACC team to attain that status this season. Their last bowl appearance was in 1995. It's a bit early to tell where Duke could be playing, as it is totally dependent upon the on-the-field results the rest of the way.
Special Teams
Don't look now but if Duke freshman kickers Ross Martin and Will Monday keep up their current level of success, both will be named to almost every Freshman All-American team there is. Martin showed off his range with a 42-yard field goal, the longest of his short career, and Monday continues to lead the ACC in punting. It's amazing how consistent the duo has been to date, especially in the eyes of fans who had in seasons past become accustomed to deflating misses or shanks. Make no mistake, the kicking game is now a strength at Duke.
Recruiting
Ask any coach and he'll tell you that recruiting is the lifeblood of any program. Coach Cutcliffe commented going into the game that Duke had closed the talent gap a bit on the Tar Heels, and his proclamation sure looked accurate after the Blue Devils' 33-30 win. Several prospects attended the game and witnessed a great win for Duke, and many of them will surely come away impressed by the strides that the program has made. When Cutcliffe and company came to Durham, they realized the importance of in-state recruiting, and they started to go head-to-head with the Tar Heels on the trail, and began to win some battles. That strategy is now paying off. Without a doubt, certain Blue Devils who hail from North Carolina, were extra pumped up. A win like this can go a long way on the recruiting trail, and as they build on their success on the field, the Blue Devils will continue to get their foot in the door more and more with stellar prospects, and more often kick that door in.
No Doubt
There is no more doubt about the fact that Duke Football is headed in the right direction under David Cutcliffe, and this signature win for the program will pay off in more ways than one.  There have been no shortcuts taken under Coach Cut in implementing his blueprint for rebuilding Duke Football.  Instead, he is winning with disciplined, true student-athletes. You can be more than just a little proud of these kids too, for they have true character as individuals, and are a genuinely good bunch of young men.
A Win for All
In the end, this was more than just a program win. This was a win for all. This was a win for the fans, the players and the administration, and it is one that has all involved on Cloud Nine as we head into the new week. It was quite simply the biggest win in the Coach Cutcliffe era, and it was the kind of win where we all can feel that the growing pains are starting to subside, and instead of talking about problem areas we are now talking about strengths.
All ACC
Sean Renfree, Jamison Crowder and Perry Simmons were all named ACC Players of the Week.
Clemson Game Prime Time
Duke will play Clemson at home in two weeks on ESPN at 7:00.  Tickets are still available at GoDuke.com, so be sure to secure yours now and support the bowl bound Blue Devils.